Conservative manifesto pledge: Continue with the target of 3m apprenticeship starts by 2020
Joe Dromey argues AGAINST
The three million target mostly fosters growth at level two, and gives little progression, argues Joe Dromey
The Conservative manifesto again included a commitment to deliver three million apprenticeships by 2020. It's easy to see why. It is clear and comprehensible pledge which works well for a party seeking to rebrand itself and pitch for the votes of ordinary people. But it is a bad policy which risks driving a focus on quantity alone, potentially at the expense of quality.
Even before the recent reforms to the apprenticeship system, there were concerns about the focus on quantity over quality. The growth in apprenticeships in recent years has been driven by a surge in the number delivered at lower levels. Most apprenticeships are at level two, and 94 per cent are below level four. While the numbers of higher and degree-level apprenticeships is growing, they are a fraction of the total.
The labour market returns for vocational qualifications at level two are relatively poor. We may be less concerned about poor wage returns for low-level apprenticeships if they lead to higher-level qualifications, but for too many the level two apprenticeship is the end.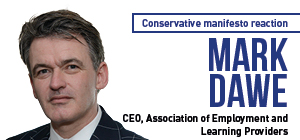 In seeking to make the system more employer-led, the government has introduced the levy, which will raise £3 billion from large employers by 2020/21, delivering a huge boost to employer investment in apprenticeships. At the same time, the government has put employers in charge of designing apprenticeship standards and removed the requirement for apprenticeships to contain a recognised qualification.
The levy is a welcome recognition of the need to intervene to boost employer investment in training. UK employers invest far less in training than our EU neighbours, and investment has declined. However, there is a risk that under the new system employers will seek to recoup their levy funds by rebadging existing training as low-level apprenticeships, which offer limited benefit to the individual, and limited progression.
Labour committed to keeping the apprenticeship levy, but not the target. It would double the number of apprenticeships delivered at level three. In 2015/16, there were 191,000 apprenticeship starts at this level, 37 per cent of the total. They have also pledged to guarantee trade union representation on the Institute of Apprenticeships.
Whoever forms the next government needs to focus not just on the quantity of apprenticeships, but on the quality of training and how employers are using skills in the workplace to boost productivity.
While employers should be given a role in shaping the system, empoyees deserve a say too
The arbitrary target should be abandoned, with the focus shifting to quality and progression. The government should drive up both the proportion of apprenticeships delivered at level three, four and above, and ensure that level two leads to career pathways and higher qualifications. There should be robust monitoring and reporting of outcomes following apprenticeships, to ensure that they are delivering strong wage returns and progression to higher level qualifications.
We also need to look again at the governance of the system. There are benefits in an employer-led approach and it might work well in high-skill sectors with a strong sense of occupation formation and a collective commitment to training the next generation of employees. However, it is less likely to work in the low-skill, low-productivity sectors which account for much of the growth in apprenticeships, and much of the low-quality provision.
As part of a modern industrial strategy, we must develop strong sectoral institutions to drive a collective commitment to skills. These institutions should support demand for, investment in, and use of skills as part of a drive to boost productivity. While employers should be given a role in shaping the system, employees deserve a say too, both at sector level, and in relation to the way standards are set through the Institute of Apprenticeships.
We should learn from the most successful apprenticeship systems on the continent, which are characterised by a social partnership approach, with government, employers and unions working together to ensure the system delivers high quality training that works for all. While employers are vital in shaping the system, employees must be given a voice too.
Joe Dromey is a senior research fellow at IPPR