Recipe for confusion concern as IfA seeks up to 150 expert advisers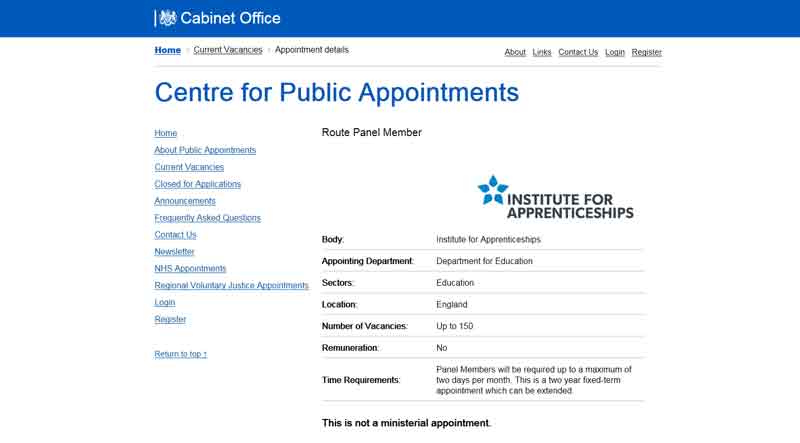 A call for up to 150 industry experts to join new Institute for Apprenticeships advisory panels, has prompted concerns over a lack of "joined up decisions" with similar bodies planned for technical education.
Adverts seeking unpaid panel members to join 15 "prestigious employer-led groups" to help shape the future of the apprenticeship programme were posted by the IfA on Friday (June 23).
It aims to recruit "up to 150" industry experts to form the panels that will help to "ensure the quality of apprenticeships".
But FE Week has learned that the IfA panels are separate from those being set up by the Department for Education to advise on T-levels – even though the 15 occupational routes are the same. They advertised for more than 100 paid panel members for these new bodies in January.
Now Mark Dawe, chief executive of the Association of Employment and Learning Providers, has warned that that the situation is "a recipe for a lack of joined up decisions and inconsistent outcomes, and further evidence of potential divergence rather than coherence".
"AELP fully supports the government's desire to have a coherent approach to high quality skills, but struggle to see any indication of this in the way they are approaching the implementation across apprenticeship and T levels," he added.
Plans for the 15 new occupational routes were first unveiled in the government's skills plan, published July 2016, and based on wide-reaching recommendations from Lord Sainsbury.
The DfE is currently responsible for developing the new T-levels, which will see 20,000 existing qualifications replaced with "15 high-quality" technical qualifications, while the IfA is in charge of overseeing apprenticeships – although its remit will be extended from April 2018 to include technical education.
The new IfA advert, posted through the Cabinet Office, states that it is "establishing 15 route panels representing the 15 occupational routes that were set out in the Sainsbury report".
The names of the 15 people who will chair the routes were announced by the IfA in April.
It continues: "In future we anticipate this will also include reviewing the new technical qualifications that will sit at the heart of new T-Levels."
The IfA panels will "review the quality of standards for apprenticeships and make sure they provide the right basis for future employment", it said.
Applicants should have "demonstrable expertise, leadership and credibility in one or more sectors of an occupational route", the advert says.
No mention is made of payment beyond reimbursement of "all reasonable expenses".
Peter Lauener, IfA chief executive, described the new roles as a "fantastic opportunity for employers and experts to bring their knowledge to the table and make their voices heard".
"Apprenticeships are playing an increasingly important role in British industry, and it is important that the right structures are in place to ensure they equip people with the right skills," he added.
It followed the DfE advertising in January for more than 100 experienced industry professionals to help shape "the "future technical education system".
They would serve on "panels of professionals" that would "develop occupational standards for new technical qualifications, as part of flagship reforms to England's post-16-skills system".
These panels would cover 11 of the 15 routes from the Sainsbury report, with the remaining four expected to be "primarily delivered through apprenticeships".
Each of those appointments was expected to be for a year, with the successful applicants' employers receiving £1,000 per quarter in recognition of the time the panel members would spend away from their day job.
FE Week has asked the DfE for an update on its panels.