The new skills minister has reassured the sector that her motivation in the role is "to make it work" rather than to introduce "new, bright ideas", after what has been a "frustrating" and "bruising period" for many providers recently.
Her new position would be "a job of delivery", said Anne Milton as she delivered the keynote speech to a packed hall on day one of the Association of Employment and Learning Providers' 2017 conference (June 26).
The tone of Ms Milton's speech was collaborative and open – repeatedly stressing the need to "work together", and telling the audience she could stay "as long as you want me" to answer their questions.
"As a new minister it's important for me to hear about your experiences," she said.
"I'm here to listen and to learn, and I hope also to offer some clarity about the way forward."
Ms Milton's speech did provide clarity on a number of points, confirming for example that a new procurement process for non-levy apprenticeship contracts would be launched in July, and the previous procurement cancelled.
Before the recent general election, the government decided to pause the procurement process due to what Ms Milton referred to as "unprecedented demand".
She explained that the decision had finally been made to scrap this attempt altogether because it was not providing "the diverse market we are looking for" or giving the sector "enough stability".
My intention is not to come in with any new bright ideas, my intention is to make it work
The new procurement contracts will cover the period from January 2018 to April 2019, she said, and the Register of Apprenticeship Training Providers will not open whilst the procurement is open between end of July and end of August.
She said: "I hope these moves will give you all more certainty in the approach we are taking to apprenticeships and wider adult education funding in the months ahead.
"Nothing is perfect, but from what I've heard there has been some excellent work done to put in place the apprenticeship reforms."
She concluded that it was "now up to me and to you along with our officials to work together" in order deliver "the very best training opportunities and a real choice for employers and apprentices".
After Ms Milton's speech, Mark Dawe, chief executive of AELP, thanked the minister, saying her points were "positive news".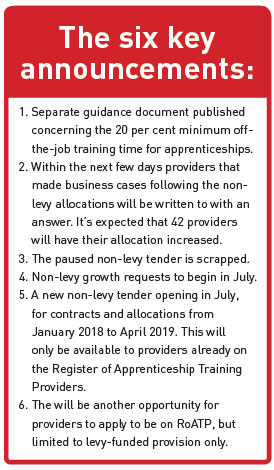 However he acknowledged there were likely to be "plenty of people in the room" who were "groaning" because of the news that they would have to go through the procurement exercise again, but added that "given where we were, it's worth doing".
This feeling was reiterated by Jo Fisher from Dutton Fisher Associates, a small training provider.
She told FE Week: "I really do welcome the fact that they're going to bring this forward, but now we've got to go through the whole procurement thing again.
"I'm concerned that it's July – we want to know when the start is, when the end is … that's going to have a big impact for us."
Despite some frustration around Ms Milton's announcements, Mr Dawe he was pleased to hear her calls to "work together".
He said: "We want to be able to feed in, explain our concerns and at least have an understanding – even if we don't always agree."
Ms Milton insisted that she would "listen and "take notice" of what the sector had to say, and also highlighted her preference for working quickly and efficiently wherever possible.
"I am somebody who has absolutely no patience at all, I want everything done yesterday and I will only forgive not doing it yesterday if it's in an attempt to get it right," she said, answering a question from FE Week deputy editor Paul Offord about the recent fall in apprenticeship starts.
Speaking at the FE Week Festival of Skills last week (June 22), Mr Dawe said apprenticeship starts had fallen to around a quarter of what they were last year, according to feedback from members.
Ms Milton said that she wanted to see this drop in starts "changed quite dramatically and quite quickly".
She also apologised for the high turnover of ministers FE has seen recently, in response to a question from Alex Ford of CT Skills about how she plans to raise the profile of the sector.
She said: "It is frustrating and it's actually been quite unusual … for that I can only apologise.
"You must contact me, if you feel you that are being excluded or left behind or not given enough priority then let me know."
Published in our #AELP2017 supplement – click here to download.