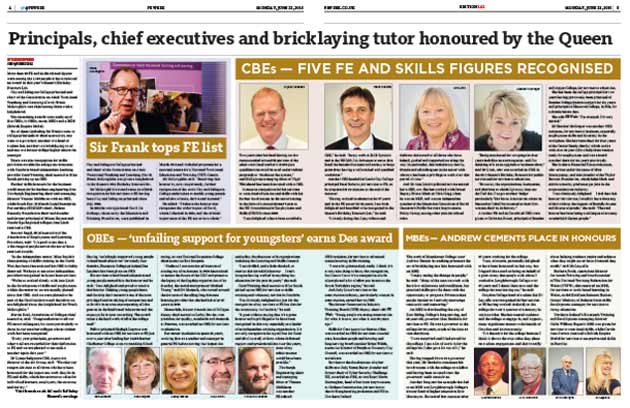 More than 20 FE and skills-related figures were among the 1,163 people to have received an award in this year's Queen's Birthday Honours List.
City and Islington College principal and chair of the Commission on Adult Vocational Teaching and Learning (Cavtl) Frank McLoughlin was chief among these with a knighthood.
The remaining awards were made up of five CBEs, 11 OBEs, seven MBEs and a BEM (British Empire Medal). Six of these (including Sir Frank) went to college principals or chief executives, one went to a governor, another to a head of student life, another to a bricklaying tutor and one to a former college higher education manager.
There was also recognition for skills provision outside the college environment with Cumbria-based independent learning provider Gen2 Training chief executive Mike Smith picking up an OBE.
Further skills honours for the business world came for Rotherham engineering firm Newburgh Engineering chair and managing director Vincent Middleton with an OBE, while South East Midlands Local Enterprise Partnership (SEMLEP) chair, Helena Kennedy Foundation chair and founder, and former principal of Milton Keynes and Cambridge Regional colleges Ann Limb received a CBE.
Click on image below to enlarge and click here for even more feweek.co.uk coverage of the honours.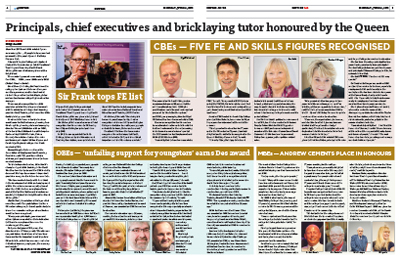 Stewart Segal, chief executive of the Association of Employment and Learning Providers, said: "It's good to see that a wide range of people across the sector have received awards.
"In the independent sector, Mike Smith's championing of skills training in the North West has been fantastic and his OBE is richly deserved. We hope to see more independent providers recognised in future honours lists.
"We have worked closely with Ann Limb in the development of skills and employment within the sector so we are equally pleased about her CBE. And we were pleased to be part of the Cavtl initiative and therefore we are delighted about the knighthood for Frank McLoughlin."
Martin Doel, Association of Colleges chief executive, said: "Congratulations to all our FE sector colleagues, but most particularly to those in our member colleges whose tireless work has been recognised.
"Every year principals, governors and other staff are rewarded for their dedication to FE and we are pleased to see such a number again this year."
Dr Lynne Sedgmore CBE, executive director of the 157 Group, said: "We offer our congratulations to all those who have been honoured for the important work they do in FE and skills, which has enormous value for individual learners, employers, the economy and society."