Hundreds of teachers and tutors are descending upon the grand setting of Berkshire's Wellington College for two days of classroom-related talk, debate and fun.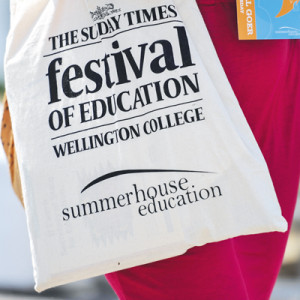 Among the day one speakers yesterday were university technical colleges boss and former Education Secretary Lord Baker and Gazelle chief executive Fintan Donohue.
They took part in a number debates and panel sessions and are featured below, where Lord Baker outlines his views as to why apprenticeships should not be for those aged more than 25.
Also featured below is Mr Donohue session where he expressed his views on the level of entrepreneurial know-how among college boards, during a panel session hosted by Association of Colleges deputy chief executive Gill Clipson.
Lord Baker proposes 'late 20s' apprenticeship cut-off
People in their late 20s and 30s "shouldn't be given apprenticeships," former Education Secretary Lord Baker (pictured above) has claimed.
In a speech at Wellington College, in Berkshire, on day one of the Festival of Education, which counts FE Week as a key media partner, he spoke about the future of technical education. And he warned apprenticeships for older learners were "largely a re-labelling exercise".
Lord Baker, who served as Secretary of State for Education and Science under Margaret Thatcher from 1986 to 1989, said the government had committed to a "very large" expansion in the apprenticeship movement, and that he "applauded" efforts to reach 3m starts by 2020.
But he said they "should be 3m good apprenticeships," adding: "Many of them are now for people in their late 20s and 30s.
"Apprenticeships were never devised for those sorts of people, and shouldn't really be given to them in my view, particularly in the public sector it's largely a re-labelling exercise.
"The really significant levels of apprenticeship are at 16 and 18, but an apprenticeship is supposed to last for two or three or four years.
"You don't need to spend two or three or four years as an apprentice in retail to know how to run a shop. You really don't."
Last academic year, learners aged 25 and above made up 37 per cent of the 440,400 apprenticeship starts. It was 45 per cent of the 510,200 starts the previous year and 44 per cent of the 520,600 apprenticeships in 2011/12.
Lord Baker also spoke about how his University Technical College (UTC) programme for 14 to 19-year-olds was developing, with 30 currently in operation and a further 20 due to open by 2017.
He said asking learners to leave school at 14 was a "challenge", requiring a "big marketing job".
But when pressed by FE Week on the fact both the Hackney and Black Country UTCs were closing this summer, with the latter having been rated as inadequate by Ofsted, and on recruitment and attendance problems facing a number of UTCs, Lord Baker said he accepted there were instances where the model hadn't worked.
"Out of the 30, we have decided to close two because I'm not interested in keeping failing schools going. If I was still Secretary of State, I would close failing schools very quickly," he said.
"We have had two that have not done well and the reason why they did not do well was they had very poor heads and governing bodies. We are now very much more involved. We sit on the board of appointments of headteachers in UTCs."
Lord Baker said recruitment had been "sticky at the beginning" but was "now much better", adding that the UTCs opening this September would "virtually all be fully-subscribed, some over-subscribed".
He also sang the praises of UTC Reading, which this month revealed it had become the first UTC to be rated outstanding by Ofsted.
He said: "For a UTC, which has only been going for two years, pioneering a new type of education, to get an outstanding is unique in the history of education. It's remarkable."
---
'Governors don't know entrepreneurship' — Donohue
Most college governors "don't know what entrepreneurship is," Gazelle chief executive Fintan Donohue told Festival of Education-goers.
Mr Donohue, in what is believed to have been a first public appearance since he revealed in FE Week he had no knowledge of the success rates cheating that went on at North Hertfordshire College (NHC) while he was principal, spoke about the need for colleges to innovate.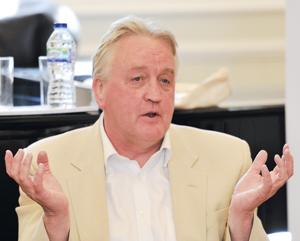 "I think one of the big things is that most of our governing bodies don't know what entrepreneurship is," he told the audience on day one of the festival.
"Let's make it simpler and say, 'what's the cost and return on innovation in the organisation'.
"Governing bodies spend oodles of time monitoring I think very small amounts of money sometimes and very manageable things.
"The real cost to colleges is in innovation and growth but it's quite invisible for most of our governing bodies."
He added that colleges needed to be "inventive" when trying to deliver their "community mission", and said they should turn to alternative sources of income, like local businesses, when trying to run competitions and other elements "beyond the classroom".
"If you're in the college system and you look at programmes of study and the funding, there is a lot of flexibility in there if you are prepared to find ways to stretch it," he said yesterday.
"I think there will be ways in which we can do it, but there is a real possibility of doing more with students beyond the classroom. We have a mentality at the moment that we can only do what we are funded to do.
"But the truth is we have large assets, big campuses, lots of technology and resources, and if we want to deliver our community mission then I think we're going to have to find new ways of saying 'this doesn't have to be funded, this is a gift from our college'.
"We can run competitions, we can do much more with it, alongside that which we're funded to do, and I think we're going to have to think about doing that if we're going to give the young people, the adults, an opportunity to go beyond what the public sector is going to fund in the future."
Mr Fintan, whose entrepreneurialism-promoting Gazelle organisation has come under fire for failing to produce evidence of a return for its college members on their £3.5m-plus investment of public funding, was on a panel including Association of Colleges deputy chief executive Gill Clipson.
Peter Jones Foundation chief executive Alice Barnard was also on the panel.
She said: "We talk about employer engagement all the time, and some places have done very well with it, and some places it's just talked about and not a lot happens.
"To have meaningful business engagement, that needs to be businesses coming into colleges. It means work placements. It means masterclasses, mentoring, business services. It means taking on apprentices.
"Government is talking about taking on 3m apprentices, but you need the businesses to commit to that. I could promise 3m apprentices right now in the same way as the government has, but if I don't have any employers lined up, then that could take me 150 years.
"It's really critical that we don't just talk the talk."
More FE and skills sector coverage from the Festival of Education will appear in a supplement with edition 143 of FE Week, dated Monday, June 29.