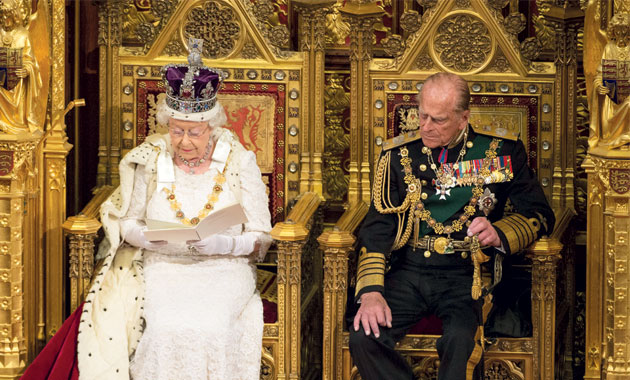 The creation of more apprenticeship starts is the "first priority" out of legislation announced in the Queen's Speech, the Prime Minister has said.
Speaking in Parliament following the Queen's address on Wednesday, David Cameron said the new employment and welfare benefits bill, which requires that ministers report annually on apprenticeship growth, would help his government in its plan to create 3m apprenticeships by 2020.
Other proposals included in the bills announced in the speech include a plan to use JobCentre Plus advisers to supplement careers advice in schools and the establishment of a "youth allowance" for 18 to 21-year-olds, which is conditional on them starting an apprenticeship, other training or a work placement.
A devolution bill will allow skills policy decisions to be taken at a local level by cities with directly-elected mayors and a consultation will be carried out on funding apprenticeship schemes for British and EU workers by implementing a new visa levy on businesses that use foreign labour.
Speaking in Parliament, Mr Cameron said: "The first priority of the Queen's Speech is to help working people, and we are clear about what that means – more jobs, more apprenticeships, more tax cuts, more help with childcare and more opportunity to get a home of their own.
"That is the agenda for this Parliament. The last Parliament saw more than 2.2m new apprenticeships start, and the Queen's Speech will help to create 3m more."
The announcements have sparked a mixed reaction across the FE sector, education unions and the business community.
Lynne Sedgmore, executive director of the 157 Group, said she wasn't surprised apprenticeships and localism were the two main points for FE in the speech, but said there was "little detail" about two "critical areas" – supporting and encouraging employers to offer apprenticeships and preparing young people for the frameworks.
Dr Sedgmore said: "We note with interest plans to use JobCentre Plus advisers to support careers guidance, and to consult on an apprenticeship levy for firms employing non-EU nationals. Both ideas will need careful monitoring.
"We have long believed that a world-class skills system will be the product of genuine local autonomy and real freedom, so we will be working hard with the new ministerial team that legislation in this area does not simply replace national controls with local ones."
David Hughes (pictured right), the chief executive of the National Institute of Adult Continuing Education (Niace), said the 3m apprenticeship target was a "challenge", but could also be a "significant achievement".
He said: "The Queen announced that the government will legislate to require government ministers to report annually on the number of jobs and apprenticeships created.
"This is a good opportunity to secure apprenticeship growth for all ages and in sectors relevant to local labour market skills shortages, matched with our proposals to ensure every apprenticeship is high quality and leads to a sustainable job after completion, career progression and with it rising wages and productivity."
On plans to reform welfare to ensure people were either learning or earning, Mr Hughes warned that existing skills and employment systems operated "too independently", leading to people slipping through the net.
He added: "Increasing apprenticeships, integrating employment and skills services for better outcomes, achieving full employment and, in the words of Her Majesty, realising our 'productive potential' needs strong and empowered cities, which is why Niace supports the announcement today of legislation to continue to devolve powers through elected Mayors across England."
John Allan, the national chair of the Federation of Small Businesses, said the measures in the employment bill would help fill the skills gap, but that the issue was "not only about the number of apprentices".
Mr Allan added: "The aim must be to make our apprentice system the world's best, matching in quality to that offered in Germany, and offering a rewarding vocational alternative to academic routes.
"The only way to significantly increase the number of apprentices is to improve take-up among the UK's 5.2m small businesses. This requires government to make it crystal clear what the benefits are, and what support is available.
"They must be affordable, have standards based on current industry practice, and the quality of training must give confidence to employers that apprenticeships will produce the skills they need for the long term."
Malcolm Trobe, deputy general secretary of the Association of School and College Leaders (ASCL), has raised concerns about the "two immediate issues" facing college leaders, which he claims were missing from the speech.
He said: "There is a looming crisis in both funding and recruitment which must be resolved in order to ensure that colleges have the tools with which to do the job.
"If these critical issues are not addressed, the structural changes planned by the Government may not have the desired effect, and the entire education system will be placed under enormous pressure. The situation is particularly severe in post-16 education which has already been heavily cut over the past five years.
"School and college leaders already do and will step up to the plate on raising standards but they will need the staff and funding to do the job."
A spokesperson for the Confederation of British Industry welcomed the government's commitment to growing the number of apprenticeships, but said the focus should be on quality as well as quantity.
He said: "Annual reporting on progress will help focus minds – but if employers are to step up to the challenge, then government must deliver on apprenticeship reform."
Provider support plea as 'full employment' efforts welcomed
Government efforts to achieve "full employment" have been welcomed by the Association of Colleges (AoC) and Association of Employment and Learning Providers (AELP), but both groups have called for more to be done to support providers.
Martin Doel, chief executive of the AoC, said the legislation proposed in the Queen's Speech clearly demonstrated "the government's commitment to rebuilding the economy through professional and technical education".
He added: "The full employment and welfare bill highlights their dedication to the creation of 3m apprenticeships; a challenging target which can be achieved if the Government and others can persuade sufficient numbers of employers to recruit an apprentice.
"We hope that the provision for Jobcentre Plus careers advisers in schools will help young people to find out about all their options, particularly those in college, as well as giving them a full explanation of what an apprenticeship is and the career opportunities they provide.
"The cities and local government devolution bill may provide new opportunities for colleges but only if they are able to tailor even more qualifications to the local job market, helping to create a pipeline of skilled people ready for employment."
Stewart Segal, chief executive of the AELP, said: "We welcome the statement in the Queen's Speech that legislation will be brought forward to help achieve full employment and provide more people with the security of a job.
"We believe the aspiration for 3m more apprenticeships can be achieved without risking the quality of the training under the programme.
"We are making a series of recommendations to the government on what changes are required to stimulate more demand from both employers and young people, while agreeing with the skills minister that apprenticeships should remain all age, all level and all sector programme.
"We hope to see more of a drive towards an integrated approach to skills and employment provision, including the promised expansion of the Troubled Families programme, as a proven means of securing more sustainable employment for people in Britain."
Click here for more on the Queen's Speech from the AoC and AELP.