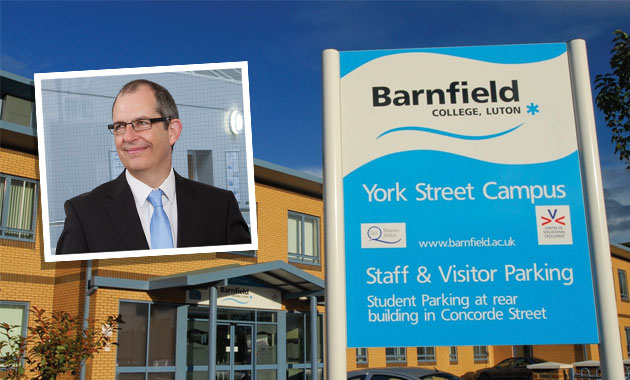 Barnfield College is "looking to forge new relationships" with partners in the education sector after Whitehall rubber-stamped its split from a chain of academies and studio school.
Skills Minister Nick Boles officially approved the break-up of the Barnfield Federation, which means the Barnfield Academy Trust and Barnfield College, its original sponsor, are now separate entities.
The decision brings to an end more than seven months of uncertainty since the proposed split was announced last June, and a particularly troubled period for the college, which became the first FE provider to expect a second full visit from FE Commissioner Dr David Collins after Ofsted described it as "inadequate" in January.
It comes more than a year after the Skills Funding Agency and Education Funding Agency both published critical findings of their investigations into the federation and after Dr Collins called for at least half the governors to be replaced and for "significant changes" to the federation's leadership after his first visit last January, triggered by financial concerns.
Tim Eyton-Jones, the new principal of Barnfield College, said the college was looking for new partners, but did not say whether he meant other colleges, schools or other providers.
He said: "We are looking to forge new relationships with all partners in the education, learning and skill sector so that collectively we can meet the needs of local learners, communities and employers.
"We have implemented a series of strategies at the college focused on reclaiming the excellence in teaching, learning, outcomes and destinations Barnfield College was once renowned for."
Barnfield Academies Trust, which is made up of Barnfield South school, Barnfield West school, Moorlands Free School, Barnfield Vale school and the Barnfield Studio School, has also spoken of its efforts to move on from the federation.
Trust chief executive Andrew Cooper said: "Today's announcement is the news we've all been waiting for.
"There have been issues and challenges in recent times, but from today it's a brand new start for us. This is fantastic news for teachers, parents and most importantly the children and students we teach in our two primary schools, two secondary schools and studio school.
"The ministerial permission to go it alone demonstrates a huge vote of confidence in the great work already being done in our five schools. We share that confidence — we are all incredibly excited about this fantastic opportunity."
Mr Cooper said the trust would change its name in the future.