The FE sector has to face up to low levels of literacy and numeracy among staff if it wants to improve learners' maths and English, an Ofsted official has warned.
Marina Gaze, Ofsted's deputy director for skills and FE made the comments at the BKSB Skills Conference focussing on English and maths.
Ms Gaze's comments found support from the other members of the panel gathered at Leicester City Football Club on Tuesday (March 3).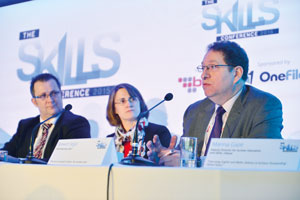 In August, it became a condition of funding for all learners who had not yet achieved A* to C GCSE English and maths by the age of 16 to continue to study these subjects as part of their 16 to 19 education.
Ms Gaze argued one of the best ways to teach good literacy and numeracy was to embed it into other subjects, as well as offering English and maths classes.
However, she said, this created problems when staff had their own issues with literacy.
"I often see absolutely brilliant vocational tutors who can do the most amazing things, have the most fantastic skills, but their use of English is weak," she said.
"So because if staff don't have skills themselves, they can't help learners improve their own skills.
"So I think we have to be honest as a sector about the staffing issues we face."
Ms Gaze added the solution to issues with literacy and numeracy for both staff and learners often came from leadership.
"At Ofsted, when we see maths and English working well there is always somebody senior with responsibility for it," she said. "It has to be led from the top."
However, many panel members and delegates pointed to issues with recruiting and retaining staff to teach English and maths.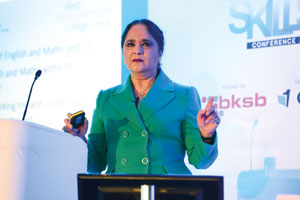 Dame Asha Khemka, principal of West Nottinghamshire College, said: "Recruiting the right people to teach English and maths and upskill is still an effort, but we need to do more of that."
She added that the college had recruited more English and maths graduates recently as a result of the 'golden hello' bursaries offered by the Education and Training Foundation (ETF).
But, she said: "Retention is an issue. Do you know what? There's no correlation between how much you pay people and how you retain people. It's about motivating those people, and nurturing them and recognising them.
"It is a problem, you have to work at it, you need to skill and reskill people constantly so people are being supported to do a better job."
Association of Employment and Learning Providers chief executive Stewart Segal said constantly changing government policy didn't help with staff retention.
"It's about making sure that what you're teaching is respected so that your teachers get respect," he said.
"Every minister says, we've got to improve — I know we have but what it suggests is that what we've been doing so far is not good enough.
"They've got to listen to what people are struggling with and build on what's good and we might have a chance of convincing people that what they're doing is recognised."
One audience member, who provided training in the Royal Air Force (RAF), explained all their apprentices were required to take Functional Skills as many had not come straight from school.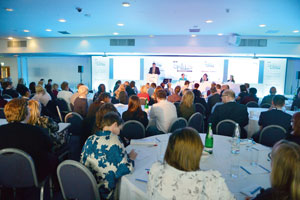 This meant, she said, many learners were forced to take level two Function Skills qualifications, despite operating at level three.
Naomi Nicholson, director of strategic relationships for vocational qualifications at Ofqual, said level three Functional Skills had thus far not been developed because "the idea was that level two was the functional level".
However, she pointed to the ETF review of English and maths qualifications currently underway. and due to report at the end of March, and said: "It would be interesting to see whether they might have any views on that or if other people say there's a need for it."
A Department for Business, Innovation and Skills spokesperson told FE Week: "We are not intending to introduce a new Functional Skills qualification at level three at this time.
"We have commissioned the ETF to carry out a review of English and maths qualifications outside of GCSE, and whether these suit employer and learner needs. We will consider any recommendations it makes."