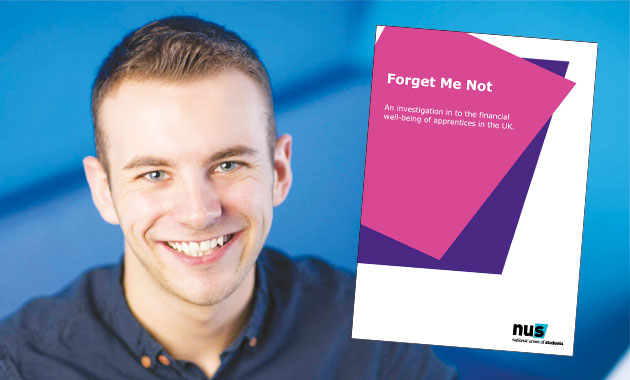 A proposed 2.6 per cent rise in the National Minimum Wage for apprentices has been branded "measly" by National Union of Students (NUS) vice president for FE Joe Vinson (pictured below)
The Low Pay Commission (LPC) has put a £2.80 an-hour minimum to the government while rejecting Business Secretary Vince Cable's proposal to shift apprentices up onto a par with the 16 and 17-year-olds' rate — currently at £3.79 an-hour.
The LPC argued that such a move could affect 200,000 apprentices with the cost to employers hitting at least £160m each year, possibly "much more".
Mr Vinson said: "A measly 2.6 per cent increase from £2.73 to £2.80 an-hour for apprentices in their first year and those aged 16 to 18 will do nothing to help the cost of living crisis that apprentices are currently facing.
"It's appalling to see a rejection of raising the apprentice minimum wage to the 16 to 17-year-old rate. The fact the LPC admits that a rise would benefit nearly 200,000 apprentices is an overwhelming reason to do it."
Just days before the LPC recommendations were released the NUS had already issued a damning report on the issue of apprentice pay, labelling the current minimum wage of £2.73 an-hour "exploitative".
The 21-page Forget Me Not report (pictured below right) painted a bleak picture of apprentice finances and called for the scrapping of the apprentice minimum wage, arguing that learners "should be entitled to at least the national minimum wage for their age".
It also recommended, among other things, free transport for all 16 to 19-year-oldsand extending the bursaries available to students in FE to apprentices. Mr Vinson said: "Paying apprentices such an exploitative wage has led to the situation we are in at the moment, where apprentices are forced to work in the evening to make enough to live and run up huge credit card debts because they're excluded from student bank accounts."
With the Apprentice Pay Survey 2014 having showed how younger apprentices were being hit hardest by minimum wage non-compliance as nearly a quarter were underpaid, the LPC said it had been asked by Dr Cable to consider whether the structure of the apprentice rate could be simplified in "order to improve compliance".
It agreed with the Business Secretary that higher-level apprentices should earn the 'normal' worker national minimum wage, for which a 20p rise to £6.70 was recommended, but said there were "significant risks" in merging the apprentice rate with that 16 and 17-year-olds.
"It would mean an unprecedentedly large increase in the value of the rate, of between 39 and 88 per cent," said the report.
It added: "The cost to employers would be at least £160m each year and could be much more. That would be around half the total cost of the recommended increase in the adult rate, and at a time when there are other funding pressures on employers in England from possible mandatory cash contributions to training."
The Department for Business, Innovation and Skills said it had "gone all out to support apprentices".
A spokesperson said: "The government will now consider the LPC's recommendations and respond in March. Once the government has responded, the regulations to change the rates will be debated in Parliament before the new rates are introduced on October 1."