Shadow Skills Minister Liam Byrne has pledged a Labour Government would not raid the 16 to 19 budget to pay for early years' or schools provision.
Labour had promised to include 16 to 19 provision within an education budget ringfence, which currently ends at 16, but had not previously committed to protecting it from being raided for other provision.
However, at the City & Guilds' Skills Debate For Prosperity and Growth at London's Mansion House on Wednesday (February 26), Mr Byrne went one step further, saying the 16 to 19 budget would be protected within the ringfence.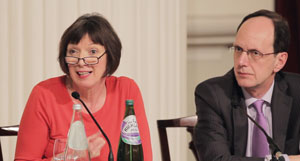 He told FE Week Labour "would not" take from the 16 to 19 budget to fund other learning within the same ringfence, adding the party's policy was "about an £8bn spend on FE 16 to 19 provision".
"If you protect it in real terms, that means you grow the 16 to 19 budget by £400m over the course of the next parliament," he said.
The Liberal Democrats were the first to announce a plan to include 16 to 19 provision in the education budget ringfence but stopped short of pledging specific protection within the ringfence, although in June a spokesperson said that to move large amounts of money from one end of the wider age group to the other was not "consistent with the policy".
Education Secretary Nicky Morgan has said the Conservatives would maintain the ringfence for five to 16-year-olds earlier, but did not commit to protection for early years or FE budgets.
Mr Byrne's comments followed a Question Time-style panel debate, which also included Skills Minister Nick Boles, Liberal Democrat Sal Brinton, Confederation of British Industry director general John Cridland, Trades' Union Congress general secretary Frances O'Grady, and was chaired by journalist Andrew Neil.
The debate, in front of an audience of around 150, focussed on how to solve the skills gap — an issue which Mr Neil said was "vital to our future and our economy".
On the eve of the release of the skills funding letter [see front], many audience members raised questions about how the FE sector would continue to deliver the training needed to boost UK skills in the face of predicted cuts.
Although the contents of the letter had not yet been revealed, Mr Boles said: "I don't suppose it'll surprise anyone to learn that there are some biggish cuts to everything except apprenticeships."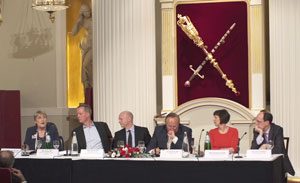 However, he pointed to government protection and growth of apprenticeships.
He said: "If you are in the business of providing FE, and you moved into apprenticeships in a big way, then you have moved into a fuller stream of government funding, but if you have stayed traditional full time FE and not diversified then you will have had to make some very difficult cuts in budgets."
Mr Cridland also called for changes to full time vocational qualifications and to GCSEs.
He said: "If the participation age is being raised to 18, what is the point of having terminal exams at 16?
"We should abolish GCSEs and rebrand high quality vocational qualifications as vocational A-levels — they are a recognised gold standard."
Ms O'Grady said there had been too much change in the system under successive governments saying skills problems were "deep-rooted and long-running but the last thing many of us want is another rearranging of the deck chairs".
However, Mr Boles argued there had been "a certain amount of consensus and continuity" between recent governments.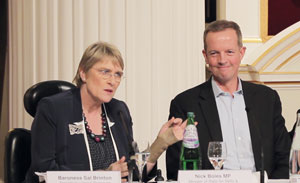 "The most important element of that is on the increasing importance of English and maths, without which nothing else works," he said.
"David Blunkett years ago started his review focussing on English and maths and we've carried out reviews and we're insisting everyone continuing English and maths until they reach a certain standard."
Lady Brinton told FE Week a focus on literacy should include English for Speakers of Other Languages (Esol) provision, but said the funding should be directed through Local Enterprise Partnerships.
"Then the funding can respond to local needs — there's no point in providing the same level of Esol in Cornwall and Devon as there is in inner-city Birmingham," she said.
Ms O'Grady also called for employers to be made to offer more workplace training.
"A third of employers don't train at all," she said.
"We need to recognise that the voluntary approach to investment in skills has failed.
"The picture on employer investment has not shifted substantially and in fact is getting worse so we need to tackle the idea that if left to the market there will be a rescue because frankly there isn't."