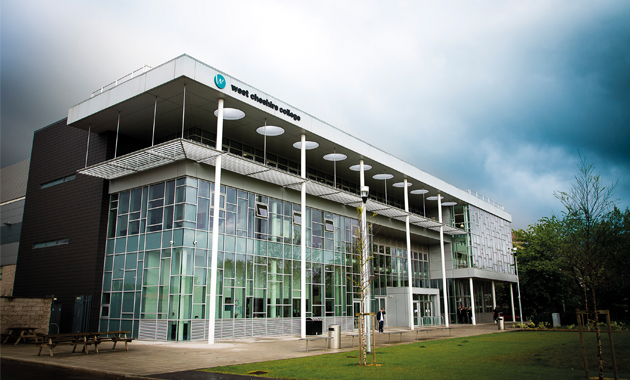 One site 'difficult' for learners to get to and 'unsuitable for provision'
£68m developments leave college with huge debts
'Makes sense' to sell one off, says commissioner
Further Education Commissioner Dr David Collins has told how a series of blunders over the "size, location and financing" of these £68m West Cheshire College builds left it with crippling debt as he told Skills Minister Nick Boles "it makes sense" that one be sold off.
He described the buildings as "costly and inefficient" — and the college has revealed plans to shut the Handbridge site,  as recommended by Dr Collins, just four years after rebuilding it on a site "relatively difficult to reach by public transport".
It is also "unsuitable for the provision it offers," according to Dr Collins.
The building, in Chester, opened around the same time as the college's Ellesmere Port site, with both having been funded to the tune of £47.9m from the Learning and Skills Council.
Long-term borrowing to top up payment for the builds left the college £14.5m in the red and led in September to Dr Collins being sent in after the Skills Funding Agency (SFA) had assessed its financial health as inadequate.
Nigel Davies (pictured), principal since May 2013, declined to comment on whether Handbridge would be sold, but said: "Any decision to close a site is not taken lightly and has only been done with a clear and detailed understanding of the impact of those changes."
Mr Boles responded to Dr Collins' report by sending out two FE Commissioner advisers to ensure the proposed closure process at West Cheshire is carried out properly, including local consultation.
Dr Collins' report had said: "West Cheshire College is in a very difficult financial position largely due to mistakes that were made in the past with regard to the size, location and financing of its new builds." It added: "The college has a significant amount of excess space which is costly and inefficient. It therefore makes sense to consolidate provision on one site – that at Ellesmere Port – and to sell the Handbridge campus."
A spokesperson for the grade three 15,257-learner college was "unable to confirm the number of job losses" that would result from the proposed campus closure.
Mr Davies said, despite the closure plan, the college would "continue to have a presence in Chester and is planning to open a more accessible city centre-based location".
The commissioner's report on West Cheshire came out the same day (January 29) as Stoke-on-Trent College's, in which, similarly, it was advised to "review its estate" and potentially sell-off unused buildings. He inspected the college in November after it was also assessed as inadequate for financial health by the SFA.
Dr Collins called on the college to "develop a comprehensive recovery plan by the end of February at the latest".
Sarah Robinson (pictured), principal of the grade two 15,000-learner college, said: "There are currently no plans to sell off any buildings/sites." But she added that, since the commissioner's visit, a staff reduction programme had been launched affecting around 25 employees across all areas, "including senior management".
An SFA spokesperson said it was working with West Cheshire to "progress" Dr Collins' findings, while it would "consider the outcome" of his Stoke-on-Trent report.