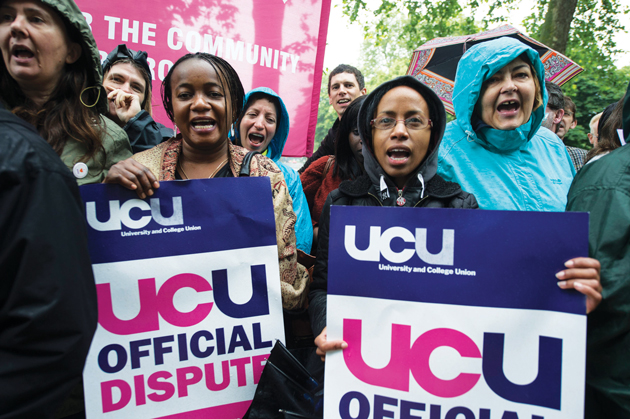 Lambeth College has retained its grade three Ofsted rating despite inspectors visiting amid long-running industrial action that ended with staff returning to the classroom last week.
Principal Mark Silverman was praised in the report, out on Friday, for "resolute and resilient management," while staff efforts and contingency plans "helped to mitigate some, but not all" of the effect of the strike on learners.
Courses in English for Speakers of Other Languages were most badly hit, according to Ofsted.
The report said: "Following the previous inspection, where success rates were exceptionally low, prompt and effective action by the new leadership team resulted in a significant rise in learners' outcomes at the end of 2012/13, albeit that they still required improvement.
"In 2013/14, success rates declined due to a prolonged period of industrial action that resulted in many learners not being able to complete their courses."
Mr Silverman, who was appointed just after inspectors visited in early 2012 and gave the college an inadequate rating before it improved a grade the following year, said: "We clearly have some work to do to improve, which will be monitored and controlled by a post inspection action plan specifically addressing the points raised by the report."
He also thanked staff who "worked diligently throughout strike action to ensure lessons and support for learners could continue".
University and College Union member voted on Wednesday to return to work and were back in the following day. Lecturers had walked out on Monday in the latest in a series of strikes going on since March, including an indefinite walkout in June that lasted five weeks, ending just before the summer holidays. The UCU claimed new contracts would leave staff with fewer holidays, less sick pay and longer working hours.
But the strike ended with the college allowing existing staff to change their hours without transferring to the new contract and made changes to the first year of sick pay.
Mr Silverman said: "I am pleased that we can now put the dispute behind us."
A UCU spokesperson said: "We repeatedly asked for talks aimed at resolving the longstanding dispute over contracts. It has now emerged from their December report that Ofsted also wanted a swift resolution. It is regrettable that we had to wait until the middle of January and an indefinite walkout before things could finally be resolved.
"The very nature of industrial action means that it will have an impact, which is why it was a last resort for us after negotiations failed. Our members are glad to now be back to doing what they do best and we hope we to restore good working relations with the college."
Main pic: Lambeth College staff on the picketing line