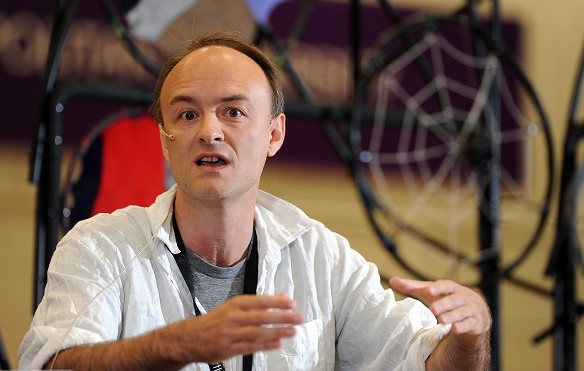 Funding for FE was cut last year to pay for the government's universal free school meals policy, a former aide to ex-Education Secretary Michael Gove has told FE Week.
Dominic Cummings (pictured), who was a special adviser to Mr Gove, claimed cuts announced in 2013/14, including the controversial 17.5 per cent cut to the full-time funding rate for 18-year-old learners, were necessary to find cash to pay for universal free school meals — a policy championed by Deputy Prime Minister Nick Clegg.
He said the trade-off was rubber-stamped by 'The Quad', a decision-making body at the top of government consisting of Prime Minister David Cameron, the Deputy Prime Minister, Chancellor George Osborne and Chief Secretary to the Treasury Danny Alexander.
But the Department for Education (DfE) denied the accusation, insisting the money for free school meals was pumped in from the Treasury.
Mr Cummings, who has come under fire from Coalition leaders after previous attacks on the government, said: "The decision in 2013 to cut 16 to 19 further was necessary because of all the extra money for universal free school meals and other constraints imposed by The Quad.
"Left to his own devices Gove would not have done that but he was given no choice by Downing Street. Number 10 gave Clegg universal free school meals as a trade-off for their own announcement on married couples' taxes.
"It was a small but telling example of the stupid way decisions are made by Cameron and Clegg without proper thought and it is more telling that they have no idea why it's stupid."
Mr Cummings also suggested in posts on Twitter that the DfE had been forced to make cuts to 16 to 19 funding that were never revealed at the time.
He said: "The cuts process uses figures which aren't made public. £ is shuffled/created/magicked in/out of existence in ways that would get you arrested immediately if you did it in a company. 'Is this real or funny money?' is a phrase heard many times/day."
In the last year, providers have been told a 19 per cent cut to the adult skills budget over the next two years will see their budgets slashed by 15 per cent, on top of a cut in the full-time funding for 18-year-old learners, from £4,000 to £3,300.
But the DfE dismissed Mr Cummings's claims, and said the money for the free school meals programme — £1bn in revenue funding from the Treasury and £70m in capital cash for new kitchens — was new.
A DfE spokesperson said: "This is completely untrue. All of the funding for providing universal infant free school meals has come from the Treasury and unspent school maintenance budgets — as made clear in the 2013 Autumn statement.
"The announcement also meant that, for the first time, all disadvantaged 16 go 19-year-old students will be eligible for free school meals, whether they choose to study in college or sixth form."
Mr Clegg's official spokesperson did not respond to a request for a comment, and Downing Street said it had nothing to add to the DfE response.
Picture: Asadour Guzelian
What do you think? Let us know below whether free school meals were a price worth paying for FE and skills cuts elsewhere.