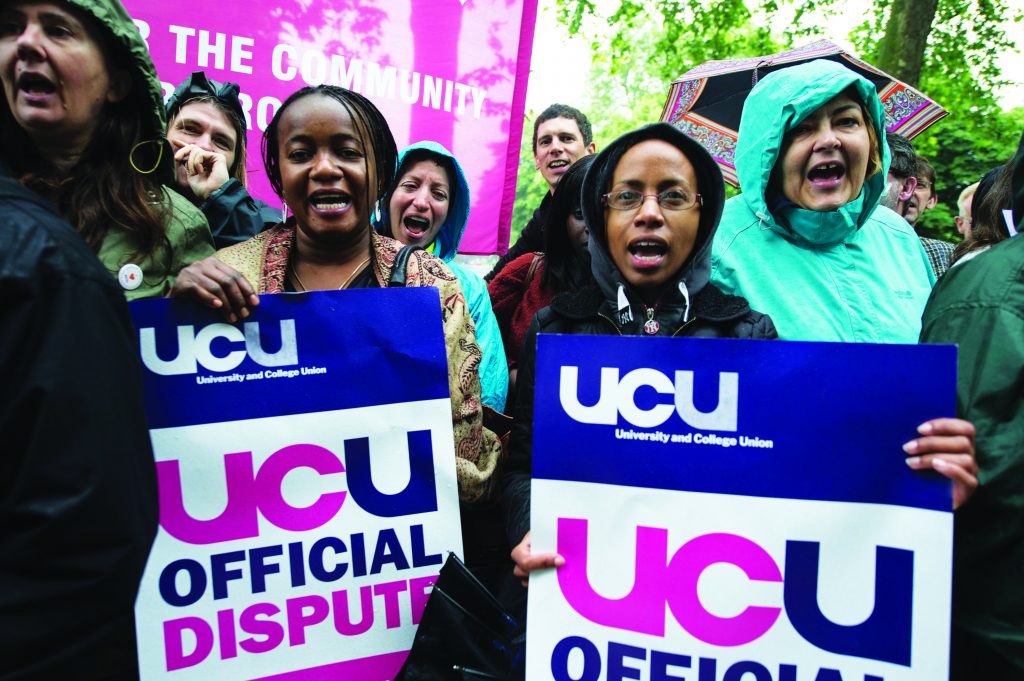 Desperate learners at Lambeth College have called on union leaders and college bosses to get back around the negotiating table amid fears an increasingly bitter strike is putting university futures at risk.
Members of the University and College Union (UCU) started their indefinite industrial action on Tuesday, June 3, over contracts which offer less annual leave and longer working hours.
Principal Mark Silverman said the terms of the new contract, which was introduced from April 1 this year, were "in line with sector norms".
But the UCU claimed they would leave staff with "bigger workloads, but less sick pay and fewer holidays".
The college said it was "business as usual" at the college, but learners told FE Week many classes had been cancelled or replaced with "unhelpful" study sessions — and now they fear their futures are being put at risk.
A 17-year-old childcare student, who did not wish to be named, said: "The plan was to go to university next year but at this stage I don't think it's going to happen. The college and the union need to sort this out."
Level three business student Tatiana Cunha, 18, said: "It's been terrible — the study sessions are really unhelpful because you can't ask anyone if you're stuck."
She added: "They should meet and sort this out — it's the only reasonable thing to do."
Level two applied science student Fatlyn Kamara, aged 24, said: "We need our teachers back, we've had assignments and we've had no feedback from it and the course ends in two weeks — by the time they come back it will be over.
"I want to do an access course, but I need a proper exam result to get onto it and now I don't know what's going to happen."
A Lambeth College spokesperson said: "The majority of classes are running, exams and assessments are going extremely well and learners are all attending these as planned.
"There are three areas of the college that are affected most — LLDD, ESOL and some parts of science.
"However, we will continue to ensure there is a high level of supervised study."
The new contracts offer 50 days a year annual leave — 10 days less than that given to existing staff.
Mr Silverman said the contract change was part of the college's recovery plan following financial deficits of £4.1m in 2012/13 and £3.5m this year.
UCU regional official Una O'Brien said: "We have being trying to resolve this issue for months and we understand students' concerns." She added: "We want to get this resolved as soon as possible."
Meanwhile, staff at Brighton City College walked out on Tuesday (June 10) in a one-day strike over proposals to cut 55 full-time equivalent jobs. Michael Moran, Brighton's UCU regional official, said: "The college needs to avoid knee-jerk reactions to cuts."
Principal Lyn Thackway said: "The consultation process is ongoing and its final outcome is yet to be confirmed."
Editorial
On the right side
There are always at least two sides to any industrial dispute.
Workers and their unions see things one way while managers and directors see them another.
But a third side to the dispute at Lambeth College is one which must now be put above all others.
This side is that of the learners. Their futures are being called into question — this is their own view of the effect the strike is having.
Their concerns and their hopes must be foremost in the minds of those who have the power to end this ugly row.
Yes, there may be genuinely held grievances. And yes, finances need to be squared.
But it seems staff and leaders are growing increasingly entrenched in their positions — and all the while learners are getting more and more worried about their education and could well end up resenting their time in FE.
So UCU members and principal Mark Silverman need to follow the advice of these learners and talk — please don't let these young people think the sector has let them down.
Chris Henwood, editor