The mental and physical stamina of high-achieving apprentices was tested to the limit in the finals of the Brathay Challenge.
Eight teams from across the country descended on the Lake District to complete a series of tests of their problem solving and physical abilities over June 10 and 11.
The final was the culmination of six months' hard work in which the teams raised funds, completed community projects and visited schools, colleges and universities to promote vocational learning.
More than 110 teams and 1,000 apprentices entered the competition, now in its third year, which is organised by the Brathay Trust charity and supported by the National Apprenticeship Service (NAS).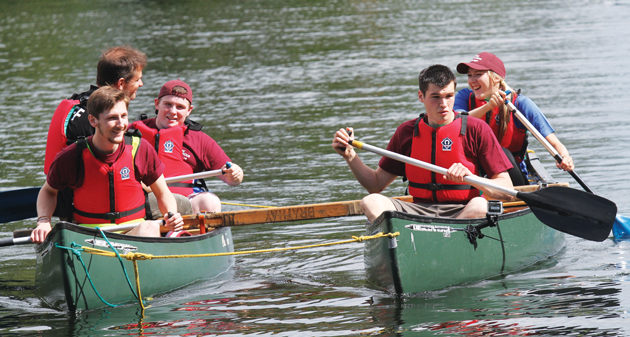 The finalists were timed completing problem-solving challenges, including an event which involved working as a team to identify a series of shapes while blindfolded.
Physical tests included orienteering around 10km up Loughrigg Mountain, canoeing, and balancing on metal chords suspended 20ft above the ground.
The final gruelling event involved teams rowing 16km across Lake Windermere in whaler boats.
The competition was narrowly won by a team of level two to five apprentices, based
at offices and factories across the midlands and north of England, from food and soft drinks firm PepsiCo. They were Danny Stenberg, aged 19, Sam Kelly, 18, Toby Dunford, 16, Leigh Bell, 21, Kira Iaquinta, 23, James Weedon, 17, Kaifer Williams, 23, Jonathan Baxendell, 21, and Liam Walling, 19.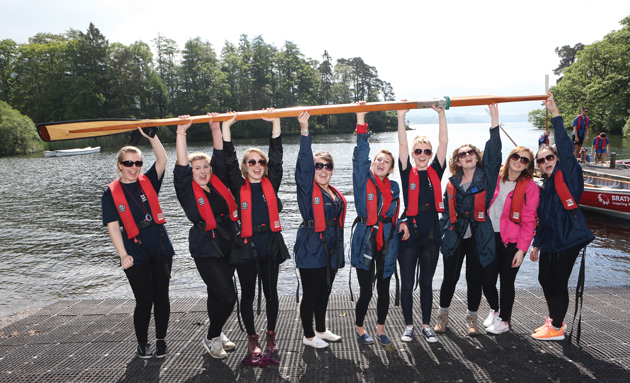 Matt Freeland, human resources director at PepsiCo, said: "Apprenticeships are a vital part of our organisation and to see them being crowned apprentice team of the year makes us all very proud."
A team from Wiltshire-based defence, and security firm QinetiQ came second, with British Airways and Chelmsford-based e2v Technologies finishing joint-third.
Teams from Cumbria-based electronic components firm Oxley Developments, Queen Elizabeth Hospital, in Kings Lynn, Norfolk, South Worcestershire College and Virgin Media also competed.
Level three aeronautical mechanical engineering apprentice Robert Langley, aged 20, from the QinetiQ team, said: "The challenge was really tough and pushed us to our limits. We're so proud of how far we have come and the experiences we have gained, not just at the finals but throughout the whole six months, have been invaluable."
The teams raised more than £30,000 between them for charities including Haven Hospices, Cancer Research UK, Ulverston Inshore Rescue, Flying Start which supports underprivileged children, and brain
tumour research charity Help Harry Help Others.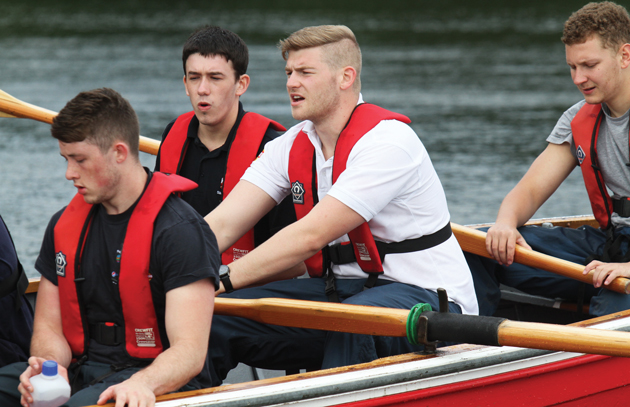 They convinced more than 50 new companies to take on apprenticeships, through business breakfasts and one-to-one meetings with employers.
Their community projects included renovating a scout hut, cricket club, community centre and a primary school's garden and they visited 50 schools, colleges, universities and careers fairs.
Nick Wilson, deputy director of employer and provider services for the North East and Yorkshire for the Skills Funding Agency which oversees NAS, said: "My congratulations go to the apprentices from PepsiCo."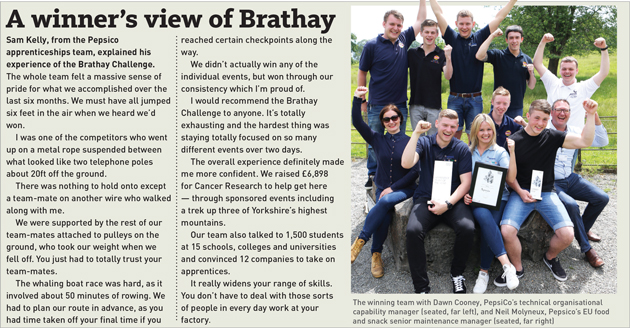 Main pic: from left: Virgin Media team members Jamie Hay and Niall Joseph, aged 20, balance on the high ropes