At least 155,000 young people will be left without a suitable post-16 course from 2026 as a result of the government's plan to axe most BTECs, new analysis suggests.
Experts predict that a sharp drop in the number of applied general qualifications, like BTECs, coupled with slow growth in the number of students taking their replacement T Levels will lead to one in eight sixth formers "falling through the gap".
First-of-their-kind projections to measure the scale of the impact of ministers' controversial level 3 reforms have been released today by the Protect Student Choice campaign, in the absence of any official modelling from the government.
In a scathing report, the campaign also lays into ministers for "playing fast and loose" with data by using it in a "partial and misleading" way to justify their plans.
Sector leaders said the findings highlight a "disaster waiting to happen" and urged ministers to "put young people ahead of political game playing" by pausing and reviewing the reforms.
But skills minister Robert Halfon defended the reforms: "We no longer incentivise courses like self-tanning, balloon artistry and pole fitness instructing – as the last government did.
"We've worked hand in glove with hundreds of employers to rebuild the entire skills system. Alternative qualifications including BTECs will continue, however, we will be removing those where there is poor uptake, inadequate outcomes, or overlap with our world-class T Levels."
'Calamitous impact' of level 3 reforms revealed
The DfE is creating a streamlined system for students finishing their GCSEs which pushes them to study either A-levels, T Levels, or an apprenticeship from 2025.
Alternative applied general qualifications (AGQs) like Pearson's popular BTECs will only get funding from this point if they do not overlap with the other qualifications and pass a strict approvals process.
A freedom of information request by the Sixth Form Colleges Association, which leads the Protect Student Choice campaign, found there were 281,260 students studying at least one level 3 AGQ in 2022/23, and 15,410 were studying a T Level.
The association's report warned that AGQ numbers will fall rapidly and significantly: 191,257 students are studying qualifications that the government has already deemed to be ineligible for reapproval and will scrap by 2026. The remaining 90,003 are studying qualifications that the government will consider reapproving.
The SFCA predicts that linear growth – a steady level of increase based on the three years of student numbers available – in T Level learners is the most likely trend, which would lead to 51,482 T Level enrolments by 2026.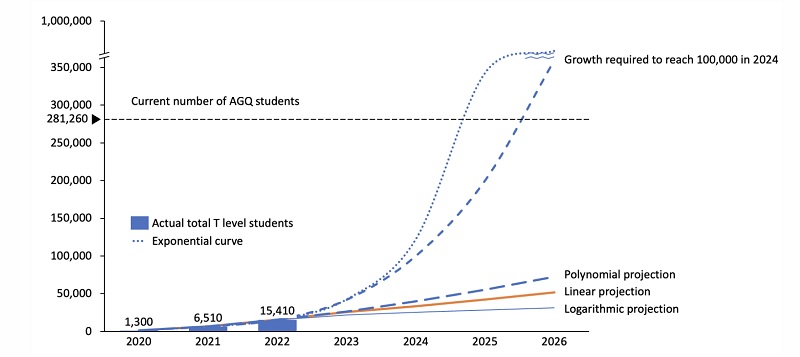 Analysis indicates that at least 155,185 students – around 13 per cent of sixth formers in England – are currently enrolled on an AGQ that will be scrapped and will not be able to enrol on a T Level if growth follows the SFCA's linear projection.
The association said this is "almost certainly" a significant underestimate, as it has assumed that all applied general eligible for reapproval will successfully navigate the reapproval process, which in practice is "extremely unlikely".
Funding was made available in the 2021 spending review for "up to 100,000 T Level students" by 2024/25.
The SFCA said that achieving this number in the next two years would involve near-exponential growth, which is "not consistent with enrolment patterns to date".
Ministers believe that T Levels will "gain traction" when competing qualifications like BTECs have been removed.
But the SFCA warned scrapping BTECs to drive up T Level numbers is a "high risk strategy that is not supported by evidence", adding that "many" schools and colleges predict the reforms are more likely to drive up A-level numbers instead.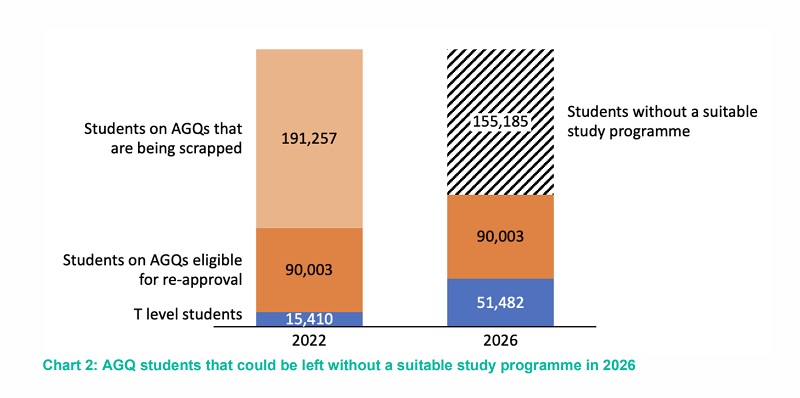 Geoff Barton, general secretary of the Association of School and College Leaders, said: "This data-driven report finally reveals the calamitous impact they [the government's reforms] will have. The government should now pause and review its plans as a matter of extreme urgency. To fail to do so is to wilfully abandon the futures of a whole generation of sixth form students."
Halfon said: "This September there are 18 high quality T Levels available offered at more than 160 providers across the country. More courses will be coming on board over the next few years, so we expect student numbers to rise as these are rolled out."
'Desperate' ministers misuse data
Ministers also stand accused of being "so desperate" to boost the number of students taking T Levels that they routinely misuse a range of measures to understate the performance of applied general qualifications and overstate the performance of T Levels.
For example, qualifications like the BTEC foundation diploma in health and social care have been criticised by ministers because "less than 5 per cent" of students progress to higher education. What officials ignore is that 64 per of students studying this qualification progress to employment and 24 per cent to further education, according to the SFCA.
The association said that by contrast, ministers routinely describe T Levels as "gold standard" qualifications that offer "the best progression for students". Yet detailed performance data for T Levels will not be available until 2025 and progression data not until 2027 at the earliest. Data is currently limited to pass rates.
Jo Grady, general secretary of University and College Union, said: "It is incredibly worrying that ministers are playing fast and loose with the relevant data to push ahead with their flawed plans."
Bill Watkin, chief executive of the Sixth Form Colleges Association, added: "T Levels are a welcome addition to the qualifications landscape, but there is simply no data to support the government's claim that they are a gold standard improvement on BTECs.
"Ministers must pause and review their plan, to avoid doing serious damage to young people, social mobility and the economy."