Ten years on from the introduction of direct entry for 14- to 16-year-olds in college, FE Week hears of its transformative impact on learners. But inequitable funding and reputational damage have led to a postcode lottery for the provision and prevented the policy hitting the heights first envisioned
Cath Sezen is unequivocal. "Where it does exist, it offers a great opportunity for young people who really want to study a vocational area and some young people for whom school hasn't quite worked. Without it, there will be a big gap in provision," she says.
Sezen, interim director of education policy at the Association of Colleges, is talking about direct entry provision, where colleges enrol and teach students aged 14 to 16 where a mainstream school is not the right answer for them.
Announced back in 2012 by the coalition government, the policy was a response to the Wolf review and aimed to help those for whom a vocational route was more appropriate, and in turn, hoped that would help improve those students' academic subject performance too.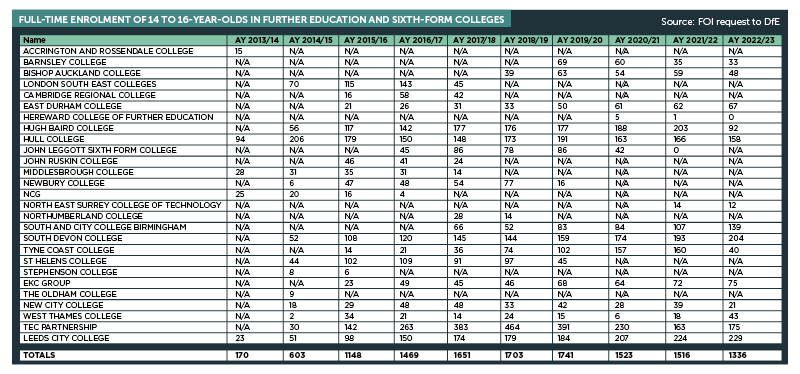 Sezen says it also provided a replacement for the increased flexibility programme – where key stage 4 students could do one day a week in college – and the similar young apprenticeship programme after funding for those ceased.
In the first year (2013/14) 170 learners took up the offer across five colleges in England.
A decade on, a Freedom of Information request by FE Week can reveal that just 12,860 young students have been taught through direct entry.
Only 27 colleges (either general FE or sixth form) have attempted to offer the provision.
And just 14 colleges are listed as planning to offer provision this year, according to government guidance.
South Gloucestershire and Stroud College is a new name to enter the arena this year, but 14 others over the years have stopped offering the provision. So why has provision that insiders say has such a transformative impact on young learners had so little take-up?
'Doing more for less'
One answer lies in the funding model. Per-student 14 to 16 funding comes at the same rate as college 16 to 19 students, £4,542 for the basic rate this year. That is despite direct entry provision being for 25 taught hours per week (the same as schools) compared to around 16 or 17 hours usually seen on 16-plus college courses.
Basic per pupil funding for their key stage 4 peers in mainstream schools however is £5,831 – nearly £1,300 more per student.
Coupled with the requirement for colleges to provide a separate space on their campus for teaching direct entry, and difficulties for colleges to access high-needs funding, Sezen says it has left colleges "asked to do more for less".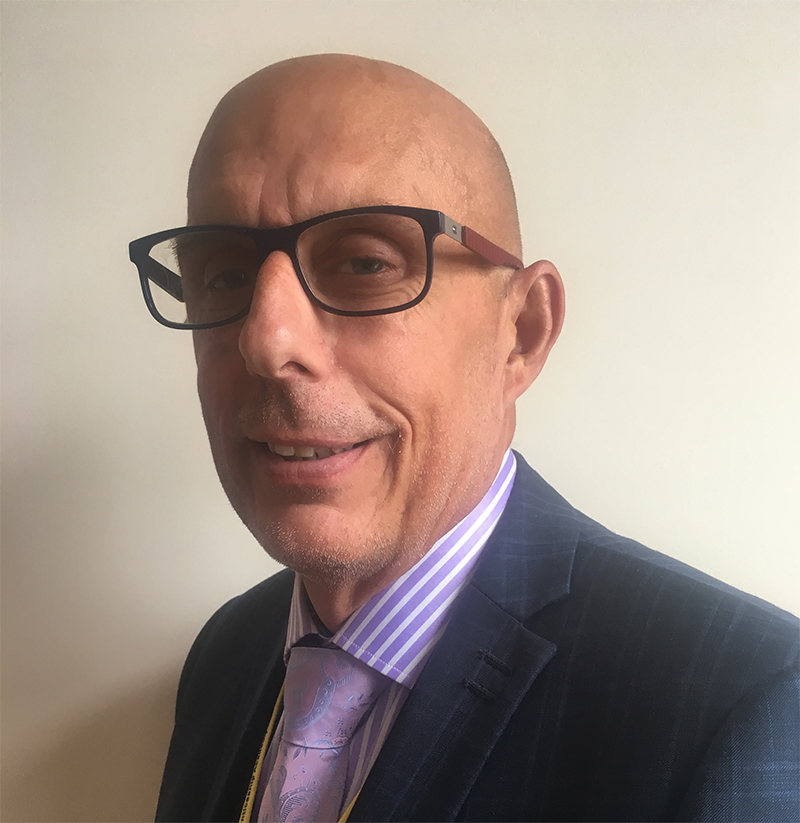 Alan McKenna (pictured inset) is deputy director of SEND and inclusive provision at Leeds City College, which is one of just two colleges to offer direct entry every year since its launch. He is also chair of the AoC's 14 to 16 special interest group.
He says: "Funding is the number one reason why colleges have pulled out because, until you get to a certain size, I don't think you can do it at a profit, or even break even.
"It's only in the last couple of years that we actually broke even. Up until that, the first eight years it was costing about 20 per cent more than the money being brought in.
"Unless you have got a very altruistic chief executive who sees the moral compass, who sees the social climbing of these young people and how they can get there… I can see why most colleges would pull out if they are struggling financially in the first place."
According to the DfE, an implementation group was formed in 2012, chaired by Mike Hopkins, then principal of Middlesbrough College, and Tony Medhurst, who was at the helm at Harrow College, which set out the arrangements for delivery – including funding.
Some colleges, like Accrington and Rossendale and The Oldham College, ceased delivery of the offer after just one year. For others, such as Hereward College of Further Education, low numbers appeared to be behind the decision to quit.
But Tyne Coast College is not listed for this year, despite 600 direct entry students being taught there over the past eight years. Annual overall numbers of direct entry students appear to be falling too – 1,336 were recorded in the 2022/23 academic year compared with a peak of 1,741 in 2019/20, a 23 per cent fall.
FE Week has approached a number of colleges that have ended their provision, but none wished to comment on their reasons why.
For those who do offer the provision though, the clear need in the community appears to be a key driver, rather than income.
Mike Hopkins, principal at South and City College in Birmingham (and not the same Hopkins as at Middlesbrough), says the college opened its direct entry centre in 2017/18 because the local authority was closing down a large school in the city which left year 10 and 11 students displaced.
"We stepped in and set up a centre and it's really successful," he says, albeit after a "baptism of fire" in the first year as it got to grips with the provision.
He adds: "If we didn't do it, there would be a significant number who have a problem."
Reputational damage
Funding is far from the only problem. With the same accountability regime as schools, progress 8 scores are published for direct entry in colleges.
But, as direct entry students are not taught at college through years 7 to 9, college progress 8 scores are much lower than most schools.
This left Leeds City College (pictured main) in the bizarre situation of having one of the country's lowest progress 8 scores in England in 2018 despite receiving an 'outstanding' rating from Ofsted for its 14 to 16 direct entry provision.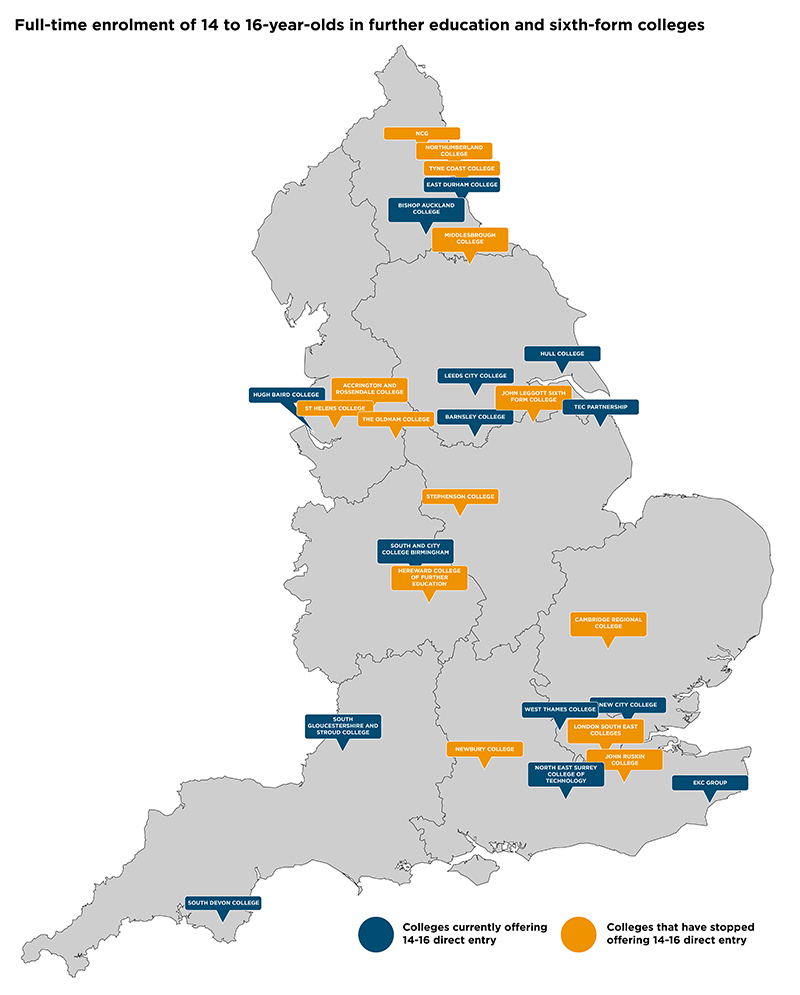 Two colleges – NCG and London South East Colleges – opted to axe their direct entry entirely over the reputational damage they suffered from low progress 8 scores in 2017 and 2018, not helped by national media running stories listing them among the "worst schools in the country".
Since the outcry, the DfE has added a footnote to its progress 8 releases that explains why the data should not "allow robust conclusions to be drawn about their performance".
Ironically, experts are agreed that the progression that direct entry students make – usually into 16-plus college courses, apprenticeships or employment – is outstanding.
Those reasons alone have cost some localities their direct entry provision, but the landscape could have been thinner than it already is.
"It has never hit the heights it meant to due to that exact same problem [with funding]," McKenna says. "You will find that some of the colleges that even now are still doing it are only doing it because usually the local authorities are paying top-up fees to try to keep it going, because they know that is successful.
"That becomes a postcode lottery to a certain extent. What it needs is a national funding mechanism that allows for and understands the kind of young people we have got in colleges."
The DfE told FE Week that targets were never set when the policy was established and confirmed that it was up to individual colleges whether they wanted to offer direct entry or not.
'I have got my child back'
Leeds is on track for 260 students this year – 130 each in years 10 and 11. But the college's data reveals the huge demand for places.
McKenna says: "We are the size we are because of the funding model – we can't go any bigger because of the space it takes and with such an inequitable amount of money that comes in per learner. We turn down approximately 200 learners a year – that's a lot."
And, he says, some learners travel 25 or 30 miles just to get to college each morning.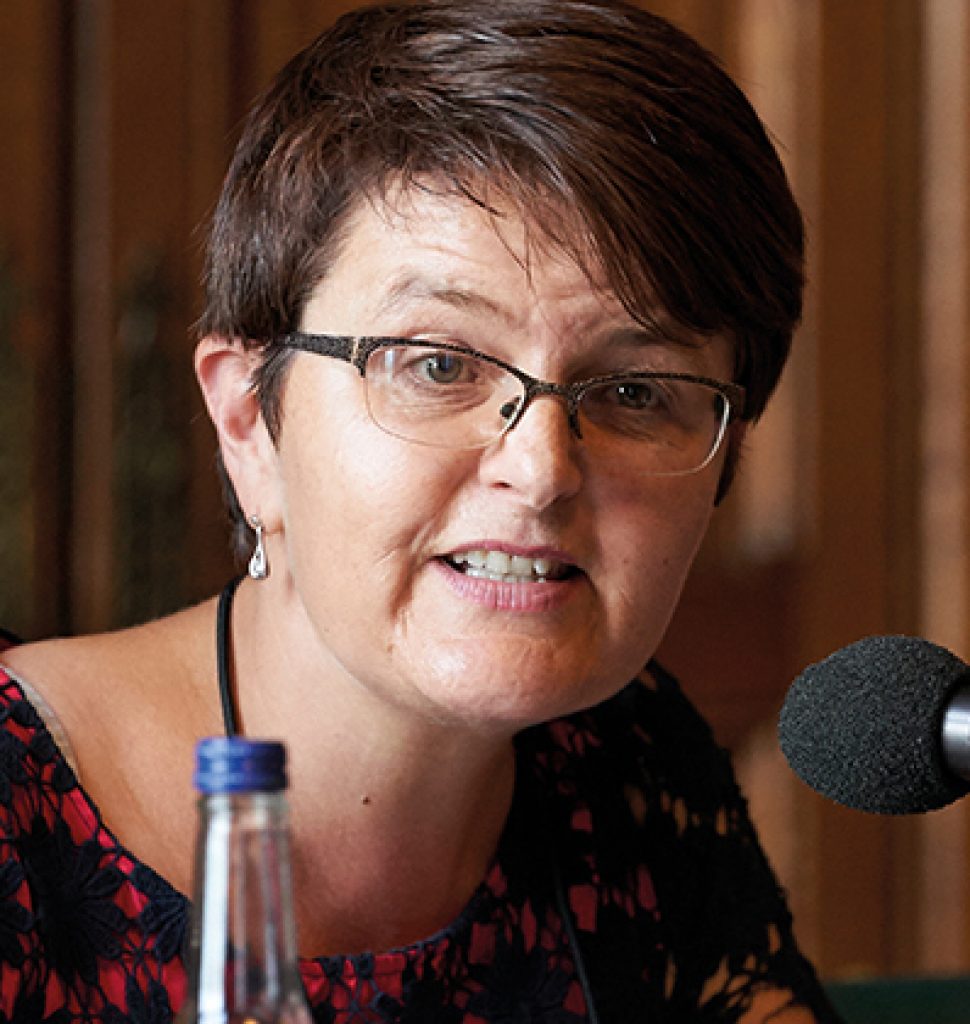 Providers have flexibility over what they deliver, but the personalised approach by staff appears to pay dividends for students who often need additional support. Some may have been at risk of exclusion, others will have special educational needs or anxieties.
At Leeds, learners spend a dedicated one day a week on their vocational programme, a level 1 or 2 in areas such as hair and beauty, digital, childcare, performing arts or engineering, as well as a curriculum of English, maths, science, business studies, PSHE and IT.
Its provision also includes broader support in areas such as anxiety and mental health, as well as life skills such as wiring a plug or opening a bank account.
The college also keeps cohort sizes small – no more than 20. With that support, coupled with progression to vocational programmes or work post-16, it is clear why demand is so high.
As McKenna says, "we have parents who say, 'I have got my child back'. It's phenomenal".
Time will tell if the decline in annual starts, since a high of 1,703 in 2018/19 can be arrested and more colleges can get on board. Sezen (pictured inset) is spearheading research by the AoC and the Institute of Education, to assess all kinds of 14 to 16 provision in colleges (including alternative provision and part-time hours for electively home-educated students).
But experts say it is clear that "the model fits for what young people want to do" and, in the meantime, McKenna and the AoC are lobbying to get the funding changed.
They recognise, however, that it is a "vicious circle", because "the DfE say you haven't got that many numbers, so it is not on their agenda".