As WorldSkills UK media partner, FE Week has been granted one-on-one time with some pretty heavyweight people in Leipzig 2013.
Among them have been WorldSkills International president Simon Bartley and chef-turned-author — and WorldSkills UK ambassador — Will Torrent, who at Japan WorldSkills 2007 became the first Team UK pastry chef to win a medallion of excellence.
Here are snippets of their interviews that will feature in our Leipzig WorldSkills supplement, due out very soon.
Simon Bartley (pictured below)
What lessons have been learned from the organisation of previous WorldSkills events?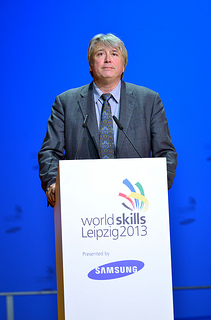 WorldSkills learns lessons from every competition it's involved in. The learning experience actually started back in 2005 when I think WorldSkills realised this competition was becoming such a large thing that it was an event and not a competition.
With 1,000 competitors, up to 8,000 people at the opening ceremony, delegations and ministers from nearly 100 countries, it can't be run by the people who run the national organisation.
That was first worked out around 2005 for the following WorldSkills events which were run by people brought in with experience of running events.
That has advantages and disadvantages. The advantage is that you have people who can pull it off.
The disadvantage is they don't have WorldSkills embedded in them — no one in the German organising team, I think, comes from a skills background; they were the best for logistics, communications or whatever, and it was the same in London.
That means there's a huge learning curve for a country as they seek to host an event.
Were any lessons learned from WorldSkills London 2011?
What I think Germany learned was that they needed to start earlier than London did.
From a technical point of view you need your shopmasters to have done a competition before they come here.
I think WorldSkills learned that and encouraged Germany to do that — or try to do more, earlier. That's one lesson learned from London.
I think Germany and WorldSkills also learned from London that our conference programme outside the skills competitions didn't work — there were too many small sessions.
Here, there's seven or eight really quite big conferences which have attracted some pretty big players — we've had two commissioners, we've had a past Brazilian president we've had people from Unesco [United Nations Educational, Scientific and Cultural Organisation], Unido [United Nations Industrial Development Organisation], the ILO [International Labour Organisation] and World Bank.
What we've learned is that if you can have those come to a conference they then go and have a look at the competition and will go back as converts.
Will Torrent (pictured below)
What sector-specific knowledge did you develop through WorldSkills?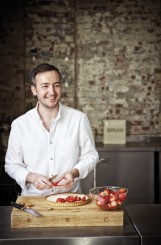 When I was competing in Japan, and they walked the pastry competition — they were absolutely superb — but the way they work, and this might sound weird, it's almost like watching dance. It's just so elegant.
I might have frantically moved from one place to another, but they would just glide. It's about perception and that duck scenario of paddling like crazy below, but people only see the calm on top. I picked that up a lot from Japan and we try to build that into the training.
It's something I hope to have been able to give our current confectioner/pastry chef competitor, Stephen Smith, as part of Yolande's [Yolande Stanley, training manager and WorldSkills chief expert] training team — the psychological thing that you're on show against the rest of the world. I don't want to see a mate — and we are all mates — frantically rushing around with mess everywhere.
A mess is one thing inside, but on show you're representing the UK and we want to see that you're calm, collected and you know what you're doing because that will set your tone among the judges. Plus it comes through in the final product. One thing Yolande used to say to me — because she trained me, too — and I've got to take out a certain word in this, was something like, work in a mess, dish is a mess.
Why might a provider want to get involved in WorldSkills?
It's an obvious way of promoting yourself if your student gets through, but more than that it encourages deeper learning and not just skirting around the subject.
When I was training at University of West London, I learned all the basics, but for me as WorldSkills competitor I went deeper to learn more, because when I come to competition I knew I would need all the skills to back it up. It also promotes a perception of excellence because it is the highest level.
It should also encourage teachers and lecturers to further their skills. It upsets me when I see college lecturers, or university lecturers for that matter, who have been out of the trade for years and they don't have any connection with the current trade and the trends in it.
I think if these lecturers are giving all their skills over to the next generation, then they're not teaching the up-to-date and modern skills of that industry.
I'd love to see more lecturers and principals coming to WorldSkills and even at the Skills Show to go and see the new skills.
I don't know all the skills, but I will constantly want to learn and I can give that onto someone else.
Another key thing it does is enforce the international value of vocational skills — you can go anywhere in the world and get a skilled job if you train properly.