Some of the UK's most talented young apprentices, employees and students have once again been put through their paces for a place in Squad UK for WorldSkills Leipzig 2013.  Last week's second round, held in the Midlands, follow the initial contests in June and  focused on 12 skill areas, including Mechatronics, CNC Milling and turning, Jewellery, Auto body Repair and refrigeration.
The host colleges, Northern Regional College, North Warwickshire and Hinckley College, and City College Coventry were transformed into hives of activity with 40 competitors undertaking various pressured practical examinations.
The support from colleges and employers is pivotal to the success of Squad UK;  competitors  need time away from the classroom or office, while college staff need time away  for their support and training roles, which can include performance coaching and acting as training managers.
Our involvement has had numerous positive impacts – on our success rates firstly"
North Warwickshire and Hinckley College has invested heavily in WorldSkills, not only by putting forward their students for competition, but also by embedding elements of the competition within its teaching and learning strategy.
Marion Plant, the college's principal and WorldSkills champion (official supporter), is one of the  most vocal supporters of WorldSkills and how it can transform lives. She is clear that while her college's commitment uses a lot of resources, the benefits to her staff, students and employers make the investment worthwhile.
"The increase in students and subject areas signing up to WorldSkills has risen once again, and more and more of our staff are now getting involved through formal channels. I was overwhelmed by the level of response that we had to the National Apprenticeship Service (NAS)  request for performance coaches.
"Our involvement has had numerous positive impacts – on our success rates firstly.  Plus three staff have roles as performance coaches for skills categories that are alien to them. They are now coming back to the college with a plethora of new ideas, best practice and bags full of enthusiasm – which is also a motivator for other staff.  Last, and most important from my perspective, is the transformational impact it has had on the culture of our college.
"It is also rewarding to have so many of our students reaching the Squad and the Skills Show finals next month."
Ultimately just one competitor from each of 41 skills will represent the UK at the 2013 WorldSkills Championship next  July. Successful competitors for Squad UK will undergo a specialised training programme supported by a dedicated training manager for each skill, as well as by a team of other trainers, experts and performance coaches.  Team UK will be selected after a series of events  next March.
Places are limited for Squad and Team UK Leipzig 2013,  but Matthew Bell, Training Manager for Mechanical Engineering and Design, said the selection would  not only nurture a team for 2013 but upcoming competitions in 2015 and 2017.  "In previous years we found that we would lose some of the great talent that did not make it to the latter stages, such as squad or team. This year we are trialling a new method whereby we aim to retain all those that are taking part in today's selection. While not all of these young people will make it through to the next round, they are young and will continue to meet the age criteria for several competitions. So their journeys will continue alongside this year's squad and team members as an additional training exercise."
Meanwhile, a new event to inspire people about FE, skills and apprenticeships launches in November.
The Skills Show at the NEC Birmingham from November 15 to 17 is the culmination of many WorldSkills competitions and other awards, including the National Apprenticeship Awards and National Training Awards and activities.
It will provide a platform for the best of the nation's young talent to perform, as well as providing opportunities for visitors to have a go at new skills, get careers advice, access apprenticeships or  job opportunities.
Jaine Bolton, chief operating officer for the NAS and official UK delegate to WorldSkills International, said: "I offer my support and congratulations to every young person that has been invited to compete for a place in Squad UK.
"By competing in international competitions, the UK is able to showcase the high levels of performance that can be achieved by individuals and organisations through high quality further education, skills training and apprenticeships.
This provides the inspiration for young people and adults to be ambitious in their pursuit of skills to the highest level."
FE Week will be following the journey of the UK competitors from selection to the grand finale at the Leipzig WorldSkills Show in 2013.
Picture above of Martin McGarry during an autorepair squad selection at  City College Coventry, taken by Nick Linford
—————————————————————————————————-
FE Week Q&A: Bill Jones is a cluster lead for WorldSkills which is a mentoring role for seven training managers. Has worked with WorldSkills for 17 years and has attended eight international competitions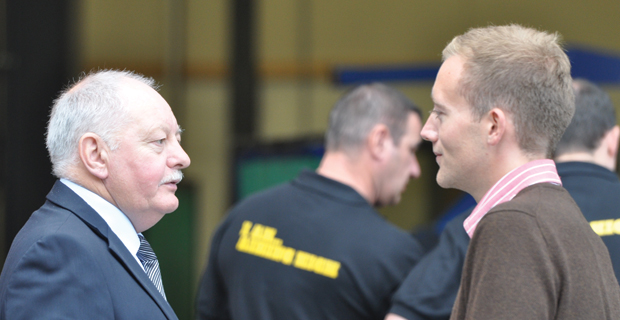 How has WorldSkills changed during your time on board?
Massively. We now have a really professional organisation and it's grown hugely. My first competition was in 1997 in St Galan, Switzerland. I went not knowing or really understanding what I was expected to do or what we were going into. We weren't given much training in those days by our organisation, other than general logistics of what we were likely to face. We came second to last, and quite rightly.
WorldSkills London in 2011 was the best, without a doubt. It very much rivalled the Olympics, except it was very cosseted to us. I wish more people had been able to experience it.
Clearly there is a buy-in from the FE sector, but what about employers?
There is a more of a buy-in now from bigger companies. They have seen the benefits, not just to themselves, but also to the industry  when there is a real hard core of good quality ex-WorldSkills competitors. Without a doubt I've seen that happen so many times. Mentally these kids have to be tough. There is no doubt in my mind that to win any kind of a medal, it's 70 per cent mental, what your head is telling your hands to do. These are all gifted kids, they really are talented in their own ways and they're very competitive.
How do you choose when there are so many talented young people applying to compete?
A number of factors are common to every selection. You are obviously looking for good skills, methodology, organisational ability, problem-solving, mental toughness, character, reactions when things go wrong, to be able to pull yourself up by the boot strap. There is massive pressure when they get on to a world stage!
What makes a good training manager?
Most of our training managers come from FE. We are not looking for teachers, we're looking for coaches and mentors. They may well demonstrate something during training, but we never really teach anybody anything; the competitor teaches themselves. The penny needs to drop in their own mind.
We try to persuade our training managers to go through this coaching approach, so they ask very pertinent questions and listen very carefully.
For me, this is a competitor's journey, it's not a training manager's journey. We are part of that journey. Nobody taught Jessica Ennis to run, but her coach made her better, and that's what these guys are doing.
They're looking for raw talent and they're saying right, I want to make you better.