Anxious, tired and excited – that's how 34 of the UK's most talented young people in the skills industry will be feeling tonight after day three of WorldSkills Abu Dhabi, according to past champions.
With just one day to go until competitions are over, the pressure is heating up at this year's global skills event.
FE Week caught up with two former gold medallists to get a sense of what Team UK will be feeling right now.
"By day three competitors have had roughly 18 hours in action. A slight bit of tiredness will be setting in so they've got to keep the energy levels up by drinking lots of water and eat plenty of food," said Ashley Terron (pictured above), who won gold for Team UK in bricklaying in Leipzig 2013.
"Sometimes the mind can be wandering as they start to have a look at the other competitors' work so they can be swayed by that but they've got to stay mentally strong, stick to their game plan, stay within their own team, and listen to their own training manager.
"They've got to trust their plans so that they know at the last second they will be finished and they've given their best shot and left everything on the stand and have no regrets."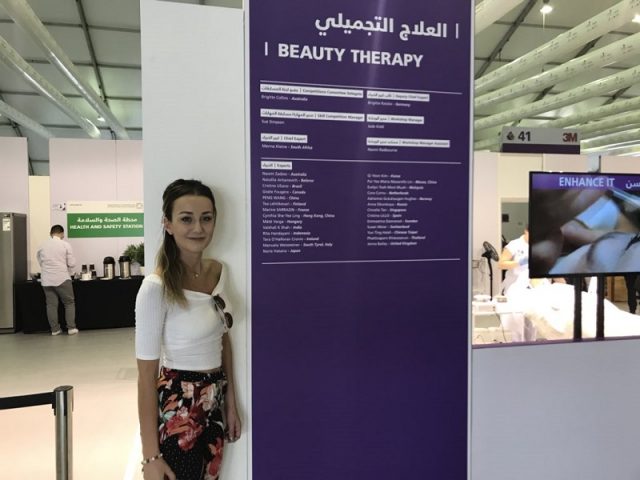 FE Week also caught up with Rianne Chester, who won gold in beauty therapy in Sao Paulo (2015) and won the illustrious Albert Vidal award for scoring the greatest number of points among all competitors from every nation taking part.
"They'd be feeling anxious, tired, but excited at this point," she said when asked how our competitors would be feeling on day three.
"Each competitor will be feeling different right now. Some will be coming off happy but some will be crying their eyes out because they might have messed up on a section and that could be them basically blowing their chances of getting a medal."
But when that buzzer goes on day four Rianne says they'll be met with various sensations.
"When they're finished what they'll experience is either that feeling that comes all over your body like you're all white and going to be sick, and you either cry or you get tired or get buzzing. It is different for everyone but it'll be one of those.
"They'll also feel really relieved."
Every competitor in Team UK would have put at least two years of dogged training in to get to this point.
Ashley says they should stay confident in themselves to get over that final hurdle of the last day.
"This is everything they've trained for," he told FE Week.
"Some people train for this for four or five years so they've got to remember they've made it to the top of the pyramid. So stick to your plans, you know you can do it, that's why you're on the stand and everyone else believes in your so believe in yourself and you'll get through it."
It is not just medal glory that Ashley and Rianne have experienced. After leaving Team UK Ashley was made a site manager at the age of 22 at a big construction firm called Redrow, and will be promoted to project manager soon aged just 25.
Meanwhile Rianne set up her own mobile beauty business called Beauty by Rianne.
"Personally, WorldSkills has benefitted me massively in my personal life in my confidence, the way I hold myself as a person and my confidence in my own ability," said Ashley.
"It has been a huge opportunity for me and to be at this level in my professional career at such as young age and that has been made possible from me doing WorldSkills."
Send your message of good luck to the team on their final day tomorrow by using the #TeamUK and our 'Go Team UK' social media image (click here to download). Also include the official event hashtag #WS_AbuDhabi.