A welder from Norwich who has a family history in the trade is aiming to replicate his golden success at EuroSkills in this week's WorldSkills competition.
Josh Peek (pictured above), a 21-year-old who trains at Great Yarmouth College, described how "happy" he was with his progress on day two of the global skills contest being held in Abu Dhabi.
Josh himself is no stranger to international skills success. He won gold in Gothenburg at EuroSkills 2016 last December, and he's hoping that triumph has set him up for more glory on the world stage.
"I won gold in Gothenburg so I'm definitely hoping to replicate that success, but it is a different level here. We've got Korea and America, Australia and loads more completely different countries so it is a different atmosphere to Gothenburg."
Josh might be a step ahead in his experience of welding compared to his other international competitors, after his Grandad got him to start the trade aged just 13.
"When I was about 13 years old my grandad taught me to weld so I went on from there, he was a welder fabricator and my uncles and cousins are welders too, so it is a family trade really."
But whatever the result, Josh will be taking home one hell of an experience after the past two-year WorldSkills cycle.
"There've been ups and downs, excitement and we're finally here so hopefully next few days will end in glory," he said.
Another Team UK competitor happy with their progress on day two of WorldSkills Abu Dhabi is Daryl Head, whose discipline is in car painting.
The 21-year-old, who works for the UK's biggest crash repair country, Nationwide Repair, has had to design three tasks so far, each to different specifications and working on different parts of a car – such as the wing, doors, and bonnet.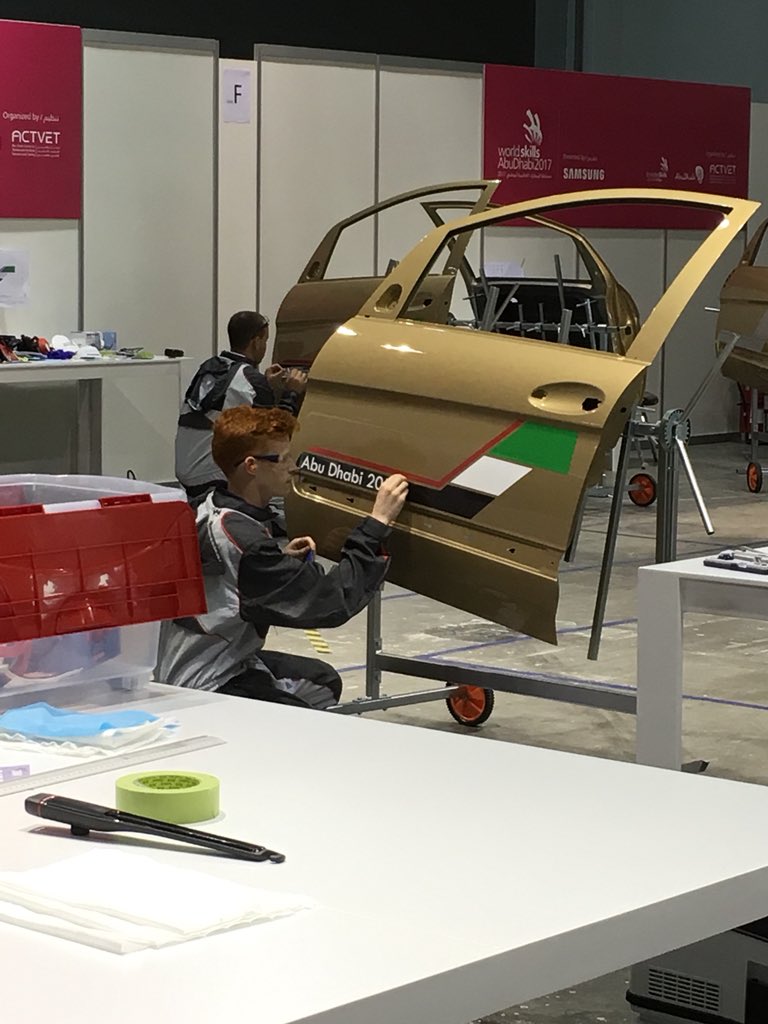 "I'm really happy with my progress. I've prepared for every scenario so it is going well," he said.
"I'm using paint I'm not used to but I've had lots of training to prepare for this scenario."
He added that being part of Team UK has been "a long journey" but it is "a once in a life time competition" that he'll "never forget".
Daryl has brought a full team out to Abu Dhabi to support him, including his mum and dad, girlfriend and sister,
"We're very proud of him for coming through the qualifications rounds and then getting to this final stage," said dad Andrew.
"The amount of training he's put in over the last two years and especially the last three or four months has been intense but excellent."
Mum Julie added: "It is amazing coming here to support him but yesterday watching him on the first task was a bit nerve wracking but we're really proud."