Sir Michael Wilshaw has provoked outrage across the FE sector once again, with a series of "personal and ignorant remarks" that contradict Ofsted's official views on post-16 English and maths failures.
The education watchdog's annual report, launched in Westminster on December 1, blamed government policy for the sharp increase in 16- to 18-year-olds failing their GCSE resits in the two subjects.
However, during a Q&A at his final launch event, the outgoing chief inspector once more pointed the finger at FE colleges, in a scathing response to a question from Mark Dawe, the chief executive of the Association of Employment and Learning Providers.
"There's simply no excuse for a college letting down large numbers of students who just narrowly missed getting those benchmark grades," he said in remarks that are being seen as a parting shot before he retires at the end of the month, to be replaced by Amanda Spielman.
"We can't go on, as I intimated in my report, seeing two thirds of youngsters who just failed their GCSEs, got a D grade, continue to fail two years later. We can't let FE off the hook."
Sir Michael, who wrote off the sector as "inadequate at best" in a now-notorious speech to the CentreForum in January, stuck to his guns when FE Week challenged him about his new comments.
"What percentage of youngsters that get D grades go to FE? Why shouldn't they after two years get English and maths?" he said. "The statistics speak for themselves."
Asked whether everyone should resit poor GCSEs, he diverged from the government's view, that Functional Skills are more suitable to less academic learners, by simply asking "why not?".
Sir Michael's remarks, which came after he described the sector as "the Cinderella arm of the education service" during his speech, drew an angry reaction from Association of Colleges chief executive David Hughes.
"It's surely wrong that the chief inspector can make what look like personal and ignorant remarks about FE in public," he said.
"The chief inspector rightly says colleges are operating in an environment of turmoil and then uses the hackneyed phrase, the 'Cinderella sector', once again."
Any 16- to 18-year-old student who does not already have a grade C in both GCSE English and maths has had to continue studying these subjects since 2013.
In 2015, this requirement was tightened, requiring those who managed a grade D to sit GCSEs rather than alternatives.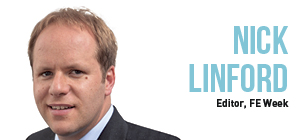 Ofsted's annual report runs counter to its chief inspector's comments.
It said: "While the policy's intention to improve literacy and numeracy levels is well intentioned, implementation of the policy is not having the desired impact in practice.
"Just over a quarter of students by age 19 are not achieving grade C or higher in GCSE mathematics and more still in English."
Figures released in August showed just 34,486 – or 26.9 per cent – of the 128,201 learners aged 17 and above who sat English GCSE got at least a C.
And of the 173,628 learners from the same age group who sat maths, only 51,220 – or 29.5 per cent – achieved C or above.
These results were down from 35.1 and 35.8 per cent respectively the previous year.
Paul Joyce, the inspectorate's deputy director for FE and skills, would not comment on whether Sir Michael's remarks matched his organisation's official view, but a yawning gap between the report and the man was clear.
Ofsted's media team also refused to be drawn.
Other key findings in the report included a drop in the proportion of colleges rated 'good' or 'outstanding', down from 77 per cent last year to 71 per cent this year.
"Schools and colleges show continued weakness in providing a technical and vocational curriculum appropriate to meet the needs of the economy," warned the report.
But on a more positive note, it found that 63 per cent of apprenticeships this year "were found to be 'good' or 'outstanding', an increase of 12 percentage points compared with last year".
___________________________________________________________
EDITOR ASKS
There was quite a task awaiting Paul Joyce, Ofsted's deputy director for FE and skills, when I met him after chief inspector Sir Michael Wilshaw gave his speech on the watchdog's 2015/16 annual report in Westminster.
The report was welcome for FE, as it firmly pinned the blame for the controversial English and maths policy on the government, taking the spotlight off colleges.
The current rules, which oblige students to resit if they do not achieve grades of A* to C in GCSE English and maths at level four, come in for heavy criticism in the report.
But the Ofsted boss was less sympathetic in the speech on his fifth and final annual report, at Church House, Westminster, on December 1. Answering a question from Mark Dawe, chief executive of the Association of Employment and Learning Providers, Sir Michael returned some the blame back to FE providers, insisting that they cannot be "let off the hook".
I raised Sir Michael's criticisms with Mr Joyce when we sat down to discuss the implications of the new report.
First of all, does Ofsted think the problem lies with government policy or the FE sector?
The watchdog, he told me is raising questions about "whether GCSE for everybody is the right policy".
He continued: "Undoubtedly for some it will be, but we're asking the question, particularly given the difficulties that the sector is having implementing the policy and the outcomes that those learners have, whether that is the right policy."
He insisted that for the 12 struggling colleges rated 'inadequate' between August 2015 and July 2016, English and maths had not been "the sole determining factor".
"I'd go so far as to say that even if English and maths provision was 'good' in those 12 colleges, they would have been rated 'inadequate' overall regardless."
Does this mean Ofsted does see the root of the problems with English and maths resits as a failure of government policy, rather than colleges letting their learners down?
"Absolutely," he replied. "When we inspect English and maths, we look at qualification achievement rates, but inspectors give far more weight to the development of maths and English skills in those lessons."
Why, then, has Sir Michael taken a contradictory stance, I asked – after all, it wouldn't be the first time he has bashed colleges. In March, for example, he made waves by telling the Education Committee that 16- to 19-year-olds should only be educated in schools.
"I think it's a bit harsh to say the chief inspector is blaming FE," said Mr Joyce.
"He described it as a Cinderella sector – that to me makes very clear that this sector has been neglected and does need some investment; it does need looking at the policies that enable this to happen.
"What he is absolutely not saying is that GCSE would be the right qualification for everybody."
However, I had raised this very question with Sir Michael immediately after he gave his speech, and he told me that he saw no reason why the required qualification shouldn't be a GCSE.
Mr Joyce clarified: "Michael is of the view that students that have a grade D, that are able to achieve a grade C, should be given that opportunity to do so. That's not saying that everybody with a D needs to do so."
We moved on to discuss the variety of providers in the FE sector, as the report covered success amongst independent training providers and sixth form colleges.
Mr Joyce acknowledged direct comparison is tricky, particularly with the area review process changing the landscape.
Ofsted is talking with the DfE, he said, about potential changes to the inspection process now so many colleges are merging.
"Given that inspection is risk-proportionate and some of our colleges are very large and are facing some significant challenges, it's not too surprising that a lot of our focus has been on colleges and we have found some to be struggling," he added.
The Institute for Apprenticeships is another topic under Ofsted's microscope at present. He confirmed that the inspectorate is working closely with Peter Lauener, chief executive of the Skills Funding Agency and Education Funding Agency, and interim chief executive of the Institute for Apprenticeships, and is keen to monitor the IfA's progress.
Mr Joyce added that the education watchdog wants to ensure "that apprenticeships are properly monitored", but is still "very clear" what its responsibilities will be when the apprenticeship reforms kick in, in May 2017.