Meet Eleni Constantinou, Team UK's hairdressing competitor.
EuroSkills 2014 silver medalist Eleni, aged 22, was born in Cardiff, but moved to Cypus with her family when she was eight, before they returned to the Welsh capital when she was 16.
She is now employed at the family salon, run by dad Tino, and trains with Carmarthenshire-based Coleg Sir Gar.
How did you get into hairdressing?
"It's a family thing — everybody in my family are hairdressers so I've followed the family footsteps.
"We had a salon in Cyprus, so I started helping after school and then when we came back here we opened another shop.
"I originally wanted to sing opera but I'd always grown up around hairdressing and done it anyway without knowing that I was learning a skill, and then I got to a point where I really enjoyed and went to competitions with my brother."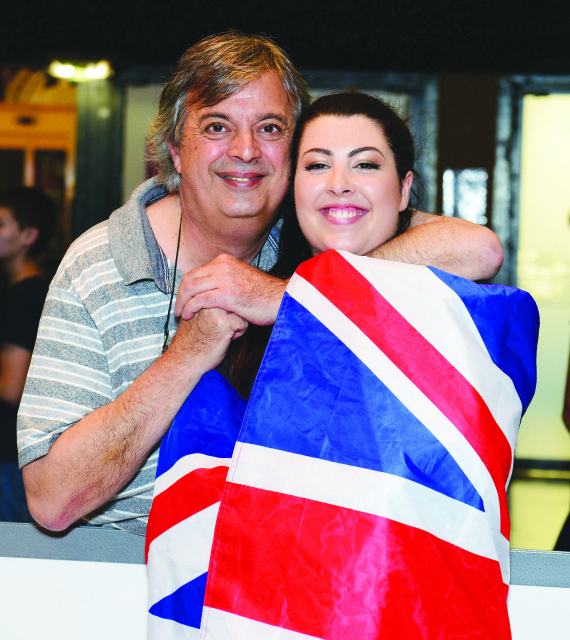 What do you enjoy about hairdressing?
"I don't feel like I'm going to work each day. You know when people are like: 'Oh, I've got work on Monday'? I don't feel like it's work. I go there, I enjoy what I do. I get to socialise with a great group of people. It's just like a family, not just my actual family but everyone who works there as well.
"And when I started doing the competitions, you think you know everything you need to know and then you realise there's always more that you need to know and you're never ever stop learning — like my dad's been world champion in hairdressing industry and there are some things he's learning from me."
How do you feel about the competition?
"I'm so excited at the thought of it. It's been two years and now I just want to get there. In the last few day I haven't trained at all. I packed my tools on Sunday and that's it. Now I need a chilled couple of days before the competition. I've done all I can, nothing's going to change. It's slowly becoming real.
"If you do too much, it's like before you have exams at school – if you do too much the night before, your head gets filled and you can't concentrate, I just need it to be clear so I can do my thing. So I'm trying to take the time out so I can focus."
What do you do to switch off from work?
"For the past two years there hasn't been so much time off because it's just been training and more training, but if I'm not in work I'm usually in the gym or out somewhere eating.
"I sing, too, as something in my chill time and I do the odd concert or wedding. I try and keep it going."
What did you want to be when you grew up?
"I wanted to be a vet — so completely different from hairdressing. I loved animals and I loved helping people. Then I realised you have cut animals open and deal with blood, so I couldn't do it."
What are your hopes for the future?
"I want to open a training salon to train, if I could, specifically WorldSkills competitors, because there's not a lot really around and I'd love to help people who were in the position I'm in now.
"I think to have someone who's been through the cycle and who knows what you're going through would be great – even though my dad and my training manager help me and train me, they don't know exactly what we're going through because they've never been through it.
"If the opportunity to be a training manager came along I'd definitely love to do it."
Keep up with all the action before and during the competition with FE Week – on feweek.co.uk or on Twitter with the handle @FEWeek and the #GoWSTeamUK hashtag.