As we enter the final stretch of the 2019 general election, FE Week has run through all the education and skills candidates to keep an eye on.
Given the constant changes in the polls and domination of Brexit, which is expected to lead to more tactical voting than ever before, no politician's seat is safe.
It means we could see a number of high-profile upsets for former and current FE members of parliament.
For example, the Conservative party is currently predicted to unseat Labour's shadow skills minister Gordon Marsden, while former skills minister Anne Milton is expected be unsuccessful in her bid to be the independent MP for Guildford after leaving the Conservatives.
FE Week has used YouGov's Multi-level Regression and Post-stratification model for seat predictions in this guide, which was based on interviews with approximately 100,000 people about their voting intentions at the end of November.
While the samples in each seat are too small to produce "reliable" constituency estimates, YouGov correctly predicted 93 per cent of seats and the overall hung parliament result in 2017.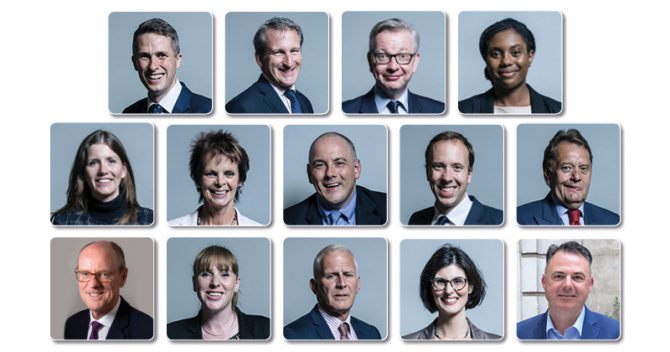 Key education figures opt out of general election race
A number of key political figures in education have decided to step down at this election.
These include previous Conservative education secretaries Nicky Morgan, who held the post between 2014 and 2016, and Justine Greening, the secretary of state from 2016 to 2018.
Morgan said she is not standing to be re-elected as MP for Loughborough because it was time for her to "be at home far more". She also highlighted the sacrifices involved in, and abuse received for, being an MP.
In contrast, Greening, previously Putney's representative, blamed the "Brexit approach" taken by the government.
Additionally, former minister of state for skills Nick Boles (2014-2016), who resigned from the Conservative Party and crossed the floor after the Tories refused to "compromise" on Brexit, decided not to stand as an independent in his constituency of Grantham and Stamford.
Education and skills ministers have faced high-profile upsets in the past.
In 2015, Liberal Democrat Vince Cable, then secretary of state for business, innovation and skills, lost his parliamentary seat before regaining it in 2017 and becoming the party's leader.
Conservative candidate Tania Mathias became the MP for Twickenham for the two-year interim period with a majority of 2,017.
Cable then regained the constituency he had previously held since 1997 with a 9,762 majority. He chose to step down ahead of this general election, having resigned as leader of the Liberal Democrats earlier this year.
Another Liberal Democrat cabinet minister, David Laws, the schools minister between 2012 and 2015, was also defeated in the 2015 general election after being part of the coalition government. He lost 22.6 per cent of the vote compared to the previous election in 2010, with his Conservative opponent Marcus Fysh winning with a 5,313 majority.
Moreover, Shirley Williams, who was Labour's secretary of state for education and science, failed to get re-elected in 1979. She had previously held the same title between 1967 and 1969.
Baroness Williams of Crosby, as she is now known, later joined the House of Lords as a Liberal Democrat in 1993. She became party leader in the second chamber of the UK parliament between 2001 and 2004.