Why is UTC Reading successful while other colleges are shutting or struggling? It has a grade one Ofsted rating, but that's only one secret to its success
If Lord Kenneth Baker could take a blueprint for the beleaguered university technical college (UTC) and multiply it across the country, it's likely that he would choose UTC Reading.
Baker, who served as education secretary under Margaret Thatcher and who has pushed the UTC model of vocational education within the Department for Education (DfE) since 2010, would no doubt cheer UTC Reading's successes. Of the 34 of 50 UTCs still open that have been inspected so far, Reading is the only one to gain a grade one, have a quality Career Mark and a "World Class Schools" certificate.
As chair of the Baker Dearing Educational Trust that supports UTCs, Baker struggles to defend the UTC model in light of ten closures following under-recruitment or low results; for others, poor Ofsted ratings have damaged their reputation. But the model survives, with the DfE warning just last week that academy trusts that take over UTCs must preserve their technical and vocational "ethos" – or not call it a UTC.
We can give a clear career pathway into STEM
Baker might do better to recommend trust bosses visit UTC Reading to see why this ethos is worth preserving. Specialising in engineering and computer science, it is expanding its learner numbers to meet parental demand; this year it increased its admission numbers in year 10 from 100 to 120 – and next year it is oversubscribed for year 10 and year 12 entry.
Four years after its Ofsted grade and under new leadership, how has it kept up momentum? Jonathan Nicholls, who took over as principal in June 2017, says getting local schools on side was crucial – as was coupling with employers such as Microsoft.
"Relationship-building is critical in a local area for a UTC to build up strength," he says. "It should not be seen as [being] in competition with other schools, but providing opportunities for them."
Nicholls learnt the lesson from Joanne Harper, the former executive principal and now the deputy chief executive of the UTC's sponsor, the Activate Learning Education Trust. He meets regularly with secondary school heads about the UTC's curriculum offer, and his staff visit local years 9 and 11 to speak to potential recruits. The schools understand that some learners would benefit from vocational qualifications offered by the UTC, such as the NCFE level 2 technical award in business and enterprise in key stage 4, and the level 3 BTEC extended certificate in computing in key stage 5. "They know it's not about us taking students from somewhere else, it's about recognising we can give them a clear career pathway into STEM," he says.
It's a far cry from the desperate measures of UTC Warrington, as reported in FE Week and FE Week last year, which angered local schools when it encouraged learners to move earlier than expected.  It's about us understanding what industry needs
Persuading learners to join the UTC at 14 is tricky, but even recruiting to year 12 is tough because of competition from further education (FE) colleges.
Another relationship, this time with employers, is the solution, Nicholls says.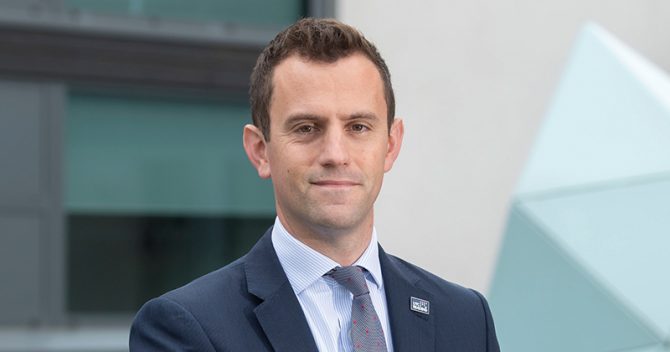 "There's no doubt we experienced the same challenges as other UTCs, but what set us off on a good footing were the large industry partners behind us." UTC Reading is partnered with Microsoft, which has offices in the nearby Thames Valley Park, as well as Japanese technology company Fujitsu and IT company Cisco. Others include engineering consultants Peter Brett Associates and Network Rail. Open days are held at the employers so it "already starts to feel different to what students might be experiencing in a traditional school".
This year the UTC has tightened its industry partnerships by introducing the "Pipeline Programme", in which post-16 learners have eight days on site with their preferred employers over two years.
The programme, launched in September, replaces employability days at the UTC and instead brings learners face-to-face with professionals. "It's like having eight days of interviews to impress that employer," Nicholls says. "It means when they submit an application for an apprenticeship, they can say, 'you remember me?'"
If the good relationships with employers and schools put the UTC on a steady footing when it opened in 2013, the Ofsted grade cemented parental confidence.  "There's no doubt that really great outcome from Ofsted helped us to build a reputation," Nicholls says. "Parents would look at us on the basis of being an 'outstanding' provider."  He appears to have made the UTC brand one of its strengths unlike some providers. For instance in 2017 Cambridge UTC renamed itself an "academy".
It was this "outstanding" grade that made UTC Reading eligible for that World Class School status, which it won in 2017 with 15 other schools.
You have to give these things time to breathe
It is the only UTC to holdthe title, which assesses learners against a framework of skills and competencies. And in May it won the Career Mark, which appears to be even harder to meet than the Gatsby careers benchmarks, if the enormous application portfolio that Nicholls shows me is anything to go by. Both standards were achieved in response to the Ofsted grade, he says. "It was about, how do we build on the pinnacle of an Ofsted grade? We wanted to continue to stand out."
And it's worked. There are 224 applicants for 120 year 10 places in September, and 465 applicants (including those already at the UTC) for 160 places in year 12. These are figures many UTC principals can only dream of. Nicholls says in "a year or two" the UTC should have 560 learners on roll, bringing it almost to its 600-pupil capacity.
The success has also given the senior team the confidence to innovate; apprenticeship routes were dropped in 2017 because FE colleges had the option covered. This year a new A-level in three-dimensional design and architecture was introduced to offer more "creative" qualifications that it is hoped can help to increase the number of girls enrolled by 1 per cent a year (currently the figure is 16 per cent).
Nicholls believes this ability to adapt sets UTCs apart from other providers. "The concept of the UTC is to provide a response to the needs in their region," he says. "It's about us understanding what industry needs."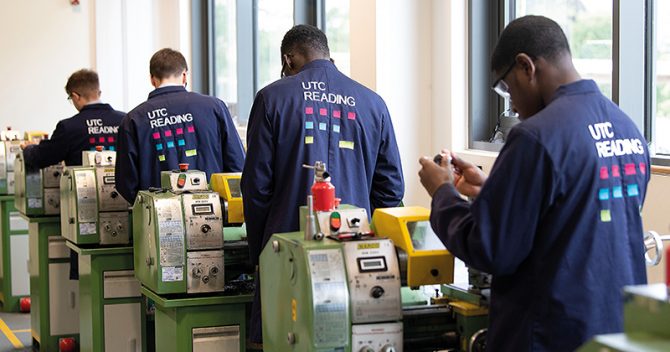 But he is one of the lucky ones. His belief in the model is clearly shared by his sponsors: Harper sits on a "You have to give these things time to breathe" national group of "core principals" of UTCs. The trust has four UTCs, two mainstream secondary schools and a studio school, meaning it can draw on the expertise of staff whilst making it unlikely the UTCs ethos will be lost. The trust is supported by Activate Learning, a wider group that includes FE colleges, adding another layer of expertise.
At a national level, the picture does not look so rosy: only 16 UTCs have a grade two, 12 a grade three and five a grade four, as of April. Even at UTC Reading, the data appears to be mixed: of those enrolled to study mainly academic qualifications, only 63 per cent of key stage 5 learners completed their programme compared with a local authority average of 90 per cent. At key stage 4, the -0.74 progress score might cause concern.
But Nicholls is adamant. "I absolutely believe in the concept of the UTC model and what it can do. You have to give these things time to breathe."