People across the country got involved in National Apprenticeship Week 2017 this week – from Barnsley to Barnet, and Teesside to Truro.
Scroll down to see a snapshot of the events that took place to mark the occasion, and download the NCFE NAW2017 supplement for extended NAW 2017 coverage, funding timelines and more.
Climb aboard the apprenticeships express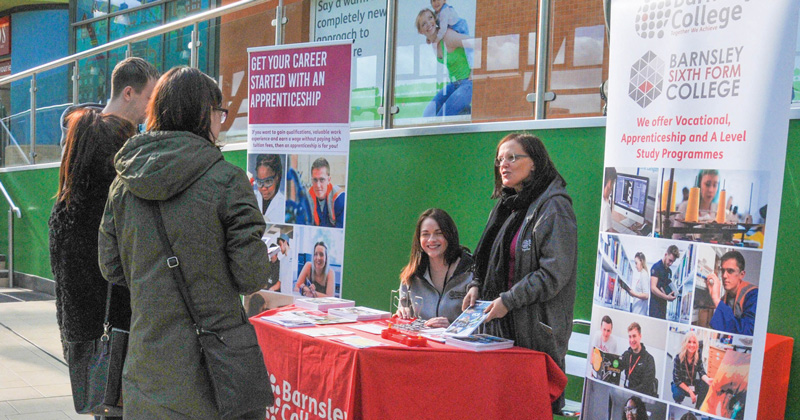 It was all aboard the apprenticeships express at the Barnsley Interchange during NAW.
The town's busy hub for bus and train services was the site of Barnsley College's first apprenticeship pop-up shop.
Advisors from the college were on hand to talk to commuters about the range of apprenticeships available and the benefits of being an apprentice, along with details of current vacancies.
Being in such a central location meant the pop-up shop was able to attract the interest of a wide range of people – including prospective apprentices and, perhaps crucially, their parents and grandparents.
Those interested in getting on the ladder of opportunity could leave their details, and the college will work with them to find the right apprenticeship for them.
Mel Jenkinson, head of student recruitment, said: "Events like these are vital if we are going to raise awareness of apprenticeships and the benefits of choosing this career pathway."
Hawk swoops in to Number 10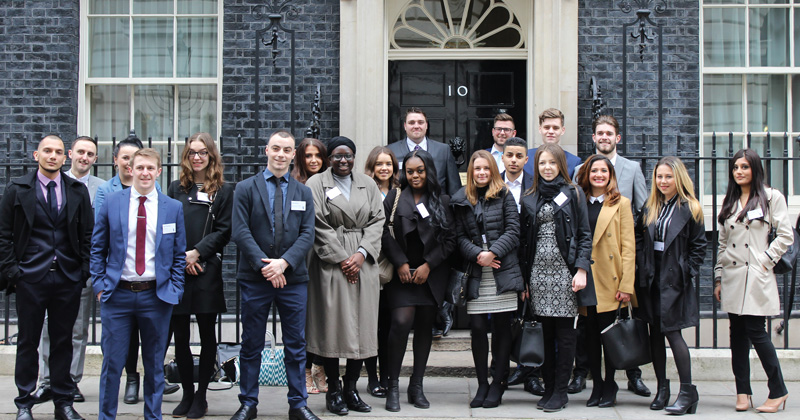 Even 10 Downing Street got in on the action this week, with a visit from top apprentices at Hawk Training.
Many apprentices at the private provider already work in positions across all sorts of government departments, including the Treasury and the Cabinet Office, which ran a tour of the prime minister's official home for 25 lucky learners.
George Shackelford, a 21-year-old business and administration apprentice who works at Downing Street, hosted the tour and walked his colleagues through history, showing them the belongings of past prime ministers such as Margaret Thatcher and Winston Churchill.
After the tour the Hawk apprentices gave presentations about their work, followed by an informal networking session at the nearby Wales Office.
Crawford Knott, the provider's managing director, said: "Against a backdrop of unprecedented change within the sector, National Apprenticeship Week 2017 provides an opportunity to celebrate what is most important, the apprentices and their achievements."
A better world at the Eden Project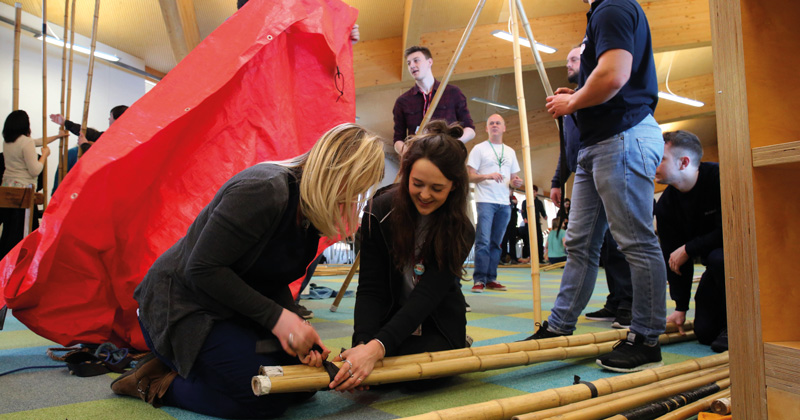 The lush gardens of the Eden Project provided a fitting backdrop for an event that sought to grow apprenticeships in Cornwall.
Around 120 young people – including apprentices and other interested parties – gathered to share their experiences and take part in activities across the site.
The aim of the day was to inspire young people in the area to consider an apprenticeship, and provide them with valuable information and skills.
Attendees included apprentices for the NHS, Cornwall Council and from the Eden Project's own programme, which is run in collaboration with Cornwall College.
Activities during the day, which was organised in partnership with the Cornwall Apprentice Ambassador Network, included a workshop on job interview techniques, as well as den-building and orienteering.
Will Pearce, an apprentice at Pendennis Shipyard, said: "Meeting other apprentices has been useful, it gives me a different perspective on what everyone else is doing," he said.
Omelette and cocktail challenge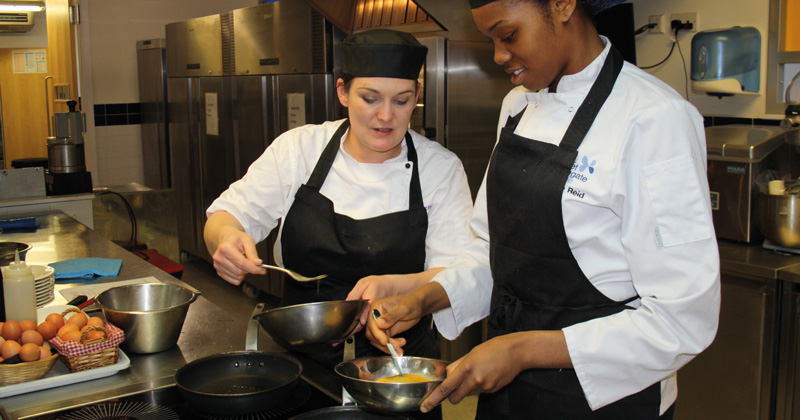 Learners at Barnet and Southgate College have marked NAW with a contest guaranteed to tickle the taste buds – an omelette and cocktail making challenge.
The competition, which was open to anyone with an interest in studying for an apprenticeship at the college, saw around 15 learners and local school pupils go head to head for each challenge.
Entrants were timed to see who could rustle up a plain omelette the quickest, while the first to mix up a virgin mojito was crowned the winner of the cocktail challenge.
Sophie Reid, 21, who is currently studying a level two NVQ in catering but plans to progress to an apprenticeship, proved to be the biggest whizz in the kitchen by winning both challenges.
She whipped up her omelette in an incredible two minutes and 50 seconds and said she loved taking part in the challenges.
"I can't believe I came top in both!" she added.
She said she wanted to do an apprenticeship "to gain experience in the working world – it's ideal as you earn while you learn and it's so difficult to get a job without any relevant training in the field these days".
Scaling the skills gap across Teesside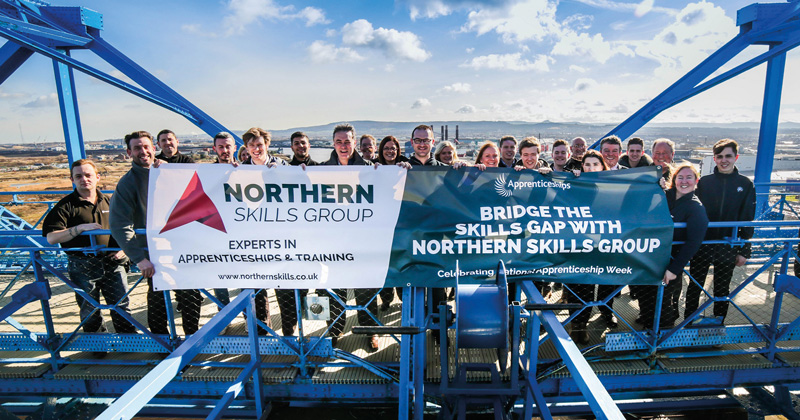 Apprentices in Teesside have scaled its famous Transporter Bridge in an effort to learn where they can fit into their area's proud industrial history.
Ten apprentices and 15 employer representatives joined a crew who visited the top of the longest working transporter bridge in the world – a site which was mostly operated by apprentices when it was first built in the early 20th century.
The event was organised by Northern Skills Group, the commercial training arm of Middlesbrough College, which is responsible for training around 2,000 apprentices every year.
NSG invited employers from across the north-east, including reps from engineering giant Amec Foster Wheeler, chemicals firm Sabic, robotics specialists Labman and manufacturer Caterpillar, all of whom use its training services.
"The Transporter Bridge remains a true symbol of the skills and creativity that have earned this region a fantastic worldwide reputation – and today's apprentices are the ones who will be taking that reputation forward," said the director of NSG, Peter Wilson.
Stepping up and over for 5-a-side football cup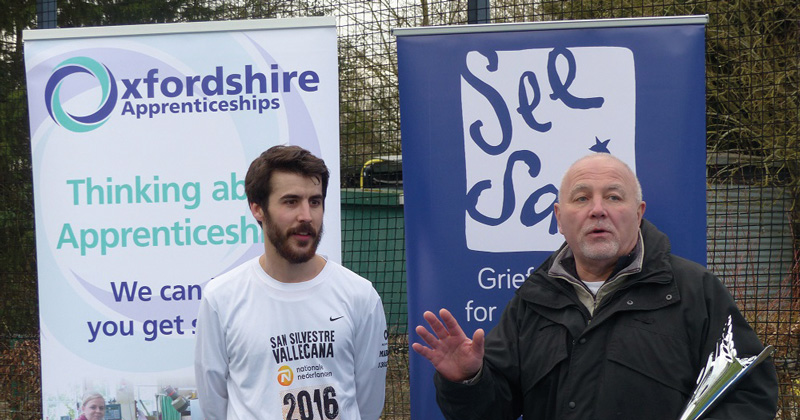 Apprentices in Oxfordshire were pitched against each other in a hard-fought five-a-side football tournament to kick off National Apprenticeship Week.
The contest, organised by Oxfordshire Apprenticeships in partnership with Ignite Sport and the University of Oxford, also showcased the range of apprenticeships in the county.
Twelve teams lined up, each representing local businesses including the Oxford plant of car manufacturer MINI, electricians Clarkson Evans, and training providers 3aaa, Activate Learning and SOFEA.
And after a long afternoon of fancy footwork the apprentices from Oxfordshire County Council emerged victorious.
The team's captain, 29-year-old Luis Audibert, who is studying a level three technical highways apprenticeship, said the event had been "a good chance for all of us to have fun, bond as a team and raise awareness of apprenticeships".
The event also raised money for SeeSaw, an Oxfordshire charity offering grief support for children and young people.
The charity's representative Jane Elliott said it was "wonderful" to see so many teams taking part in the competition.
Opening windows of opportunity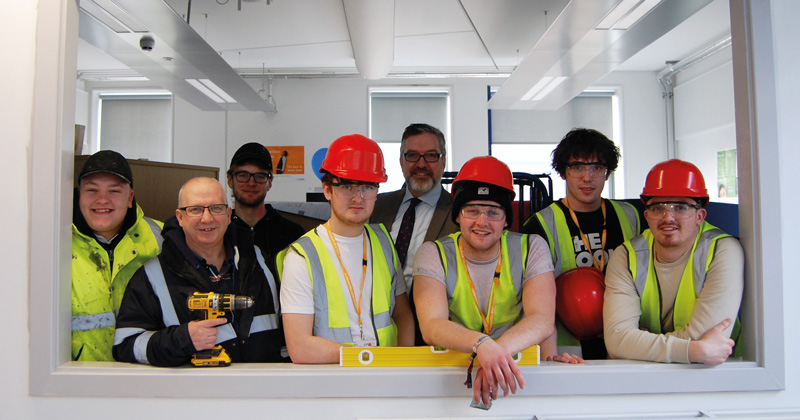 It was "pane sailing" for a team of apprentices at Oldham College as they created a "window of opportunity" to celebrate NAW.
Six of the college's construction students combined their skills in woodwork and painting and decorating to fit a seven-foot window in the job shop – the college's central hub, where learners can speak to an advisor about apprenticeship vacancies and work opportunities.
The week-long reconstruction and makeover project included a complete revamp of the whole room. Speaking on the second day of the project, painting and decorating apprentice Connor Kemp, 18, said: "We've managed to knock through the wall and put in the window frame already and it's only day two. An assessor has been on site to support us but all the work has been our own. It's been a real team effort."
At the end of the week local construction firms joined the apprentices in the rebuilt Job Shop to celebrate their achievements.
Making the cut with Manchester stylists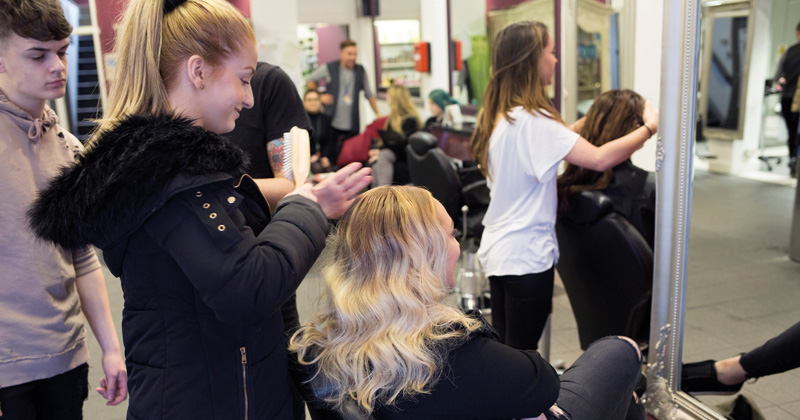 The hair stylists of the future have been showing off their skills at Michaeljohn Training School as they recreate the looks of iconic women through the ages.
The Manchester-based independent training provider marked both NAW and International Women's Day on March 8 with a competition for its hairdressing apprentices.
Learners competed against each other to impress the judges with how well they had recreated the look of a significant woman, past or present.
Each apprentice researched the individual style of the woman they'd chosen to feature, then recreated the look on live models using a variety of techniques they'd learned on their course including setting, blow-drying and upstyling.
Nineteen-year-old Abbey Lambert, a level two apprentice, said she enjoyed recreating the look of her chosen icon, the acid-attack victim and TV presenter Katie Piper.
"I love how strong she is and how independent she is after all she has endured," Abbey said.
"Apprenticeships are great. You are learning while you are working, and getting paid for it."