University Technical Colleges (UTCs) have been criticised in front of a Lords committee for stepping in where "colleges could already do the work".
In the tenth evidence session of the House of Lords committee on social mobility's inquiry into the transition from school to work, witness Pat Brennan-Barrett, principal of Northampton College (pictured above), said provision for students from age 14 — including technical education and professional pathways — had been offered by colleges "for many years".
UTCs are 14 to 19 institutions, often run by one or more academic or commercial sponsors. The first UTC, The JCB Academy in Staffordshire, was opened in 2010.
And speaking to committee last Wednesday (October 28), Ms Brennan-Barrett said: "This is the sort of work that FE colleges have done for many years. In my previous college we had 500 students from 14 who were on technical courses and did very well with achieving … colleges could already do the work of UTCs."
Ms Brennan-Barrett said that "not all UTCs have been coherently thought of" and she "would add some caution" to the government's plans to have a UTC in every city across the country.
"UTCs are being placed where there is a declining demographic of 14-year-olds," she said at the hearing on Wednesday (October 28).
"It's at a time when we are moving into austerity for colleges and area reviews, and it doesn't make sense to be opening a UTC with small numbers of students … we've got colleges that have got that capacity to manage the technical qualifications."
The committee also heard from Malcolm Trobe, deputy general secretary of the Association of Schools and College Leaders (ASCL), who said that for some UTCs under-recruitment has been a problem, referring to the closure of Hackney UTC, reported in FE Week on July 11, 2014, and the Black Country UTC, reported in FE Week on April 14.
He added where UTCs were recruiting, the gender balance among students may have been a problem.
"Early indications are that recruitment of young women is proportionally significantly low," said Mr Trobe.
"In one of the most successful UTCs, which is JCB, actually the number of girls in the college is extremely low."
The issue of diversity was also raised by Ms Brennan-Barrett, who said that Black and Asian minority groups and students with learning difficulties or disabilities were also underrepresented in UTCs.
UTCs wer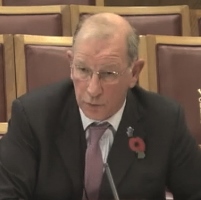 e represented in the meeting by Charles Parker, chief executive officer of the Baker Dearing Educational Trust (pictured left), part of the UTC network, who spoke in the second session of the day alongside David Nicholl, director of the Studio Schools Trust.
Mr Parker admitted that in his view UTCs had been received as "an unwelcome intruder" into the education system, but added that as they become better recognised, students whose needs were aligned with UTC provision were increasingly approaching the institutions for places.
He also said they had seen particular success with apprenticeships, with provisional data for the 700 students leaving UTCs in July 2015 showing that 24 per cent had gone on to become apprentices.
"The UTCs develop because the employers and the university in a given region have decided that they need this form of provision — what that automatically does is encourage them to be interested in it," added Mr Parker.