Young people from disadvantaged backgrounds are "losing out" on degree level apprenticeships as they soar in popularity without "fair access", new research has found.
Analysis published today by the Sutton Trust, a social mobility foundation, found that young apprentices from deprived areas have been "crowded out" since the introduction of the levy as they made up 6 per cent of degree level apprentices in 2018/19, falling from 9 per cent in 2016/17.
At the same time the number of older apprentices from "well-off" areas starting these courses has more than doubled – from 5 per cent to 11 per cent – leading to a "growing access" gap for those under 25.
More than half of degree apprenticeships have been taken up by people over 30, with just 20 per cent aged 20 or under.
The findings, which concern the likes of education select committee chair Robert Halfon, come two years on from then skills minister Anne Milton admitting that fear of a "middle-class grab" on apprenticeships was "valid".
Speaking to FE Week about the Sutton Trust's research today, Milton said the results were "hardly surprising" as employers wanting to use their levy funds were "always going to take the easier options, which is upskilling existing employees".
However, she added that upskilling anybody is a "positive thing" and not "bad", except if it is "to the exclusion of young people from more deprived communities who are quite capable of doing a degree apprenticeship".
Halfon, a champion of degree apprenticeships and former skills minister himself, said it is "deeply worrying" that despite the growth in degree apprenticeships, "too many people from disadvantaged backgrounds are still being locked out of one of the best routes to a prosperous future".
He added that "now more than ever" the government and higher education providers "must do everything possible to tear down the barriers to degree apprenticeships, sweep away the cobwebs of bureaucracy and to move both quickly and decisively to support our more disadvantaged learners".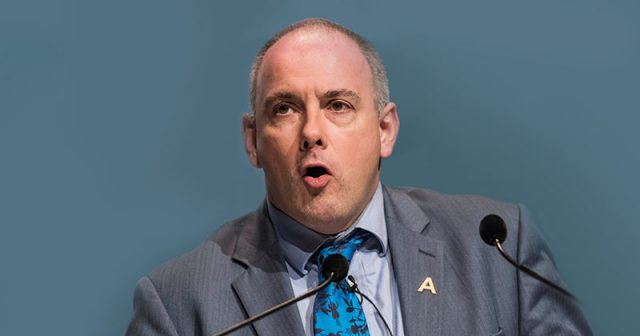 A spokesperson for the Institute for Apprenticeships and Technical Education admitted they "would like to see more younger people from disadvantaged backgrounds taking degree apprenticeships and will be working with the government on this".
Degree apprenticeships were first introduced in 2015. The number has grown rapidly since then, from 756 to 13,587 in 2018/19, according to the Sutton Trust's report.
Last year, just over 2,000 apprentices starting one of the courses at an English university was 20 years old or younger, which is about one fifth of all such apprentices.
The analysis shows 12 per cent of those aged 19 to 24 on degree apprenticeships at universities are from the most deprived areas, and 7 per cent of those under 19.
Among under 19s, degree apprentices are more than five times more likely to come from the most advantaged neighbourhoods.
The Sutton Trust said Russell Group universities "in particular" are "highly selective" after finding the average young degree apprentice who studies at one and has A-levels achieved AAB, which is "effectively the same as those doing other undergraduate courses".
Since the levy's launch, there has also been an explosive rise in other degree-level apprenticeships, from just 19 four years ago, to 8,892 last year.
At the same time, senior leadership courses – equivalent to an MBA – have expanded significantly, growing six-fold from 552 to 3,410 in 2018/19.
The controversial level 7 senior leader standard, which currently has an MBA attached to it but which is set for the chop later this year, has grown by 517 per cent since the levy was introduced, with 99 per cent of apprentices over 25.
Business management apprenticeships such as this are the "biggest growers", but have the lowest proportions of young apprentices, and those from disadvantaged areas, the Sutton Trust found.
Senior leadership and chartered management courses alone now make up almost half (46 per cent) of the entire degree apprentice cohort as employers "look to put their senior staff through these courses rather than train younger, less affluent employees," today's report said.
It added that while such skills are "clearly in need", such a "skew is unlikely to reflect the overall balance of skills gaps in the economy and will do little to benefit younger people looking for new opportunities".
The Sutton Trust said that in order to widen access, universities and employers "must make widening participation a mission of the degree apprenticeship programme, by using contextual admissions and collecting information on the socio-economic backgrounds of their applicants".
Sir Peter Lampl, the founder and chair of The Sutton Trust, said: "The popularity of degree apprenticeships is impressive, but it has come with problems for fair access. Young people from disadvantaged backgrounds are losing out on these opportunities."
The Department for Education was approached for comment.