Five months of tough challenges culminated this week for the final of the fifth annual Brathay Apprenticeship Challenge, writes Billy Camden.
Nine apprentices from the United Kingdom Atomic Energy Authority (UKAEA) have had their skills tested to the limit since February to be named the country's team of the year.
They fought off tough competition from seven other teams in a final three-day showdown this week, in which UKAEA narrowly beat HMRC Digital Newcastle into second place and HSBC, who finished third. Teams from Apprenticeships Norfolk Network, Hampshire County Council, HMRC Surge and Rapid Response, IBM and QinetiQ also competed in the final.
To get there, the teams had to prove their logistical, team building and communication skills by visiting nearly 400 schools, careers fairs and youth groups to raise awareness of apprenticeships, as well as completing a project in their community.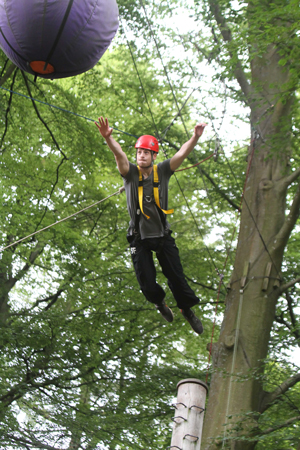 In the final, held at youth charity Brathay's headquarters on Lake Windermere in the Lake District from Monday, they also faced the challenge of a series of team building tasks — from orienteering and coracle boat building to an assembly line puzzle.
UKAEA team leader and electronic engineering apprentice, David Godden, 21, told FE Week the team was "ecstatic" and "shocked" to win.
He said: "It feels great because we've worked hard for a good few months now and to finally get some recognition for it is amazing.
"The three days have been intense. We're all aching but it has been great fun. We have been out on the whaling boats, climbing up fells, but we are all looking forward to a bit of a rest now."
David said the hardest challenge was the final whaler boat race — a timed five-mile rowing and navigation trial around the lake.
"We were rowing for a good hour and a half so it was keeping the rhythm going and keeping it all going as team through the stress of physical and mental exertion as well as navigation."
Stephen Hall, apprenticeship training manager at UKAEA, said the apprentices' victory made the company "very proud".
The scores from the community project and awareness-raising element, the assembly line puzzle and the whaler boat race were combined to give the final ranking.
For their community project, the UKAEA team volunteered with Helen and Douglas House Hospice and took part in a radio drive which raised £35,000.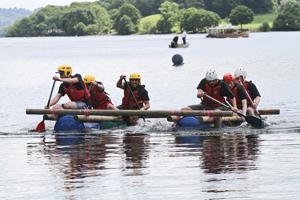 David said this was "one of the most enjoyable things" about the whole Brathay challenge process.
Over the course of the year, teams reached out to young people to discuss apprenticeships and recruited more than 400 new employers to offer apprenticeships as part of the challenge.
The apprentice teams have also reached out to their local communities and delivered 45 community projects to benefit young people.
Sue Husband, director at the National Apprenticeship Service which supports the challenge and a judge of the competition, said all participants would take away "effective personal skills" as a result of the process.
She told FE Week: "I think most important thing for the participants is the impact it has on them as individuals and how it will affect other people around them.
"We've had past winners go on to cohost the apprenticeship awards, spoken at events at National Apprenticeship Week and chosen to be involved in the current apprenticeship Get in Go Far campaign. It brings loads of potential for themselves and building their confidence."
Main pic: Brathay Apprentice Challenge 2016 winners. Pictured with their trophy are Tom Cox, Elliott Taylor, Emily Swatton, Dave Goddon, Jake Payne, Peter Blowfield, Joe Woodley, Matt Sayer and Sam Cullen