Dates have been set for a second walk-out by members of the University and College Union at a number of colleges in an ongoing dispute over pay.
Staff at the colleges – all in London except for one in the Midlands – will walk out on either March 27 or 28 for two or three days of strike.
More than 1,500 staff walked out earlier this month, over what UCU described as "a disappointing" pay offer of one per cent, made last September by the Association of Colleges, which represents the colleges on pay.
"UCU members at these colleges made it quite clear that they were prepared to take strike action in defence of their pay and conditions," said the union's general secretary Sally Hunt.
"They will be walking out again later this month unless the colleges properly address their concerns. Strike action is a last resort, but staff feel they have been left with no alternative."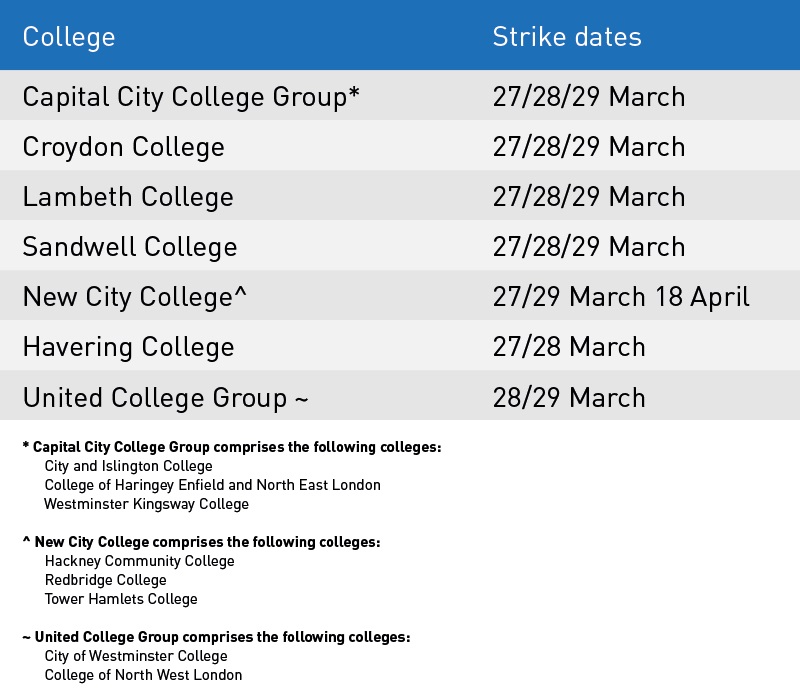 Staff at the affected colleges had voted overwhelmingly in favour of further strike action, the union said.
Average turnout across all 12 colleges was 63 per cent, with 91 per cent of those who voted backing a second walk-out.
UCU said in a statement that staff were taking action over pay, but at some colleges the disputes also included concerns over working conditions such as workload.
The National Joint Forum, made up of the unions representing college staff, had submitted a claim for an across-the-board rise of around six per cent in April.
But the final offer from the AoC last September was just one per cent, or the sum of £250 "where this is more beneficial".
AoC boss David Hughes expressed regret at the time that it was unable to offer more.
"We wish we were in a position to make a better recommendation today, but current funding levels for colleges do not allow us to do so," he said.
But teachers at sixth-form colleges, which are not included in the AoC's negotiations, will get a two-per-cent rise, backdated to last September, it was announced at the end of February.