Two Devon-based colleges that need to make around £4m savings between them over the next academic year could merge.
Exeter College, which received a grade one rating from Ofsted in February and needs to make £1m savings in 2015/16, and Petroc College, which received a grade two Ofsted rating in April 2012 and has predicted around a £3m budget shortfall for next academic year, are hiring independent consultants to carry out simultaneous structure and prospects appraisals.
Exeter College principal Richard Atkins (pictured above), president of the Association of Colleges, said he had postponed his retirement originally planned for Christmas by up to 12 months to oversee the process that could lead to merger.
"The reason that I have delayed my retirement is that two Devon Colleges, Exeter and Petroc, were advertising for principals at the same time," he said.
"The [former] principal of Petroc [David Dodd] retired and left at Easter and both sets of governors asked me to stay on while the two colleges carried out, in tandem, strategic reviews, to consider if Petroc and Exeter should collaborate further in the future.
"These reviews are just beginning and will take until the autumn to report."
He added: "I think both colleges are going to consider all options for working closer together, which could potentially include merger."
Mr Atkins said that it was "sensible" for his college, which had 9,500 learners in January, to consider developing closer ties with its neighbour, in view of the financial challenges facing the sector.
"Exeter College has to make 2.5 per cent savings for 2015/16, which equates to approximately £1m on a turnover of £39m. We are doing this by reducing sub-contracting and a small number of job losses among support staff. Teaching and learning is unaffected," he said.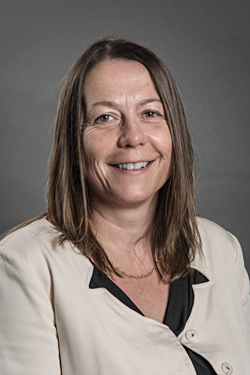 He added: "My decision to postpone my retirement is entirely unrelated to the college making 2.5 per cent savings, which are significantly below college sector averages this year."
Petroc announced in January that principal David Dodd was retiring, with Diane Dimond (pictured left) taking over as acting principal.
Mr Dodd became principal of the college, which has around 20,000 learners and was formed in August 2008, when North Devon College and East Devon College merged in January 2005.
The college's chair of governors, Paul Petrides (pictured below right) said: "The structure and prospects appraisal is an exciting opportunity for us to investigate new delivery models and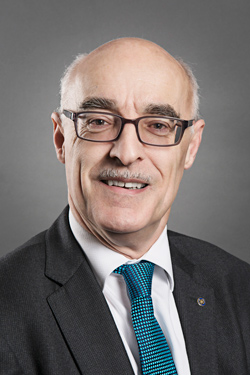 consider changes that are responsive to our learners, employers and the wider community.
"As our neighbouring college we are working with Exeter to look at how FE organisations could potentially work closer together."
Ms Dimond, who will continue in her role as acting principal during the process, added: "Throughout this period it will be business as usual for our learners, staff and wider stakeholders. Our focus remains the delivery of high-quality education and training."
The Department for Business, Innovation and Skills (BIS) said it would not comment on the colleges' "own management decisions given that they operate independently".
It comes after FE Week reported on May 1 that FE Commissioner Dr David Collins had launched a city-wide review of vocational education in Nottingham that is looking at merging Central College Nottingham and New College Nottingham (NCN).
It followed grade three Ofsted inspection results for both colleges over the last year and the revelation, reported in FE Week on April 20, that NCN plans for a multimillion pound campus revamp had to be saved by £12m funding from the local authority and Skills Funding Agency (SFA).
Dr David Collins was also sent into Greenwich Community College and Lewisham Southwark College in recent months after they both got grade four Ofsted results — the second in a row for Lewisham Southwark.
He launched structure and prospects assessments for both and while the report of Dr Collins' second Lewisham Southwark inspection has not yet been published, a BIS spokesperson told FE Week that the two colleges had already entered into "discussions" with each other about a possible merger. It prompted calls for a similar area-wide review to the one happening in Nottingham, but for FE provision across South East London. BIS declined to comment on this.