Hospitality and catering students celebrated the end of the college year by indulging in a giant millionaire's shortbread.
The huge biscuit was made for the Kirklees College students by curriculum team leader, Gary Schofield, for the culmination of an end-of-year prize-giving ceremony.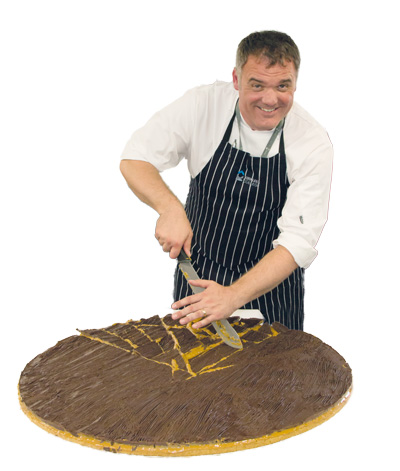 The creation was just under a metre wide, and contained 6kg of shortbread, 10kg of fudge and caramel and 5kg of chocolate.
In order to make the enormous treat, a cake tin was created especially by the engineering department of the West Yorkshire college.
"It's nice to be able to celebrate our students' fantastic achievements," Mr Schofield said. "They work hard all year, so it is great to be able to round off the year with something fun.
"The millionaire's shortbread only took two hours to make. The real challenges were steaming the condensed milk in the tins for four hours, and getting the finished shortbread out of its tin due to its size, but I had help from a learner to do that."
It's not the first time Mr Schofield has made an oversized dessert: he baked a massive chocolate teacake last year, and a gigantic jaffa cake the year before.