Bidders to the government's traineeships tender are now being informed of their outcomes following a slight delay.
In decision letters sent out yesterday, seen by FE Week, the Education and Skills Funding Agency tells providers that they will be observing a ten-day "voluntary standstill period" from 19 January before entering into the contracts on 1 February 2021.
A total of 215 awards have been made from almost 400 bids, with the total funding standing at £64.4 million.
The funding is being split across the nine regions in England – ranging from £20.8 million for London providers to £2.6 million for the south-west. Forty five providers in London were successful in their bids (see table).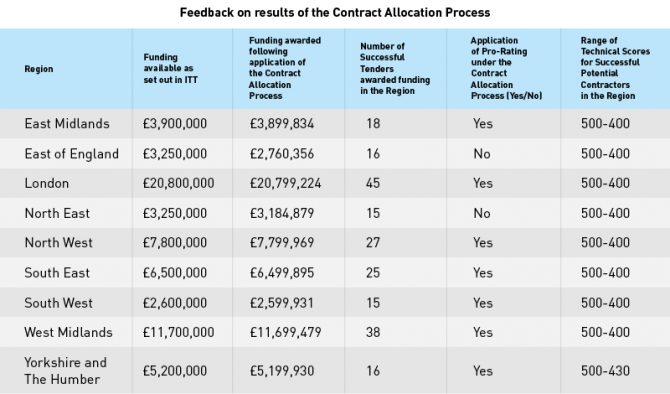 The contracts, which are just for 19 to 24 traineeships, are hoped fund around 20,000 new starts between February and July 2021.
The ESFA had planned to notify bidders of outcomes on 11 January, but previously said the "high volume of tenders received" had "necessitated having to inform you that notifications of award will be delayed slightly".
The tender is one way the government plans to triple the number of traineeships starts this year – as pledged by chancellor Rishi Sunak over the summer as part of his plan to combat youth unemployment amid the coronavirus pandemic.
Employer cash incentives of £1,000 have also been made available, as has growth funding for providers to deliver 16-to-19 traineeships.
As FE Week revealed last week, Sunak was said to be personally "annoyed" at how long the tender took to get off the ground, considering he announced the plan to triple numbers in July.