Government adviser Nigel Whitehead warned that the Trailblazer apprenticeship process was "out of control" as he revealed fears national occupational standards (NOS) were in "danger" of being bypassed.
The group managing director of programmes and support at BAE, and author of the government-commissioned 2013 Review of Adult Vocational Qualifications in England, said the system had been set up "without much reference back to the importance of the NOS as a foundation".
"My honest appraisal is that I think it is out of control," Mr Whitehead told more than 150 awarding organisations at the Ofqual 2015 conference in Birmingham on Tuesday (December 8).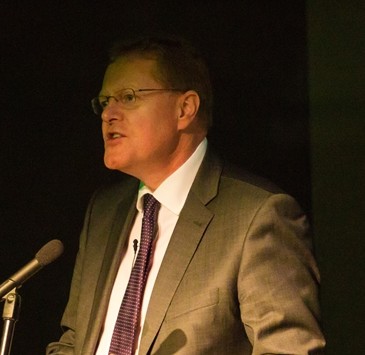 He added: "There is a danger there is a moment in time when we will accidentally bypass the NOS unless we take the care to recognise their importance."
The UK Commission for Employment and Skills (UKCES), which counts Mr Whitehead as one of its commissioners, is responsible for NOS across the UK.
However, the UKCES was "struggling to get that voice properly heard" when the new apprenticeship standards were being drawn up by Trailblazer employer groups, said Mr Whitehead, and with its funding set to cease, "that danger moment is amplified".
It's an issue he said he had even raised with Skills Minister Nick Boles — "and he acknowledges that we have some work to do to work out how that function is going to be performed," said Mr Whitehead.
The comments appear to have put Mr Whitehead on collision course with the Department for Business, Innovation and Skills (BIS), which said research carried out by the UKCES itself showed only 5 per cent of employers had a good knowledge of NOS, while 44 per cent of the economy was not even covered by NOS.
"Employers are free to refer to national occupational standards to support the development of their Trailblazer apprenticeships — most have chosen to do something different," said a BIS spokesperson.
But a UKCES spokesperson said: "We believe NOS are vitally important and, as Mr Whitehead said, they are the raw material on which high quality apprenticeships and many vocational qualifications are based."
Mr Whitehead's employers at BAE, which is on a number of Trailblazer groups, also backed him, saying they "recognise the value of NOS and their role in ensuring apprenticeships in our sector meet their requirements".
"We believe they are an essential starting point on which high quality apprenticeships and many vocational qualifications should be based," said a BAE spokesperson.
According to the UKCES, NOS are developed "for employers by employers through the relevant Sector Skills Council or Standards Setting Organisation" and are "statements of the standards of performance individuals must achieve when carrying out functions in the workplace, together with specifications of the underpinning knowledge and understanding".
However, with UKCES funding set to end, question marks also hang over the devolved nations' use of NOS.
"They are waiting with baited breath to see if they have to build their own foundation or whether they can rely on the English system to actually then continue to provide a foundation," said Mr Whitehead.
A Scottish government spokesperson said it had "a commitment from Mr Boles to work with the devolved nations on this".
But, she said: "We are disappointed with the UK government decision to stop funding the UKCES, as this will have implications in a number of areas such as the NOS which are used widely across all four nations of the UK to underpin vocational education."
She added: "Unfortunately this is another example of where another UK government decision is having unintended consequences for skills activities across the UK."
A Northern Ireland government spokesperson said it was working "to ensure NOS remain the national standards."
The Welsh government was yet to respond.
Main image: @sideclickphoto
---
Editor's comment
Out of control, again
The government saw fit to listen to Mr Whitehead on qualifications nearly three years ago.
His recommendations resulted in the public funding of, it has been estimated, around 6,900 adult vocational qualifications severed.
He is clearly someone that is listened to among ministers and at Whitehall.
So his warning that the Trailblazer process was 'out of control' will hopefully also be listened to.
He, along with the UKCES, makes a case for national occupational standards (NOS) that Trailblazer employers, no less than BIS, should take great care to heed.
But it's a warning that also came with worries for devolved governments who rely upon the UKCES for their own NOS in developing apprenticeships.
And perhaps one of the most damning criticisms of this particular issue, and also the breakneck speed of reforms, comes from North of Border about the 'unintended consequence' of policy shift after policy shift.
It just adds to that out of control feel that the FE and skills sector has sadly become accustomed to nowadays.
chris.henwood@feweek.co.uk