Tireless learners at Totton College put their sleeping patterns out of sync for a 24 hour sporting spectacular to raise money for injured and disabled people who have worked in public service, writes Billy Camden.
ublic Services students at Totton College have raised more than £2,000 following a 24 hour charity sports marathon in aid of injured and disabled people who have worked in the public sector.
The dedicated team of 25 current and six former learners participated in the sporting spectacular as part of a course project that spanned a whole day and night of continuous activity including rugby, volleyball, tennis and Zumba.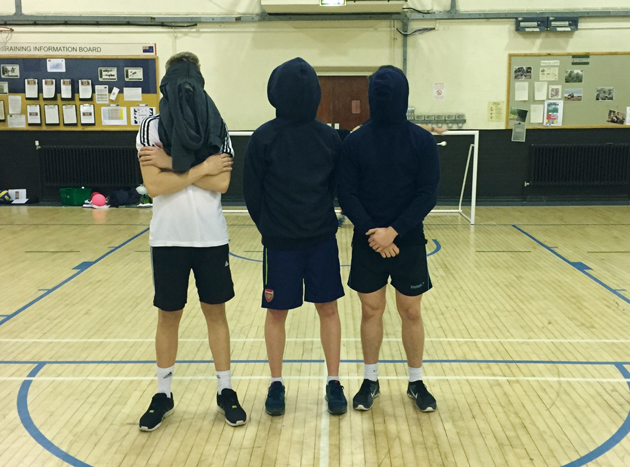 Each of the sleep deprived students took turns coaching a team, briefing them and refereeing.
It was in aid of Blind Veterans UK and PC David Rathband's Blue Lamp Foundation, two charities that inspired the students during recent visits.
Learner Jake Lambe, 18 explained: "This year, we wanted to really push ourselves to the mental and physical limit to hopefully raise as much as possible for these two brilliant charities.
"A group of us recently visited the Blind Veterans UK centre in Brighton and spoke to some of the veterans the charity supports.
"Both Blind Veterans UK and the Blue Lamp Foundation make a huge difference to the lives of people who have served their country. That's why we're all so passionate about raising money for them."
The marathon began on February 11 at 8.30am at Blighmont Territorial Army Centre, in Southampton, and carried on until the same time the following morning.
Learners were given a much needed boost 10 hours into the marathon, when they received a visit from veterans supported by Blind Veterans UK who took part in a football match.
The learners blindfolded themselves to make it a fair game and to give them a better understanding of the cause they were raising money for.
The ball had a bell inside for players to hone in their other senses.
Emily Masterman, 17, said: "It was a real honour to receive a visit from some blind veterans and really spurred us on in to the evening following a long day of sport. Being blind folded really bought home the sacrifices made by service men and women."
Mark Threadgold was one of the blind veterans who joined in with the students.
He said: "We wanted to come along and support all the Totton College students because doing anything for 24 hours straight is a massive challenge, let alone playing sports.
"It was great that we were able to join in too. I know that the money they have raised will go a long way in supporting two very worthy charities."
And when the tough times came and fatigue began to set in during the 24 hours, the learners turned to each other to get through it.
James Hawkins, 17, said: "Energy levels were up and down throughout the marathon but when we got a little tired, we found music, sugary treats and lots of chatting with our teammates helped to get us through."
The sports marathon wasn't the only endurance test to boost the coffers — male students and staff from the class bit their bottom lips and participated in a charity leg wax a day before the sporting marathon.
Main pic: Public Services students at Totton College during the 24 hour sports marathon
Visit uk.virginmoneygiving.com/team/tcps-charity-fundraisers to sponsor the team.