Thousands of learners, staff and leaders marched on parliament today in "the most amazing show by colleges ever" to demand fairer funding, as the centrepiece of Colleges Week.
The march for FE, organised by the University and College Union in partnership with the Association of Colleges, was followed by a packed rally in Parliament Square during which Labour leader Jeremy Corbyn declared his support for colleges and their "pathway to liberation".
"It's the most amazing show by colleges ever," said David Hughes, the AoC's chief executive as he addressed the crowd.
"We're here to really shout out about how proud we are about what colleges can achieve, and we are making a noise in parliament, we are sending a message to government," he said.
"We're not after handouts. We're after investment," he said.
"I support this demonstration because college education is very, very important," Mr Corbyn said.
"It's the pathway to liberation for many of our young people. It's the pathway for older people to discover new things about themselves, new subjects, new opportunities and indeed a career change if that's what they want."
"Stand today for properly funded colleges and properly paid staff. Stand today for the principles of education for all as a right," he urged.
Earlier shadow education secretary Angela Rayner said she was "so sorry that this current government doesn't value the work that you do".
"They know the cost of everything but the value of nothing," she said.
"We need investment in our education now," she demanded.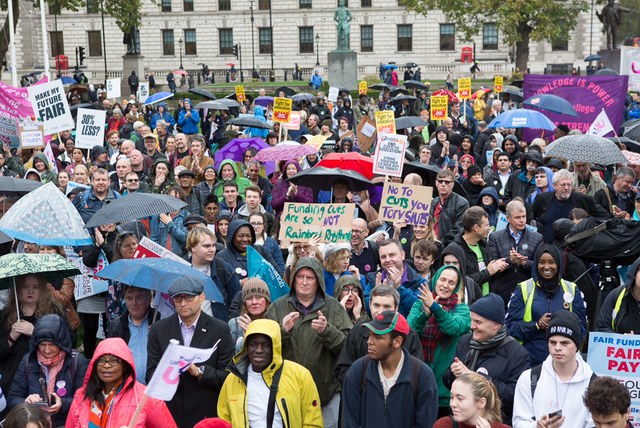 Representatives from at least 30 colleges from across the country were understood to have taken part in today's march in the heart of the capital.
The thousands of protestors headed through Trafalgar Square and down Whitehall, cheering, chanting and bearing placards demanding more funding for colleges.
There were large contingents from Ealing, Hammersmith and West London College and New City College, both of which closed their campuses today to allow staff and students to take part.
Gerry McDonald, group principal of New City College, told FE Week its four campuses in Hackney, Tower Hamlets, Redbridge and Epping Forest were closed "to get as many people as possible, to really get the message across that FE has got to have its funding sorted out for the long-term future of the country".
"We've done the lobbying. We've spoken to civil servant and politicians for a long time and we feel now we need to do something a bit more dramatic like today and make a bit more of a fuss about it," he said.
Karen Redhead, principal of EHWLC, said her leadership team had "taken the decision to close so that students and staff can take part in this very positive lobby that celebrates everything that fantastic about FE colleges".
A group from Leeds City College had spent six hours on a coach to be at today's march.
These include Ivola Dombay, a GCSE English teacher at the college, who said she was motivated by funding cuts that meant she was teaching overcrowded classes.
"We've barely got enough chairs for them to sit on, we haven't got enough teachers," she said.
As well as the march on parliament, college leaders, staff and students have been lobbying MPs to plead the case for more funding for FE.
Throughout the week, colleges across the country are putting on their own events and "inviting the local community to celebrate the impact that colleges have", an AoC spokesperson said.
Colleges Week was prompted by the Department for Education's decision to fund a 3.5 per cent pay rise for school teachers while ignoring college lecturers – an announcement that left AoC boss David Hughes "angry" and "frustrated".
"The issue is we are in a very tight funding financial constraint position with government so we have to make a lot more noise and get a lot more students, staff, parents, employers, stakeholders, partners to advocate for colleges," he told FE Week in August.