Management is now the third most popular apprenticeship subject, and analysis by FE Week suggests it will rocket to the top spot once the apprenticeship levy kicks in next year.
A huge 83 per cent of all 25+ higher apprenticeship frameworks are currently in management, according to the latest Department for Education data.
And the number of starts for 25+ higher management apprenticeships in the nine months between August 2015 and April 2016 has already exceeded the total for the previous 12 months, with 4,670 compared to 4,660.
This trend is not a new one. The percentage of all apprenticeships in management frameworks has increased rapidly since 2002/03, soaring from around one per cent to over 10 per cent for 2015/16.
The rise has accelerated since 24+ apprenticeships were permitted in 2007/08.
When the apprenticeship levy comes into play next April, close to 20,000 employers will have a levy pot – and for many, the easiest way to make use of this funding will be to place existing employees on management apprenticeships.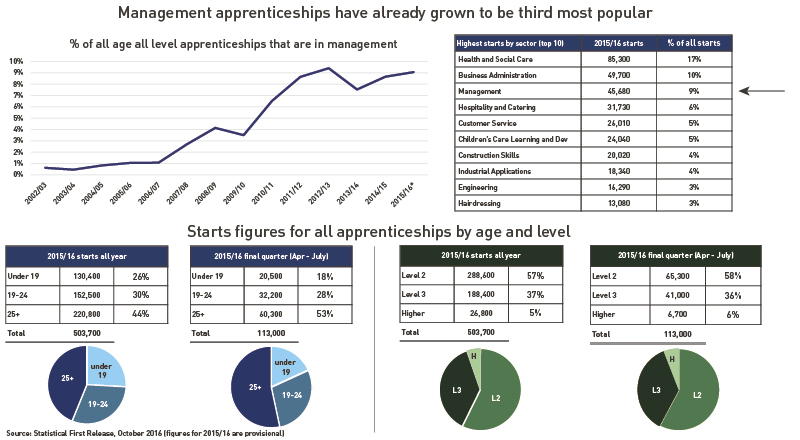 Apprenticeships and skills minister Robert Halfon has recently singled out the importance of higher and degree apprenticeships as a "ladder" to help employers bring in new talent and to improve social mobility.
But the popularity of management apprenticeships raises a new question: should large sums of government funding, much of it expected to be generated by the forthcoming levy, go on what is effectively upskilling firms' existing managers.
Mark Dawe, the chief executive of AELP, raised concerns about the trend when FE Week showed him its analysis.
"AELP has been hearing from levy-paying employers for some months that their strategic planning in preparation for the levy includes many more apprenticeships at higher levels, in particular management training," he said.
"AELP's concern is the knock-on consequence of not enough levy money being available for non-levy-payers, and those exceeding their levy pot.
AELP's concern is the knock-on consequence of not enough levy money being available for non-levy-payers, and those exceeding their levy pot
"We have regularly expressed concern about this in our correspondence to ministers, as we believe any restriction on non-levy-payer apprenticeships will have an impact on social justice and productivity."
In July last year, a new apprenticeship standard for a chartered manager degree was launched, following its development by employers such as Barclays Bank, Sainsbury's and Virgin Media.
The Open University is just one of the higher education institutions making the most of this new standard.
Its chartered manager degree apprenticeship will cost £22,500 per apprentice, highlighting the opportunity that now for universities – either public or private – to corner this market.
With an upper fee-limit of £9,000 for higher apprenticeships and £27,000 for degree apprenticeships in all sectors, the management standard is set to be a best seller.
According to the CFA Institute, there are 400,000 new managers a year – which would amount to around £3.6bn.
And once the Skills Funding Agency system of allocating funding is removed, there will be no ring-fence for 16-to-18 apprenticeships, meaning that companies could potentially spend their entire levy allowance on training managers aged 25 or more.
Mr Halfon told delegates at this week's Conservative Party Conference that once the apprenticeship levy is in operation, employers might try to "game the system", by rebranding existing training in order to claw back as much of their levy contribution as possible.
He said: "I'm not going to deny to you, inevitably there may be some gaming of
the system.
"But I don't actually believe it will be widespread. If gaming is widespread … then of course we would look at it later on and make sure we stop it as much as possible."
FE Week took a look at some of the universities that have jumped at the chance to offer management degree apprenticeships (below).