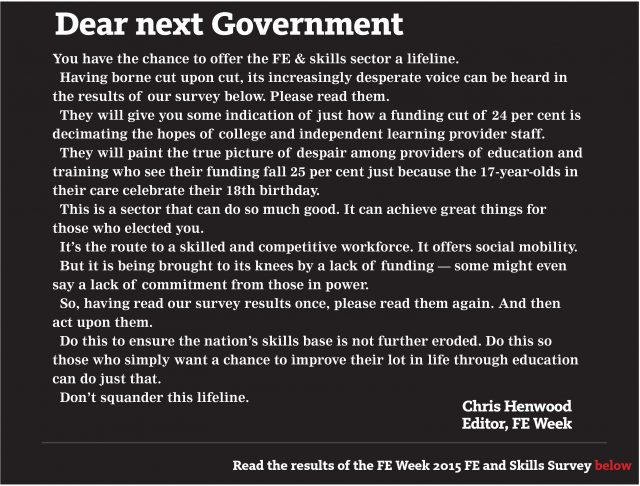 Funding, change, workload and bureaucracy topped the list of concerns in the second annual FE Week sector survey.
Worries about English and maths teaching and the "broad direction of travel" for FE followed close behind as hundreds took the opportunity to express their feelings on FE and skills with the General Election just days away.
And sector leaders have backed the results, using them to call for support and action from the party, or parties, that emerge victorious from Thursday May 7's vote.
Among them was 157 Group executive director Dr Lynne Sedgmore who said the sector was "at something of a turning point", and that concern over the 'broad direction of travel' (90 per cent concerned) and the rate and volume of change (90.2 per cent concerned) was "very understandable".
She told FE Week: "I would urge the next government to learn from experiences with the schools sector and engage much more meaningfully in a dialogue with those of us delivering FE on the ground before imposing yet more top-down initiatives."
Dr Sedgmore said she was reassured that responses on issues like loans and English and maths demonstrated the sector "understood the importance of making those initiatives with which we all agree work", but added that it remained "important that we are given time to make them work before being judged as underperforming".
She added: "Concerns about the future direction of Ofsted are perhaps a reflection of the strongly-held belief of many that we are increasingly being held to account for societal problems which are not of our own making.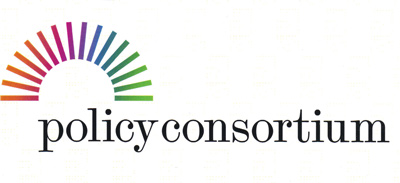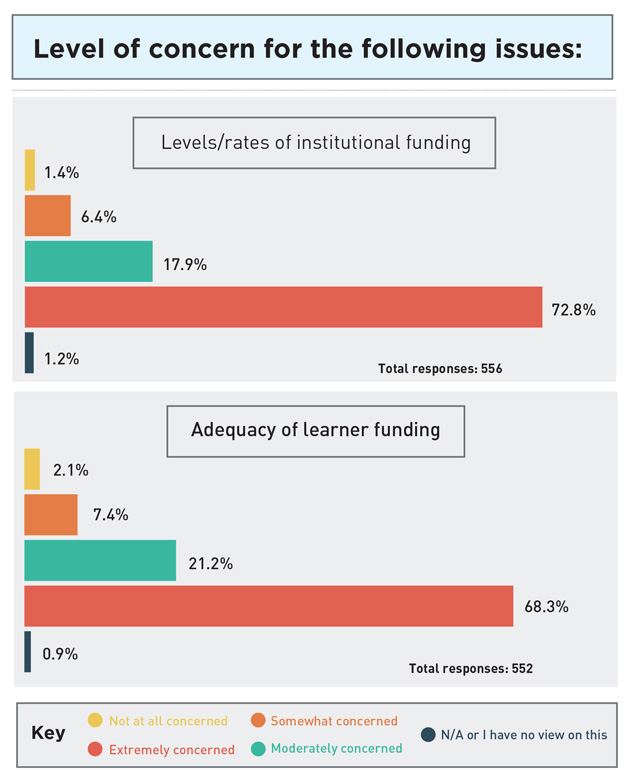 "The clear message is that we understand what is being asked of us, but that policy — and funding — must match up to the aspirational rhetoric in reality if we are to have the world-class skills system we all want. It is concerning that fears around staff turnover may indicate that many are choosing to leave rather than face the very real challenges of the future."
David Hughes , chief executive of the National Institute of Adult Continuing Education (Niace), said he was saddened by the results, which he said showed the sector did not feel as "confident and supported" as it should.
He said: "Over half of those surveyed are extremely concerned about the 'broad government 'direction of travel' for FE and skills' and three quarters are extremely concerned about levels of funding. That weight of feeling does not suggest a healthy position for FE and we need to fight to improve it."
He said Niace was among the organisations calling for funding cuts in FE to stop and repeated his call for a commission to agree a long-term 'settlement' for the sector, a call which he said was backed up by the survey results.
He added: "I believe that the next government has a once in a generation opportunity to set out a more positive and clear vision for how the learning, skills and employment needs of the country will be met.
"The productivity deficit, technological change and an ageing population all require more people to continue to learn and develop. Our current system is not geared to deliver that and this survey shows why not. I hope that politicians, civil servants and advisers all read this and pay heed."
The Sixth Form Colleges' Association (SFCA) has also called for action on funding in response to the survey results.
James Kewin, SFCA deputy chief executive, said: "It is striking that 89 per cent of respondents were either moderately or extremely concerned about the adequacy of learner funding. Adequacy is the key word here — while the government maintains that it is funding sixth formers to study on a full time basis, there is a big difference between the way the Department for Education defines full time study for funding purposes and the reality of what a full time education actually involves."
He said students were increasingly receiving "a part time educational experience" and warned this could become the norm without an urgent review of education funding.
He added: "The survey also shows there is deep concern about the funding of students with high needs. We share this concern, and believe that returning responsibility for funding to the EFA and removing the role of local authorities would be a helpful first step on the road to getting a better deal for these young people that need it most."
Kevin Gilmartin, colleges specialist at the Association of School and College Leaders (ASCL), said members had been "battling with the inadequacy of 16 to 18 funding" for a number of years and had led a national campaign to highlight the issue.
He added: "Indeed, the April council has just agreed policy to campaign for the quantum per learner for core funding post-16 to be increased from the existing £4,000 to £4,800.
"It is to be hoped that the incoming government listens very carefully to the funding concerns of the FE and post-16 sector, as articulated by ASCL and its other professional partners."
He said levels of funding per learner "must be increased to an adequate level" in order to produce the "world-class educational and training sector for which we all strive", adding: "The sector has the passion, skills and expertise to produce this — but it needs the government to give it the basic tools for the job."
The survey results also sparked concerns among the University and College Union (UCU) and the Association of Teachers and Lecturers (ATL).
Sally Hunt, UCU general secretary, said the survey results made it clear that staff in FE were under "a great deal of strain".
She added: "It is clear from the survey that staff in further education are under a great deal of strain. 50 per cent of staff are extremely concerned about workload and there are is also apprehension about the pace of change and the ability to retain staff within the sector.

"The findings reinforce the importance of the workload challenge for FE for identifying and addressing specific concerns in terms of workload."
Ms Hunt said the survey also raised concerns about new English and maths requirements, and said staff needed support in this "crucial" area.
She said: "Once again, though, the overriding concern for staff is the level of institutional funding, and this uncertainty has only been compounded by the massive budget cuts announced for adult learning in 2015/16.
"The next government urgently needs to review the funding situation for FE and ensure that proper investment is made."
Dr Mary Bousted, general secretary of the ATL, said: "The FE sector has been devastated by the cuts imposed by the coalition government, so it is no surprise this survey reveals funding is of the highest concern to respondents."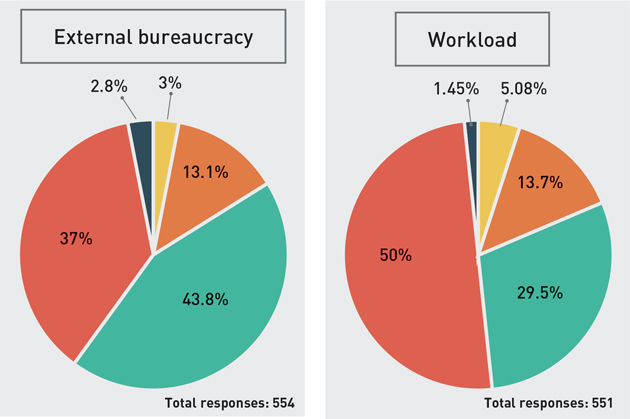 She added that the survey results revealed the "dire impact" of inadequate funding on learners, and that staff were seeing a decline in training opportunities as a result of cuts.
She said: "These responses indicate staff are also seeing a decline in training opportunities as a result of austerity cuts to the FE sector, further undermining their professionalism and limiting their ability to pass on up-to-date skills and knowledge to students.
"Respondents echoed ATL's view regarding workload; that staff are steadily being run into the ground, as well as revealing many of the other fundamental flaws currently dogging the education sector.
"We need to take heed of these warnings because they reflect the sector's capacity to deliver crucial skills to the economy and wider opportunities to local communities."

Survey issues ring true for AoC
The concerns of the FE sector highlighted in the 2015 FE Week FE and skill survey chime with the issues raised in the AoC manifesto for colleges.
It is not surprising that 90 per cent of respondents were concerned about funding — both for educational institutions and for individual students.
We have seen a 24 per cent cut for adult education announced in the last year on top of significant cuts throughout the last Parliament. Colleges are being forced to make tough decisions about the future.
Following such severe cuts and the changes we have seen in policy from the previous government over the past year, many are worried about the direction of travel for the next administration.
At the AoC, we have been lobbying hard to ensure the importance and value of FE is recognised, and it is encouraging that Labour and the Liberal Democrats have pledged to ring-fence funding from 0 to 19.
We would like to see education funding put on a more rational and stable footing and that's why we are calling for the next government of whatever hue to prioritise a once-in-a-generation funding review of how money is spent at each stage of education to ensure we can adequately educate and train all children and young people.
Colleges are also dealing with increased enrolments of young people who have failed to achieve grade A* to C in English and maths GCSE after 11 years of schooling.
Supporting students who have previously failed these qualifications is not easy as specialist teaching staff are needed to motivate them which all requires funding. Two thirds of respondents to the survey said they were concerned about the number of maths and English teachers available.
However, this funding is dependent on students being able to achieve at least a C grade and more needs to be done to support colleges in recruiting and training additional teachers. There is no quick fix to the maths and English challenge. GCSEs need to be rigorous qualifications, but some young people will never be able to achieve this.
The next government should work with employers and colleges to develop new maths and English qualifications which are related to the world of work and everyday life.

'We need stability to cope with less funding in a time of higher quality benchmarks'
The FE Week survey reflects many of the issues that we have included in our own manifesto, which we issued back in 2013.
The overall concern is that the reducing budgets and higher quality benchmarks mean that we need a period of stability under the next government so that providers can drive improvements to delivery while funding continues to be a major challenge.
Providers welcome change, but it has to be done in a consistent and predictable policy environment. Around two thirds (65 per cent) of the survey's respondents were either moderately concerned or extremely concerned that we won't have enough English and maths teachers in our sector, so political ambitions in respect of GCSE attainment should be tempered accordingly unless backed with significant investment.
We all know that we need to improve the teaching of English and maths, but the policy on issues like Functional Skills must be consistent and supportive. English and maths has been one area of focus in recent Ofsted inspections and the survey echoes provider concerns about the overall inspection regime since the start of the year. Another common inspection framework arrives in September — only two years after the last one.
When you look at the survey's findings on the lack of confidence in the reliability of inspectors' findings and match this to the fact that there will be a difficult transition to the new framework, we need to ensure that Ofsted and the government are aware of the impact of these constant changes.
The complexity of the sector's offer is identified as a significant concern and we know that it is one shared by employers. This is why for non-classroom provision, the AELP believes that future skills and employment provision should be focused on apprenticeships, traineeships, English and maths and programmes for the unemployed.
Making sure that more young people in particular know about these opportunities remains a major task and the survey shows that providers believe that much needs to be done to improve information, advice and guidance. If the next government makes the commitment to work with the sector, then we hope that next year's survey will show an improvement in measures such as the direction of travel of policy where 70 per cent of respondents are concerned and rates of funding where 72 per cent are extremely concerned.
---
'Sector virtually unsustainable'
If the data from our 2015 survey painted a less than positive picture, then comments added by respondents to some of the questions offered little in the way of hope.
Here are some of the hardest-hitting statements submitted by some of the 723 respondents to our survey. They were picked from answers in areas ranked highest in terms of levels of concern.
We also have responses to the survey results from representatives of the main three political parties, particularly pertinent as we head into the final countdown for what looks to be one of the closest elections in history. Do any of them convince you that their policies might answer the issues raised by our survey?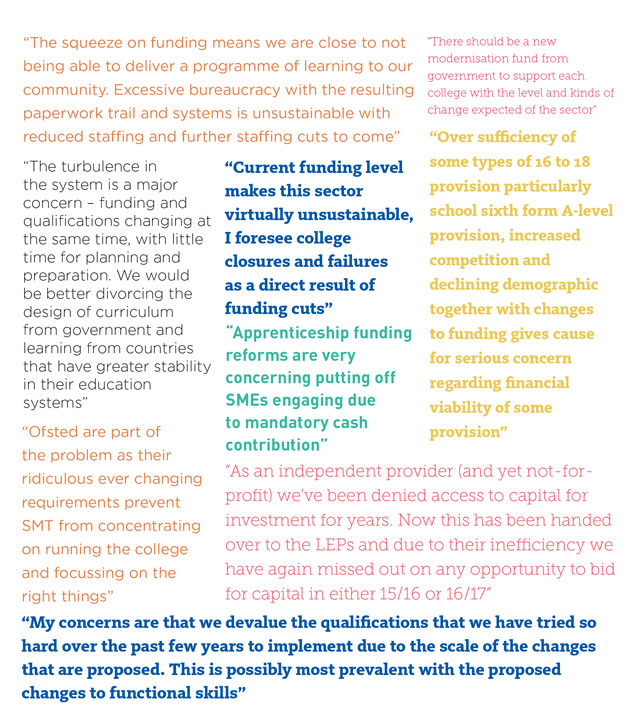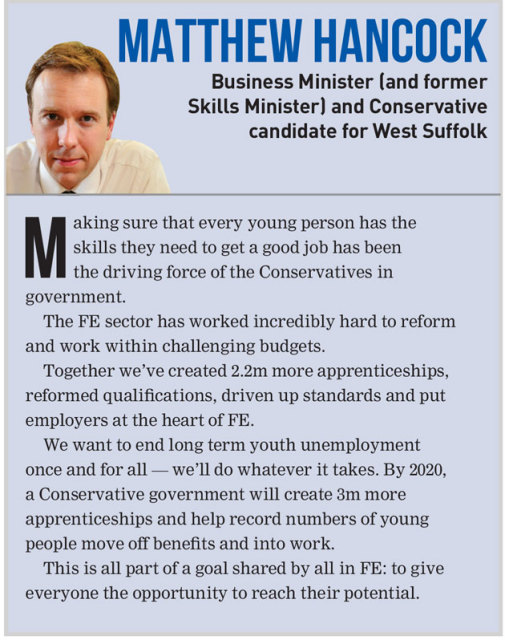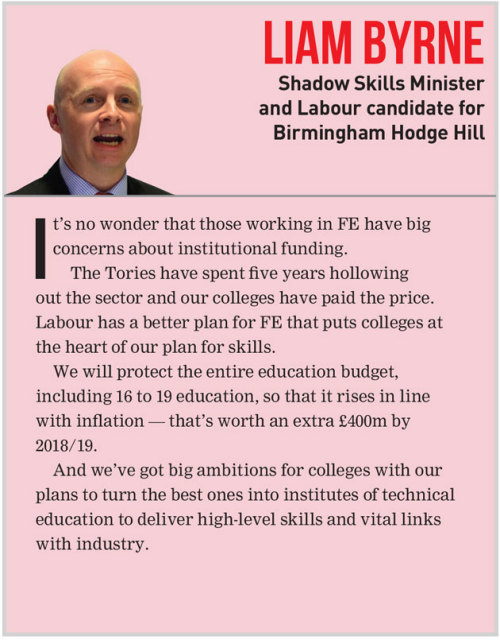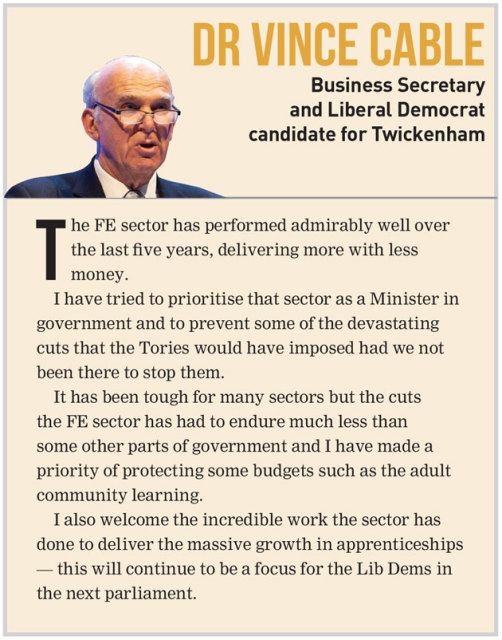 ---
More analysis of 'successful' survey on way
A full report on the findings of the FE Week annual FE and Skills survey is due to be released later this month.
Policy Consortium, the FE Week research partner for the survey, will publish detailed analysis of the findings by its panel of experts on May 11.
The report will be available on both the FE Week and Policy Consortium websites.
"Another year and another hugely successful FE Week annual survey — our second — has laid bare the feelings of those within the sector about what is happening to FE and skills," said FE Week editor Chris Henwood.
"My sincere thanks go to everyone who took the time to make their opinions known. Just like this newspaper, it is something that simply could not happen without the support of our readers, and it should now go without saying that the survey will be back again next year."
The survey opened on February 26, and respondents were able to give their views until March 24.
The results of the prize draw, with prizes of an iPad Air and an FE Week subscription, will be announced before the end of May.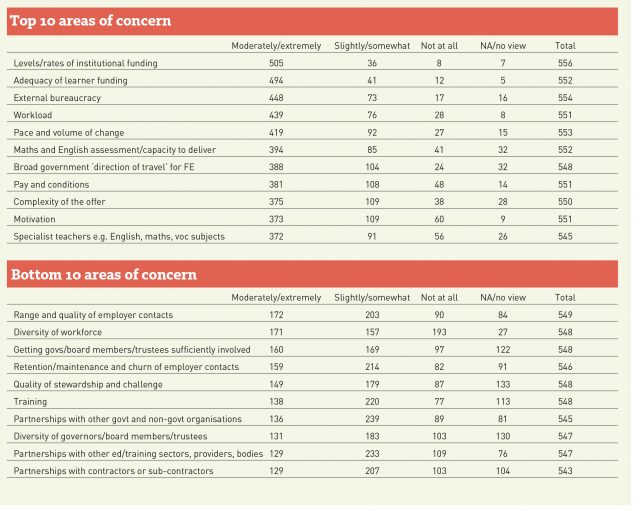 Less than half saying funding was biggest issue for cash-starved sector is telling for severity of other concerns
What does it say about the health of the FE and skills sector if funding is the "single biggest issue" for just 44 per cent of those who responded to the survey question, asks Mick Fletcher.
he first headline finding from the Policy Consortium / FE Week survey of the sector in 2015 was a big surprise.
Respondents were asked to identify "the biggest single issue affecting FE and Skills". Out of all the answers received 44 per cent — under half — were concerned with funding.
Given what is going on in the sector at the moment this figure seems surprisingly low and requires some investigation.
Colleges and other providers are facing a cut of around 24 per cent in their adult skills budget. Rates for 16 to 19 funding are frozen. Support for older students is being switched from grant to loan despite disappointing take-up.
And government is ploughing on with its policy of transferring skills funding to employers despite evidence from the employer ownership pilots that it doesn't work and evidence from the apprenticeship funding consultation that employers don't want it.
What on earth is going on?
What must be
the worst funding settlement for any sector of education for some time should be seen as a benchmark for the concerns expressed about other aspects of the current context
The first thought was that the sample might be seriously unrepresentative. Perhaps it was only those in quiet and protected corners of the sector who had the time to fill in the on-line questionnaire; all the rest were too busy cutting classes and sacking their colleagues to notice.
That doesn't seem to be true, however. While we are not claiming statistical precision for the survey the 723 people who did respond appear to be a broad cross section of the sector.
About half of them described themselves as managers, further 10 per cent as chief executives, 20 per cent administrative or support staff and 10 per cent tutors or lecturers.
About two thirds were from colleges with others coming from training providers, community learning, local government and support agencies.
About half had been in the sector for 13 years or more so were well able to put today's cuts in context.
The second hypothesis was that people are really not as concerned about funding as recent commentary has suggested.
Perhaps it is only those paid to speak for sector bodies and lobby groups who are making a fuss; those at the 'chalk face' just accept retrenchment and cuts in service as part of the job.
Once again however this explanation doesn't stack up.
When asked specifically about funding rates just under three quarters described themselves as 'extremely concerned'. Nine out of ten people in this cross section of the sector said that they were either extremely or moderately concerned — a 5 percentage point increase on last year's already elevated level.
And in case anyone thinks the sample included only 'moaning minnies' who would be extremely concerned about anything, the answers to other questions don't bear that out. Only a quarter for example were 'extremely concerned' about discretionary support funds despite all the pressures on that budget.
The comments people made explaining their concerns were also revealing.
Unlike last year when most comments revolved around particular aspects of provision many people this year expressed fears about systemic failure, perceived threats to the viability of institutions, to adult learning as a whole or to FE as we have known it.
The explanation for this initially surprising set of answers has to be that although most people are very concerned about funding they are even more concerned about other things that are going on.
What must be the worst funding settlement for any sector of education for some time should be seen as a benchmark for the concerns expressed about other aspects of the current context.
They include government priorities, mentioned in 16 per cent of responses as of greater concern than funding, concerns about the status of the sector, about curriculum reform, arrangements for inspection and quality and the ability to meet local needs.