After an exhausting few days, Association of Colleges chief executive Martin Doel shared his thoughts with FE Week editor Nick Linford.
The pair talked all things conference in a 45-minute webinar, sponsored by Tribal. Here are some of the key moments.
Nick Linford: So, we heard from the president of the Association of Colleges, Michele Sutton, who was shortly followed by Skills Minister Matthew Hancock.
There were two main things that came out of that. Let's start with careers advice, and the Careers Guidance: Guaranteed campaign. How's that going, and what vibes did you get about this from Mr Hancock?
Martin Doel: There are students who start courses inappropriately in schools, and then have to transfer to a college. So we are paying for longer training/education than young people need and affecting their futures, because that advice is leading them to the wrong choices for them. That's the personal, social and human impact.
I think we're getting movement. This is sometimes, I think, how things get changed. At that one stage, we get back from the Department for Education [DfE]: "There isn't a problem with careers education." So, no problem … or the DfE doesn't think there is. Then suddenly you get this select committee saying: "There's a problem."
Then you get Ofsted saying "there's a problem". There's an acceptance there is a problem.
Ofsted-reported colleges need to be judged on the effectiveness of the careers education they are providing.
Ofsted ought to be asking "have you invited partners into your school to actually give young people the widest range of choices?"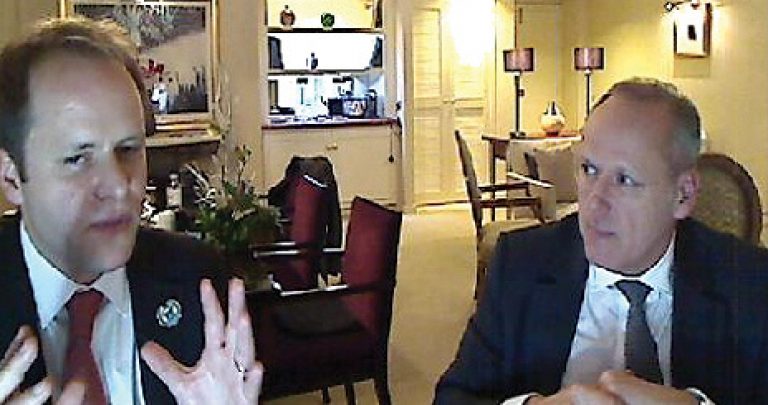 NL: We need to see Ofsted reports that are very critical where that doesn't happen.
MD: That would be the turning point — clear accountability.
As far as I'm concerned, Ofsted has put careers advice and guidance in special measures — declared it inadequate. When they declare a college to be inadequate, they go and re-inspect in a year's time.
NL: Let's switch a little bit —Mr Hancock … did say the apprenticeship funding will go to employers. What's your view on this reform, and do you think it's going to happen?
MD: The consultation is still out, so clearly the minister may have made his mind up.
Mr Hancock could do these things theoretically, but practically it's a whole other world. You can make proposals in Whitehall — most people think Universal Credit, in a sense, is a good idea. It's one allowance. Doing it? It's hugely different.
What we'd do, is we would approach it in a very careful, considered way. If it were with PAYE, I would struggle to see how you can do a pilot.
NL: We potentially have a minister here who wants a very significant change on his watch, it relates to the treasury, which is his background, and the chance is fantastic — if it's successful. But they are not around forever, and what sort of mess may we be left in if we do get wholesale change?
MD: I am very concerned about that. I mean, we have corresponded about it … I am concerned about not only the idea, but how you implement an idea. If the employers are getting the money directly, they've got all the same accountabilities, the same audit requirements, the same quality requirements for them to actually do it.
NL: We had Business Secretary Vince Cable make an announcement on capital. It sounded to me like it's not new money but there's an opportunity to get colleges to get their hands on it sooner.
MD: I am assuming people know that there is a problem with cash flow between this year and next year. I imagine that was achieved in the face of a lot of opposition.
NL: Tristram Hunt, our new Shadow Education Secretary, has announced that, in office, the Labour Party would introduce something called Institutes of Technical Education. In a sense it would be a badge, wouldn't it?
MD:The word 'technical' connected to a college has a long history, and you still go to some towns and they still talk about 'the tech' — the technical college. It's got a ring, it's something you might recognise from the sector, so… it's interesting.
The UK Commission for Employment and Skills is meant to be a social partnership, I think it is, but it needs to involve all its partners in deriving whatever criteria they might come up with in the proposals. I think they could probably go to no better source than Frank McLoughlin's review from the Commission on Adult Vocational Teaching and Learning.
He came up with four criteria for good vocational teaching and learning, which are: dual professional staff, industry-standard facilities, a clear line of sight to work and a two-way street of continuing conversation with industry
NL: The core point here is: is the system broken? These are very radical proposals … it's a very big system and we are not starting from a blank piece of paper. So if it's not broken, the question is, how radical does it need to be? And some of these things look quite concerning, unless you think we need a huge shake-up. Do we?
MD: No. I would argue that any college doing its job right, which is the very, great majority of all colleges, should be able to represent themselves, should they wish, as an institute of technical education.
NL: So, onto this closing speech. You had this metaphor of the 'burning platform'.
MD: Yes … creating a burning platform. There is a tendency, if you want to get change, to create an emergency. A crisis. Children being failed! Young people being failed! We've got to do something — NOW! [The conference] was refreshingly absent of that. There wasn't a lot of criticism about what colleges were doing.
NL: Let's look at one of these — we've just had these new numbers from the DfE, saying colleges are failing young people who nearly get their English and maths GCSEs.
MD: Many colleges tell me, even if the student has got GCSE grade C, their functional numeracy isn't good enough to start their vocational programme.
Employers recognise GCSEs, only GCSEs are testing the wrong things. So what do you do? Do you call it functional skills, key skills, which doesn't get the bite with employers, or do you actually go back to the qualification and use that?
I actually think there is a lot of room for, say, breaking the GCSE down into two and calling it pure and applied maths. If a young person doesn't achieve the applied part of the maths GCSE by 16, then it's the college's job to get them through applied maths. That's what the OECD report was actually reporting — that functional numeracy and literacy was not of the required standard. Getting kids to bang their heads against the wall for 11 years, and then giving us the job to keep banging their head against the wall for another two years, thinking something different is going to happen seems a bit nonsensical to me.
Employers tell us contradictory things. They want GCSE maths and English. But they want numerate students in order to do a job and apply their skills. Let's go back and think about what we're producing, and actually use their time best at 16 to 18 to meet the needs of employers.
NL:What's the highlight for you?
MD: The 'do we have too many hairdressers?' debate — I was really pleased that it wasn't about 'do we have too many hairdressers?' It was about vocational education, and its core.
There were two elements. One, student demand doesn't equal employer need. If someone turns up at college… at Bridgwater College, who are doing really great work with the nuclear industry … and says, "I want to do performing arts," it's no good telling them that we're doing nuclear engineering, that's what we're open for today, because they would either become disengaged or they would just go somewhere else. So, you know… it's that breadth of opportunity that we do need. Every college wants every young person to have the most prosperous and most stretching career that they can have. Colleges, I think, work as hard as they can to reconcile student demand with employer need. You don't do it on your own. It's a co-operative enterprise. And it's actually something you achieve over time. So just saying, "There are too many hairdressers, do me more engineers," it doesn't work that way.
The other thing that came out very strongly … is what I call 'education through the vocational' — developing transferrable skills so the student may progress into other areas. I was interested in the audience. Emily Maitlis, the presenter, asked how many people in the audience are doing the career for which they trained, and if what they started is where they ended, and just about no-one put their hand up. Everyone put their hand up and said, "I ended up somewhere else," which I didn't expect.
You know, universities over-train huge numbers of archaeologists against what the museum sector requires — and they don't seem to be questioned about that. This is not just so simple as to say, "too few engineers, too many hairdressers." Let's work together to match the needs of the employer, and get student demands shaped to where the nation needs it.
This is a whole system change. Taking one part of the system, which is colleges, and holding them to account solely for this isn't the answer.
It's about funding mechanisms, it's about accountability mechanisms, advice and guidance, about employers articulating better what their offer is, it's about social media.
It's about the media portraying certain activities as attractive to women… we've got a deficit of women engineers in this country.
Download your free copy of the FE Week 16-page highlights from the AoC conference 2013 supplement, sponsored by NOCN.
Click here to download (16 mb)
——————————————————————————————–