The government's ambition to reach three million apprenticeship starts by 2020 is slipping further out of its grasp as we hit the halfway point, according to exclusive FE Week analysis of the latest statistics.
The number of starts in the 30 months since May 2015 has just hit 1,234,000, the latest monthly starts data shows, leaving us 266,000 (18 per cent) under one-and-a-half million, which is half of the eventual three-million target.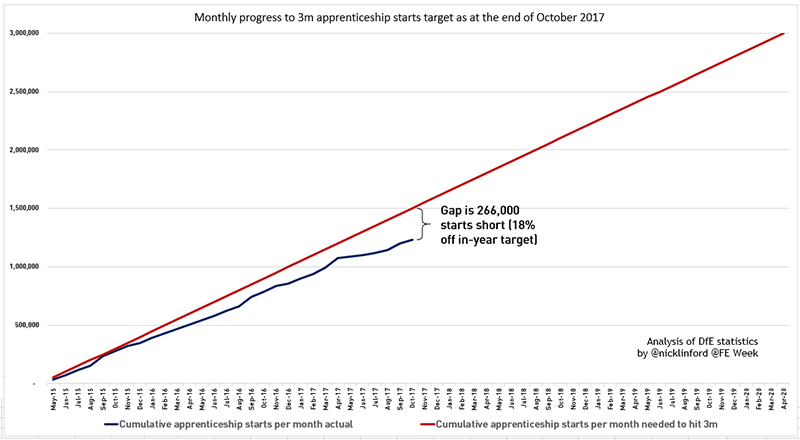 And a leading sector figure has now told the government to scrap the target entirely.
The head of the Association of Colleges, David Hughes, wrote on Twitter that it was the "wrong target" and claimed that a "brave government would abandon it now and replace with a target about job outcomes".
In another tweet, he suggested that such disappointing results were a "great chance to abandon starts target and focus on access, quality, outcomes and building capacity and capability to deliver that".
It was always the wrong target & still is. A brave Government would abandon it now & replace with a target about job outcomes

— David Hughes (@AoCDavidH) January 25, 2018
The Department for Education won't be drawn on whether it is considering either abandoning or changing the target.
A brave government would abandon it
The Learning and Work Institute's chief executive, Stephen Evans, also believes that the Department for Education is "measuring the wrong thing", and warned that it risks "both missing the target and missing the point".
"It's based on starts not completions, and doesn't look at quality or access. We need to look more broadly at the learning and skills system for young people as a whole," he said.
"Our research shows a rise in the proportion of young people spending at least six months not in education, employment or training and an increasing disconnect with the official claimant count."
The government first introduced its flagship target in 2015, and repeated it in last year's election manifesto.
In order to hit the target, the country would have had to add an average of at least 50,000 apprenticeship starts per month, a threshold only beaten in three of the last 30 months.
Today's provisional figures revealed a 26-per-cent drop in apprenticeship starts in the first quarter of 2017 compared to the same time period last year.
Today's figures are a warning for the government, as it becomes increasingly unlikely that it will meet its three million new starters target
As reported by FE Week, total apprenticeship starts fell 41 per cent in the six months since May – when the levy was introduced – in comparison with the same period the previous year.
"Today's drop in apprenticeship starts remains alarming and proves again that the apprenticeship levy isn't yet working for businesses, apprentices and the economy," said Neil Carberry, the CBI's managing director of people policy.
"A fresh approach is needed to make skills reforms work. The CBI will continue in its calls to government to evolve the apprenticeship levy into a flexible skills levy, so firms can fund training for their people whatever the form of high-quality course they do. And policymakers must collaborate more closely with businesses and learning providers to design a stable national framework for skills."
Seamus Nevin, the head of policy at the Institute of Directors echoed these concerns.
"Today's figures are a warning for the government, as it becomes increasingly unlikely that it will meet its three million new starters target," he said. "The levy is the right idea, but the system is ripe for reform."
The apprenticeships minister Anne Milton admitted that last year had been "a period of significant change" and that "it will take time for employers to adjust".
"But we must not lose sight of why we introduced our reforms in the first place – to put quality at the heart of this programme, and putting control in the hands of employers," she said.
"It is right that they are taking their time to plan ahead, with two years to spend their levy funds, and maximise the opportunities an apprenticeship can bring for both the learner and employer. Feedback we've had shows employers are doing exactly that."