The government has announced a national review of post-16 education and training, and admitted the number of general FE and sixth form colleges in England will decrease. Here, FE Week outlines the ten main points in the government document, and what it might mean for the FE and skills sector.
1. Colleges are going to merge and close
The report highlights the "need" to move towards "fewer, often larger, more resilient and efficient providers". The government expects this to "enable greater specialisation", creating institutions that are "genuine centres of expertise", able to support progression to a high level in professional and technical disciplines.
It continues: "This will need to be done while maintaining broad universal access to high quality education and training from age 16 upwards for students of all abilities including those with special educational needs and disabilities."
2. Excellence in the sector isn't going to be enough to stop the cull
While the government accepts there are "many excellent FE colleges", it says "substantial change" is required to deliver its productivity objectives while maintaining "tight fiscal discipline".
The report says: "The work of the FE and sixth form college commissioners has identified there is significant scope for greater efficiency in the sector, in a way that frees up resources to deliver high quality education and training which supports economic growth."
3. The government's reviews will be carried out area by area, and they're going to happen quickly
The report announces that the Department for Education and Department for Business, Innovation and Skills will facilitate "a programme of area-based reviews to review 16+ provision in every area, and do so quickly".
It adds: "These reviews will provide an opportunity for institutions and localities to restructure their provision to ensure it is tailored to the changing context and designed to achieve maximum impact."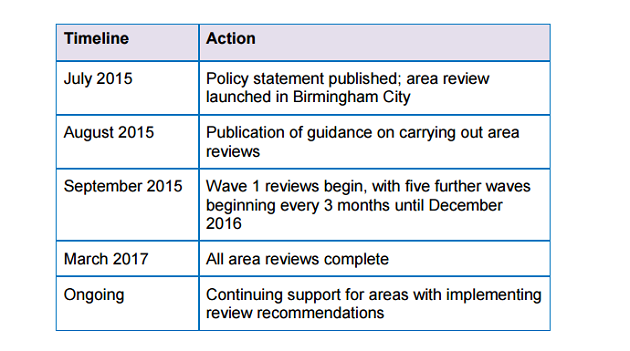 4. The reviews must factor in local needs, national policy, and funding issues
The government has put together a helpful tick-list so those conducting reviews leave no stone un-turned…
Local economic objectives and labour market needs and any local outcome agreements in place
National government policy, including the national expansion of the apprenticeship programme, creation of clear high quality professional and technical routes to employment, the desire for specialisation, including the identification and establishment of centres of excellence such as Institutes of Technology and the need for high quality English and maths provision
Access to appropriate good quality provision within reasonable travel distances, particularly for 16-19 year olds and students with special educational needs and disabilities
Funding, including the need for 16+ providers to operate as efficiently as possible within a tight fiscal environment
Effective support for the unemployed to return to work
Legal duties relating to the provision of education, including but not limited to section 15A of the Education Act 1996 and section 86 of the Apprenticeships, Skills, Children and Learning Act 2009.
5. General FE and sixth form colleges will be the focus of the reviews, which makes them "fundamentally flawed", according to one sector leader
The report says: "Our focus will be on FE and sixth-form colleges, although the availability and quality of all post-16 academic and work-based provision in each area will also be taken into account."
It goes on to say that although each review will usually cover both FE and sixth form colleges, they will be able to include other providers where they agree.
The availability and quality of wider 16+ provision including school sixth forms and higher education institutions will "also be considered during the analysis phase".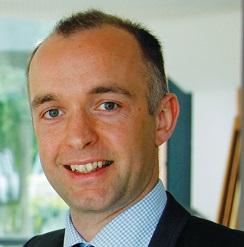 James Kewin, deputy chief executive of the Sixth Form Colleges Association, isn't happy about this.
He told FE Week: "A genuine process of area based reviews would be extremely welcome, as it would scrutinise the performance and viability of all 16 to 19 providers – including school and academy sixth forms.
"The process outlined this morning is fundamentally flawed as it only focuses on FE and sixth form colleges. It feels very much like ministers do not want to address under-performance in schools and academies, and – ironically – intervention is being focused on providers that are supposed to have the most autonomy in the system."
6. Institutions themselves will be able to initiate the reviews, unless the government has concerns or wants to act quickly
The report says the reviews can either be "proactively initiated by a group of institutions", or by government where it "sees a need to progress rapidly", and where concerns about "quality of the provision, capacity, or financial sustainability of individual institutions" exist.
It continues: "We will shortly issue detailed guidance on carrying out these reviews following a period of consultation. In the meantime, the rest of this document sets out the proposed high level approach."
7. The government has already carried out reviews in at least two areas
The government says areas will be expected to conduct their reviews according to a "national framework", which will "reflect experience" from the early reviews already conducted in part of Norfolk and Suffolk and in the city of Nottingham.
8. The reviews will be led by steering groups
The government has announced that each review will be led by a steering group composed of a "range of stakeholders within the area", including…
Chairs of governors of each institution
The FE and sixth form college commissioners
Councils
Local enterprise partnerships
Regional schools commissioners
9. The government still wants the FE sector to be "independent"
In the report, the government claims it retains a "strong interest" in the sector's success.
It says: "It is critical to our ambitions on productivity, and 16+ providers receive substantial levels of public funding. The government has responsibility for protecting the interests of students when colleges fail.
"We already have some very strong providers, others who are already proactively making changes to strengthen their institutions, and still more who are able and willing to do so but have not started yet.
"There are also providers who will find transformation challenging, including the increasing number of institutions entering intervention for financial reasons.
"For that reason, government involvement in these reviews will be proportionate to the level of risk and the ambition to establish access to higher skills and specialised learning."
10. There are concerns not everyone will benefit from the reviews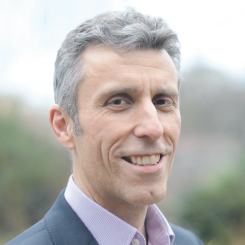 David Hughes, chief executive of the National Institute of Adult Continuing Education (Niace), told FE Week: "I fear that the focus as set out today might mean people with low skills levels will miss out, and those on low pay will fail to get the support they need to progress in work.
"Both of these are vital if the UK us going to improve productivity in a range of industries including retail, care and hospitality, where low level skills need to improve.
"We also need to ensure that people in work can achieve higher level skills with flexible and accessible provision outside of the apprenticeship programme, which should be about new labour market entrants.
"The government accurately describes the extreme financial challenges facing colleges, supported by today's NAO report. I hope that area-based reviews will uncover the challenges local people face in accessing the training they need to increase their earnings."