Dozens of the nation's most talented FE students found their zen as they prepared for the psychological strains of competing on the international stage, at a special training session attended by FE Week ahead of EuroSkills 2016.
The 85-strong Team UK squad visited Loughborough University last weekend to take part in sessions, one of which involved Yoga Nidra, a deep meditation which works on the subconscious using correct breathing practice.
They were also put in situations in which they felt uncomfortable – to boost their ability to handle the kind of pressure that 20 of the team will experience at EuroSkills Gothenburg in November.
This included timed team-building tasks in which competitors tried their hand at different skills not associated with their particular discipline.
Hairdressers were turned into mechanics and asked to assemble self-made wheelbarrows to transport water around an obstacle course, while bricklayers became visual merchandisers, and were made to draw and create what they thought made a successful competitor using various different art materials.
Hairdressers were turned into mechanics, while bricklayers became visual merchandisers
They also received guidance during the three-day event on how to deal with anxiety and fear – which, according to WorldSkills UK director Ben Blackledge, are all "as important in terms of competing as the technical skills".
He said: "Our competitors need to know how to overcome their fears and anxieties, and to do that you need to slowly push them out of their comfort zone."
Psychological sessions included a seminar on the concept of concentration, and competitors were taught how to block out distractions while delivering practical tasks.
If they were having a low point in their competition, the team were told to stop what they are doing, stand up straight with their feet slightly apart, and put their hands on their hips – striking a pose which "immediately builds confidence".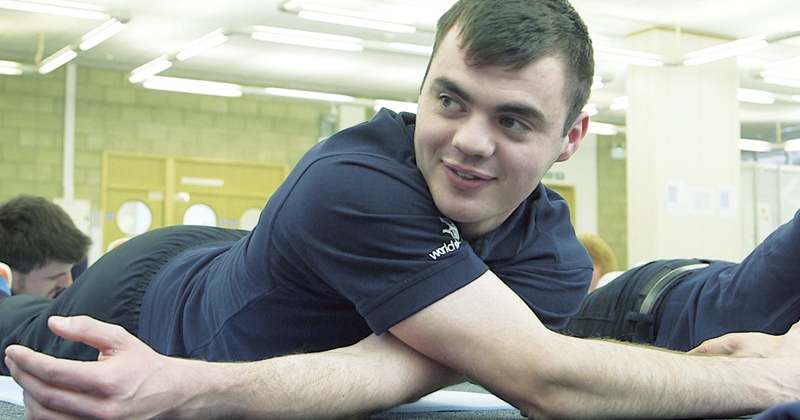 Competitors were also told to shut their eyes and "visualise success" when things weren't going to plan.
"In your mind work back from the finished project to the start; this will help you visualise key steps and show what you need to do next to accomplish the task you are struggling with," the team was told.
Hairdressing competitor Lucy Knight, 21, who trained at City of Bristol College, said the workshops taught her to "block everyone out when competing" and how to "not get distracted and keep focused".
Plastering and drywall competitor Harrison Moy, a 20-year-old apprentice with H&R Property Development in East Sussex, said the event opened his eyes to how much pressure he will have to deal with in Gothenburg.
"I didn't really expect to need mental training but after seeing what we're going into and learning how to deal with it, you do need it," he said.
Peter Bakare, a former Team GB volleyball Olympian who competed at London 2012, was also on hand during the day in his role as one of WorldSkills UK's performance coaches.
He said his experience of competing in the Olympics was "similar" to what Team UK will find at EuroSkills and Abu Dhabi, "so it is good for me to bring that experience across".
"They need the mindset of a medal-winning champion if they are to succeed."
EuroSkills 2016 will take place in Gothenburg, Sweden from December 1 to 3.