This week, 34 of the UK's most highly rated young competitors will fly to Abu Dhabi for WorldSkills 2017, where they will compete for global supremacy.
The team, selected from the best our country has to offer, in disciplines ranging from hairdressing to aircraft maintenance, will travel over 3,000 miles to the Middle East on Wednesday to take part in a competition dubbed "the Olympics of skills".
Getting to this point has been no easy task. Each individual has sacrificed their evenings, weekends, and social life in place of dogged training regimes for the past two years, ever since they won their places at the UK's Skills Show in 2015.
Between them, they've put in an estimated 71,000 hours of additional training beyond their employment and learning, to get themselves both practically and psychologically ready.
Now all of the background work is over, the team is raring to go up against the most talented young people from 76 countries.
"I think we have prepared them to a really high level and now it is their chance to really shine on a global stage," said Ben Blackledge, WorldSkills UK's director of education and skills competitions.
On offer to competitors are gold, silver and bronze medals, as well as medallions of excellence, which are achieved whenever a team member reaches the "international standard" in their discipline.
At the last WorldSkills in Sao Paulo in 2015, Team UK finished seventh overall in the medal table, ahead of favourites France and Germany – bringing home three golds, four silvers, two bronzes and 23 medallions of excellence.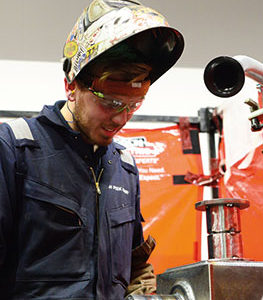 Mr Blackledge told FE Week the team doesn't have an overall medal haul in mind for what would constitute to "success" in Abu Dhabi, and stressed it is more about ensuring the competitors hit the international standard.
"Yes medals are brilliant and we want to show the excellence of the UK, but we also want to show that we train to a really high level. Getting those medallions of excellence is just as important to us as gold, silver and bronze."
For most of Team UK this will be their first international competition, but for 14 of them this will be their second time competing on foreign soil.
The group flew to Gothenburg last December to compete in EuroSkills, where Team UK brought home two golds, one silver, two bronzes and eight medallions of excellence.
Among them was welder Josh Peek, who claimed gold.
The 21-year-old says he always wanted to be an engineer because it is "in my blood". After gaining a taste of success at EuroSkills, Josh says he now wants to "prove myself on the world stage".
Another one to watch is cooking competitor Ruth Hansom, who won bronze in Gothenburg.
The 22-year-old landed her dream job at the Ritz aged 18 and spent four years there before launching her own catering company, Hansom Lambert, this year, focusing on preparing dishes only using British-grown produce.
Daniel McCabe is another former gold medallist aiming to replicate Gothenburg success.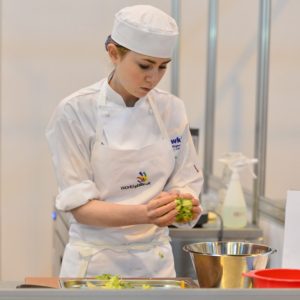 Following his European triumph the 19-year-old 3D game designer was offered a job at Codemasters, the leading games design company in the UK, and is hoping this real-world experience will bag him more medals at WorldSkills.
"At the age of nine, I began dabbling in Photoshop, having no idea it was used in the process of making games, or that 10 years later I would be sat in Abu Dhabi competing against the best in the world on that very same piece of software," he said.
Anne Milton sang the praises of WorldSkills at the Conservative Party conference this week, describing how the competition is a priority in the government's apprenticeships agenda.
Speaking to FE Week about this year's competition, the skills minister said: "It's a great pleasure to wish every member of Team UK the best of luck in competing at WorldSkills Abu Dhabi 2017. There is no higher honour than representing your country on the world stage and the pride team members feel in this achievement is equalled by my admiration for the hard work and high quality that a place in the team represents.
"I know that each individual member of the team will give their all to reach their potential.
"These young people have exciting futures ahead of them. WorldSkills Abu Dhabi 2017 is their biggest test yet.
"Another opportunity to grow and develop. A chance to show what they can do. I know they will seize the moment and inspire the next generation to succeed through skills."
Team UK flies to Abu Dhabi on October 11, and will take part in four days of intense competition between October 14 and 19. FE Week is media partner and will be reporting every step of the way.
Special good luck message from the prime minister
During her keynote speech at the Conservative Party conference this week, Theresa May spelled out plans to create a "first-class technical education system for the first time in our nation's history".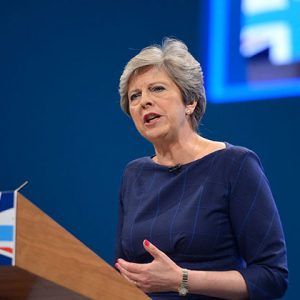 Speaking exclusively to FE Week, she has offered a special send-off message to Team UK.
"I'd like to wish the best of luck to our talented team of apprentices taking part in this year's WorldSkills competition in Abu Dhabi, and congratulations on making it this far," the prime minister said.
"Your achievements set a great example for other young people looking to carve out a vocational career, and demonstrate how important practical skills are in the workforce."
Good luck #TEAMUK from editor Nick Linford
On Tuesday I will be attending the WorldSkills UK Team UK send-off at the Houses of Parliament. I am delighted and proud that FE Week is once again the official media partner for World Skills UK and Team UK. This year we have partnered with Pearson to report live from WorldSkills Abu Dhabi.
Our senior reporter Billy Camden, and managing director Shane Mann, will be heading over to Abu Dhabi next week to bring you all the action and report back on Team UK's success. In partnership with Pearson, included with this week's edition is a "Go Team UK" results poster.
I hope you will display this around your organisation and encourage colleagues and students to cheer on the team.
Send your good luck message to the competitors by using #TeamUK on social media.
On behalf of all the team here at FE Week – good luck #TeamUK