UAL Awarding Body calls all creative educators!
Join us on 24 November at The Mermaid, London, for the Teach Inspire Create Conference 2023. This is an exciting day of keynote speeches from inspiring voices in creative education and the creative industries, a series of workshops led by UAL Awarding Body Chief Examiners, and a trade fair featuring exhibitors from across the industry.
We're delighted to be welcoming three keynote speakers at the conference: Andria Zafirakou, winner of the 2018 Global Teacher Prize and founder of the charity Artists in Residence; Kay Adekunle Rufai, a British-born Nigerian photographer, poet, filmmaker, author, mental health researcher, and founder of the internationally acclaimed S.M.I.L.E-ing Boys projects; and Tina Ramdeen, the Associate Director of Young People at Roundhouse Trust.
Come along to hear our engaging panel discussion titled "Looking to the future: Exploring key skills needed to thrive in the creative industries of tomorrow", offering a thought-provoking exploration into the minds of those who influence and define the cultural and artistic landscapes in creative education and industry! This session, chaired by Aimee McLaughlin, an associate editor at Creative Review, will shine a spotlight on the important skills needed to thrive in creative industries in the future. Joining Aimée are our esteemed panellists: Jazmin Morris, lecturer at UAL Creative Computing Institute and the Lead Computational Tutor; Dominic Traynor, Education Evangelist for EMEA at Adobe; Michele Gregson, General Secretary and CEO of the National Society for Education in Art and Design; and Oliver Morris, Director of Education & Skills at UK Music.
Guests will also have the exciting opportunity to immerse themselves in an inspiring breakout session with the UAL Awarding Body Chief Examiners, who are keen to share their knowledge, challenge guests, and push you to explore new ideas and to another level of creativity!
'Engaging community with creative arts education' with Andy Sankey, Chief Examiner for Music and Extended Project Qualification (EPQ) – a thought-provoking workshop on how to enhance the creative arts educational experience by working with local community
'Using AI to create content' with Julian Watkiss, Chief Examiner for Creative Media Production and Technology –A thought provoking session which delves into the impact of AI-driven content generation
'The Express Yourself Challenge: unleash your imagination in 21 Minutes' with Justine Head, Chief Examiner for Fashion Business and Retail, and Marc Mollica, Chief Examiner for Performing and Production Arts and Level 4 Diplomas – a fast-paced workshop to create a mini-masterpiece, designed to ignite your imagination and artistic exploration
'Artful Mindfulness: Cultivating Creativity and Presence Through Art' with Matt Moseley, Chief Examiner for Art and Design – a transformative workshop exploring the practice of mindfulness and how it can enhance creative processes
'Project briefs: innovation, creativity, experimentation et al.' with Vicky Cull, Chief Examiner for Art and Design – an inspiring workshop designed to enable creativity and avant-garde thinking in the area of project brief writing and development
The fun doesn't stop there! Explore our trade fair to network with a diverse range of exhibitors from across the creative and the education industries. This is an amazing opportunity to find out more about these organisations and see just how they can enhance your creative practice.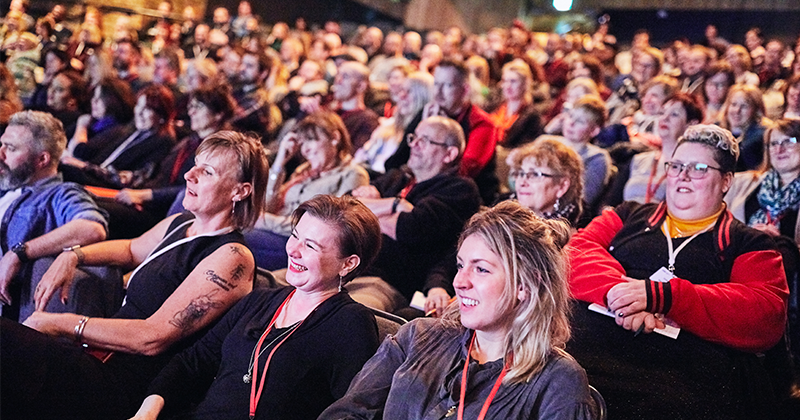 With not long left to go before our Teach Inspire Create Conference 2023 and with tickets going fast, make sure to book your free ticket now to reserve your spot if you haven't already! You don't want to miss out on an unforgettable day of inspiration, connections, and limitless possibilities.
This event is free to attend for those currently delivering UAL Awarding Body qualifications and our invited guests. Lunch and refreshments will be provided, and the conference will be followed by a drinks reception and networking.