Leadership and unearthing talent are two of the big issues for staff who work in the further education sector.
But with the right management and direction staff can prosper – not just inside a college, but for the sector as a whole.
That was the sentiment of Matt Atkinson, principal of City of Bath College, as he took to the platform at the Association of Colleges' (AoC) Human Resources Conference and Exhibition 2012, in Birmingham, last Tuesday.
Mr Atkinson said the sector does not approach talent management "particularly well".
He added: "Part of my job is to develop people, not only for the college, but for the sector as a whole.
"People will disagree, but I'm really pleased if someone has been through our programme and goes on (to another college) to do very well."
When first arriving at the college, Mr Atkinson said he conducted a staff survey which found a lack of ambition in the organisation.
"People didn't feel comfortable to be ambitious," he said.
However, he also unearthed "hidden talent" and a "huge gulf between senior staff and staff on the ground" which needed to be fixed.
But he said the issues are not confined to his college.
Total college income last year was £7.7 billion of which £5 billion was spent on staff. This is not an easy task"
"I think it's fair to say that our sector has leadership issues. I'm not convinced that there is a huge talent pool available.
"I think we've got some good people. But, how many of us have sat through interviews and felt thoroughly depressed?" he questioned.
To combat this, he and the college "worked hard to develop our own solution" in the form of a talent management programme, Aspire to Leadership.
The aim was to spot talent and to think about succession planning, but in a selfless model to drive ambition.
It lasts 10 to 12 weeks, including career mapping, job searches, mock interviews and a "mini-management project" lasting six weeks.
Through the projects, the college has spawned innovative ideas, including their own record label, BA1 Records, and a staff member who helps students create professional Facebook profiles to aid future employability.
Mr Atkinson says they have never turned down an applicant for the programme.
"We also need some people to realise that they can't be managers. That is really important. Give them the space to fail in this space before you put people into a job where it's much, much riskier.
"We've had a couple of people who came to the end of the programme and realised they don't want to be a manager," he said.
The programme has had 54 graduates with 96 per cent completion rate – with 17 promoted, five of which outside the college.
"There is now this culture of ambition – it is okay to be ambitious in our business," he said.
With a seemingly ever-changing landscape of employment law, the AoC's event was a timely reminder of latest developments.
From latest legal frameworks, to the challenges of social media; and from latest government guidance, to new staff developments and shared services, the event's programme was packed with ideas and innovation.
Conference chair Evan Williams, director of employment and professional services at AoC, said the economic downturn is "biting", but he also added: "However, the FE brand is getting stronger.
"We are a resilient sector and over years we have adapted to change. It's not been easy and there have been casualties.
"But we remain and continue to be strong."
I think it's fair to say that our sector has leadership issues. I'm not convinced that there is a huge talent pool available"
And the sector needs to be strong – with more 245,000 staff at colleges, including 128,000 teachers and lecturers.
They deal with 3.3 million learners a year, which is twice as many 16-18-year-olds as there are in schools.
He added: "It is you, the HR teams, who are responsible for colleges' most important aspect – its staff.
"Total college income last year was £7.7 billion of which £5 billion was spent on staff. This is not an easy task.
"This we have to do within the constantly changing landscape – funding, mergers, legislation, the Equality Act, the Protection of Freedom Bill the Education Act.
"But we do it and we do it well."
Fiona McMillan, the AoC president and the principal of Bridgwater College, who moved into management through staff development, said: "For staff, it's about sharing collective vision about what learning is about; what are the opportunities and what is the professionalism that underpins it."
She said "there are lots of challenges" including social inequalities, such as second or third generation unemployment.
Mrs McMillan said staff need to be "engaged", saying those who are not can be "incredibly destructive" to a college.
Professionalism is also key, according to Mrs McMillan, who said that "we owe it to our staff to support them" to be professional.
She said: "It really offends me when I come across people who don't think professionalism is part of what they are about and to undersell themselves.
She added: "We need to help staff achieve their potential.
"We have to help them discover that; what new things they can be doing because if they are doing that then they will do that with our students."
Mrs McMillan also gave an interesting insight into the hiring of "mavericks" and taking risks in recruitment.
She said: "Sometimes my vice-principal and I are interviewing together and say 'that's a maverick; is it a safe maverick, or not a safe maverick?'.
"Sometimes you get it right and sometimes you get it wrong, but having people who are not all cloned the same way is an important part of the process."
Later, Justin Hughes, founder and managing director of Mission Excellence, used his previous experience as a pilot for the Red Arrows to discuss working in pressurised environments.
Meanwhile, Geoffrey Mead, a partner of Eversheds LLP, who specialises in employment law, gave an update of the latest legal developments.
It included updates to the Agency Worker Regulations 2010, proposed changes to sickness and holiday laws, and a consultation by the Department of Business, Innovation and Skills, on possible changes to TULCRA.
The plenary sessions concluded with an emotional motivational speech from Marc Woods, a Paralympic gold medallist.
He told the audience how he had lost his left leg below the knee after a battle with cancer at the age of 17.
However, he has competed at five Paralympic Games, winning 12 medals including four golds, as well as 21 medals from the World and the European Championships.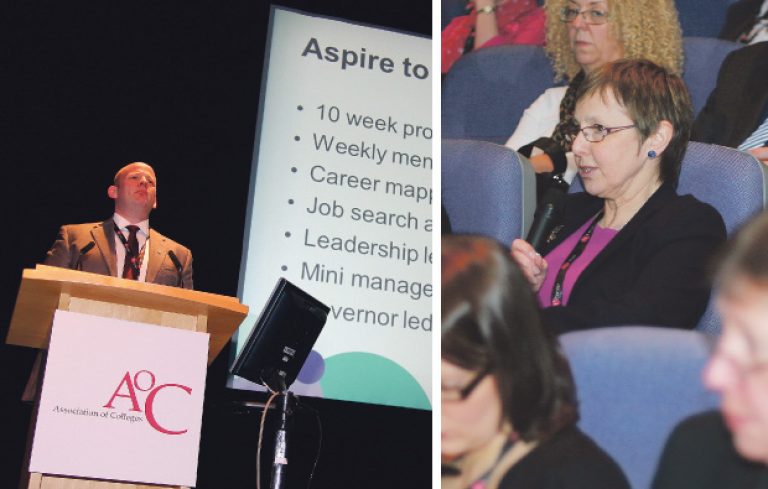 Q&A on mock tribunal with Diane Gilhooley
As well as the usual plenary sessions and breakout workshops, the AoC's event also featured a practical element. The night before the conference got underway, a mock employment tribunal was held – complete with a judge, two panel members, a claimant and a respondent – at the Hilton Garden Inn Hotel in Birmingham. FE Week spoke to Diane Gilhooley, partner at Eversheds LLP, who organised the event, about how it went.
What happened during the mock tribunal?
The mock employment tribunal is a very practical and highly interactive exercise. So we had the employment tribunal setting with a judge and panel members, we had a bundle of documents which set out the story, we had a respondent who was putting forward the case and we had the individual who had been dismissed. The audience were there to watch as it took place and were able to play an active role in the cross-examination."
What scene was set for the mock tribunal?
We used an example of an individual who placed a number of comments on Facebook. They covered inappropriate comments about colleagues, management at the organisation and the college. As a result of that in this fictitious scenario, we'd taken the management decision to dismiss the individual. So the HR manager set out the reasons and the process, then a cross-examination from the audience, which was gruelling, and then the individual claimant, who set out why he thought it was grossly unfair. He was cross-examined by the representative for the respondent, the audience, the judge and two panel members.
What was the mood like for the mock tribunal?
It was light-hearted and fun. We only had an hour-and-a-half, so it was obviously much shorter then a real employment tribunal would be. But it aimed to give the delegates a practical flavour or a topical issue; the way it would run, give them the chance to participate and see where the issued might be, and there was a judgement delivered. It was decided in a non-conventional way; firstly there was a vote taken from the audience and then the judge discussed it with the panel members to decide a likely outcome.
Why did you decide to organise the mock tribunal?
It's practical. It enables people to look at it and learn as they're going along so they are able to participate and think differently about the different practices and see something from the beginning to the end. So they get to see the bundle, they get to see the disciplinary hearing and the impact of their decision making on a daily basis. And then they get to see how their daily decision-making can ultimately be tested in an employment tribunal. So it's helpful learning; they learn in a safe environment, but can take the lessons of that safe environment back to work to hopefully then incorporate into their working practices.