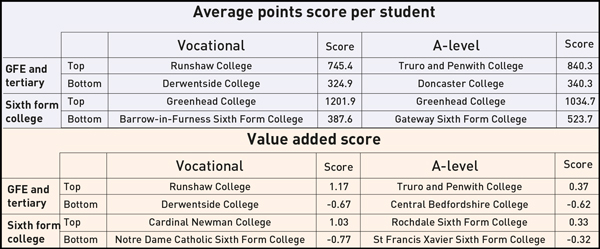 Truro and Penwith College and Runshaw College dominated this year's league tables for general FE (GFE) and tertiary colleges, government figures released on Thursday (January 29) revealed.
Cornwall-based Truro and Penwith College scored with top marks for value-added — the progress its learners make over their course as expressed as a proportion of a grade — and average point score per student for A-levels.
And Runshaw College, in Lancashire, had the top vocational scores for average points and value-added.
Providers were assessed on a range of measures — including average points score per student, where each grade, such as A or distinction, is given a numerical value and an average taken across the cohort.
Truro and Penwith College principal David Walrond said learners and staff deserved "huge credit" for the results.
Runshaw College deputy principal Michelle Brabner said: "We are proud to have students that are such ambitious and life affirming young people."
Meanwhile, Rochdale College was been crowned top sixth form college for the second year running for the progress its A-level value-added score.
The Manchester-based provider had the top value-added score for A-levels for a sixth form college in the government's 16 to 18 performance tables.
Rochdale Sixth Form College principal Julian Appleyard said: "We are delighted the hard work of the staff and students is yet again reflected in these tables."
Rochdale was joined at the top of the sixth form league tables by Greenhead College, which came top for average points score for both A-level and vocational courses, and Cardinal Newman College, which had the best vocational value-added score.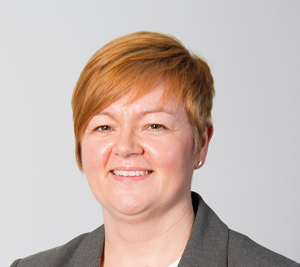 Greenhead College principal Anton McGrath said: "We are very pleased — the one thing we have tried to do is make sure horizons for our wide range of learners are as broad as possible."
At the other end of the scale, St Francis Xavier Sixth Form College in London came bottom for value-added on A-level courses while Leeds-based Notre Dame Sixth Form College was last for vocational value-added scores.
St Francis Xavier principal Stella Flannery described the value-added measure, which had been included in last year's data, as "unproven and untested" and said the figures represented 21 per cent of the overall student cohort. She added: "We are concerned that this measure is being used in isolation."
Notre Dame Sixth Form College principal Terry Coen said he was "concerned" by the result but vocational qualifications were only a "small part" of the college's offer which it hoped to develop into "rigorous qualifications".
Among the bottom value-added scores for GFE and tertiary colleges were County Durham's Derwentside College for its vocational provision and Central Bedfordshire College for A-level provision.
A Central Bedfordshire College spokesperson said the college no longer offered A-levels.
For average points, the bottom scorers for A-levels were Doncaster College and Gateway Sixth Form College, and for vocational figures were Barrow-in-Furness and Derwentside College.
Principal of Barrow Sixth Form David Batten said the data did "not represent a true picture" of students' progress as the data was based on learner birth dates, meaning some learners who had completed were excluded, while others were only half way through their course.
"This clearly means that the figure cannot be used to make valid comparisons," he said.
No one from Cardinal Newman, Derwentside College, Doncaster College or Gateway Sixth Form College was available for comment.
Most UTCs and studio schools miss targets
A majority of studio schools and University Technical Colleges (UTCs) failed to meet the government's minimum GCSE achievement target according to league tables.
Of the 17 studio schools and UTCs for which data was available, 14 fell below the government "floor" of 40 per cent of learners achieving five A* to C grade GCSEs including English and maths.
The tables included figures for UTCs and studio schools which opened in 2012 or earlier — so at least one cohort has completed a GCSE cycle.
League tables came under fire this year after thousands of vocational and GCSE alternative qualifications were disqualified from the data.
This could have worsened results for UTCs and studio schools, as students could have performed well, albeit in vocational subjects excluded from league tables.
Of the dozen studio schools listed, only Bournemouth-based Leaf Studio met the target, with 49 per cent of students gaining the five GCSEs.
This was followed by Midland Studio College Hinckley with 34 per cent, Stephenson Studio School (30 per cent), Bradford Studio School (24 per cent), Da Vinci Studio School of Science and Engineering (21 per cent), Barnfield Business and Enterprise Studio (17 per cent) and Parkside Studio College (16 per cent).
Next came Inspire Enterprise Academy (10 per cent), Hull Studio School (6 per cent), Stoke Studio College for Construction and Building Excellence (4 per cent), Tendring Enterprise Studio School (1 per cent) and Kajans Hospitality and Catering Studio College (0 per cent).
Among UTCs, three of five failed to meet the minimum — Visions Learning Trust UTC (0 per cent), Black Country UTC (21 per cent) and Hackney UTC (29 per cent).
Only Aston University Engineering Academy (52 per cent) and JCB Academy (65 per cent) exceeded the target.
Conversely, most Studio Schools and UTCs performed well at post-16, with highest ranking Central Bedfordshire UTC scoring an A-level average points score of 766.7 — on a par with top performing general FE and tertiary colleges, and the lowest score — for Da Vinci Studio School of Science and Engineering — was well above the lowest scoring general FE and tertiary colleges at 530.7.
In 16 to 18 vocational education Aston University Engineering Academy came top of the league, scoring higher than the top performing general FE and tertiary colleges with 835.1.
However, UTC Reading gained a post-16 vocational average points score per full-time student of just 299.6 — making it the second worst institution in the country for this measure.
No one from the Baker Dearing Trust, which oversees UTCs, the Studio Schools Trust or UTC Reading was available for comment.
For UTC Reading principal Joanne Harper's response, click here or see FE Week edition 127, dated  Monday, February 9.