A group of Hartpury College rowers powered their way to the top of the podium at the National Schools Regatta in their first-ever competitive race as a four.
A-level students Freya Webb, aged 16, Alex Watson, 17, and Frances Russell, 18, alongside sports coaching diploma student Bryony Lawrence, 18, secured the win against Henley Rowing Club whom they faced in the final.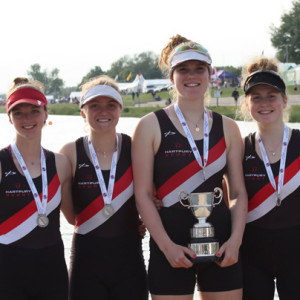 After winning the national competition for two of the past three years in a "quad", the crew from the college in Gloucester decided to take on a different challenge.
They made the decision to switch to race in a four — which differs by each rower only using one oar (sweep rowing) as opposed to the two used in a quad (sculling).
The crew proved stronger than their opponents and came home in a time of seven minutes and 11 seconds to claim top spot in the final.
Hartpury's rowing coach, Tom Pattichis, said: "This is a really great result for the girls. This year is the first time any of our crews have tried sweep rowing and it's proved to be successful so far."