Four students from Blackpool and The Fylde college have produced a poster campaign to help tackle violent crime in the area.
Angel Page, 17, Jonathan Woodhead, 31, Mitchell Gibson, 16 and Daniel Fraser, 31, who are art and design students at the college, have produced the posters in partnership with Blackpool council and Lancashire Constabulary.
The series of posters aim to remind people to stay safe – particularly when drinking – and have been placed in various locations around Blackpool, including licensed premises, the local hospital and around the college itself.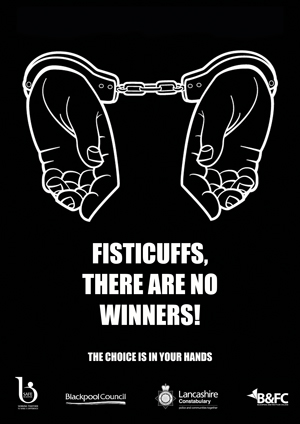 Cllr Gillian Campbell, deputy leader of Blackpool council, said: "Our research highlighted that 16- to 24-year-olds were more susceptible to being victims or perpetrators of violent crime so we wanted to engage with people in that age group to come up with ideas which would raise awareness of the consequences."
Sue Crosbie, employability team manager at the college, said: "The students drove the project forward and came up with the designs themselves, which had to be hard-hitting to really drive the messages home.
"It was good for them to get the opportunity to get first-hand experience of a professional campaign, with an extremely important message attached to it."
There are plans to roll out more of the posters across Blackpool throughout the year.