Over 30 students at Sunderland College have been paired with elderly people in a T-level pilot project that flips the traditional model of students shadowing carers on its head, reports Samantha King.
The college's new intergenerational advocate scheme, designed in partnership with Sunderland City Council, has level three health and social care students working closely with residents of care homes and extra-care housing schemes to provide companionship and increase social engagement in older people, especially those with cognitive impairments such as dementia.
It's not traditional placement work where students shadow a carer in practice
Students are running group activities such as biscuit decorating, and organising parties and musicals, as well as one-on-one projects with residents, including making memory boxes.
The project is being funded by the Department for Education ahead of the new T-levels, as part of a pilot looking at which work placement models work best.
Sunderland College is one of six colleges in England to be supported by the government to pilot the proposed reforms, which include longer work placements to replace the current one-to-two-week programmes.
"There are a few colleges involved in the pilot, but I only know of ours that is an intergenerational project," explained project lead Carla Raine, a health and social care lecturer at the college. "This initiative gives our students a meaningful opportunity to make a real difference to the lives of members of our older community."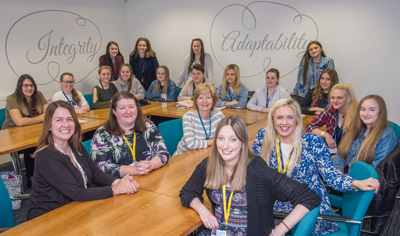 The first 15 students taking part have already started their placements at two extra-care housing schemes, Bramble Hollow and Willow Brook, and at Belle Vue House, a care home in Hedon. They are expected to last until February when the next wave of students will take over.
"One student is paired with a resident who moved over from South Africa and doesn't have family over here, but is really interested in shipyard building and industrial history," said Ms Raine. "She researched ship-building in Sunderland and now they've gone on trips to museums and are going to create a model boat together."
Social workers from the council's adult social care team provided students with training before they embarked on their placements in November, covering everything from safeguarding and confidentiality to what to expect working in a care setting.
"It's not traditional placement work where students shadow a carer in practice. This one is very much about students taking ownership and working with the resident," Ms Raine added.