Two students from Gloucestershire College have hand-painted a 5ft hare statue that will become part of the annual Cotswold Hare Trail.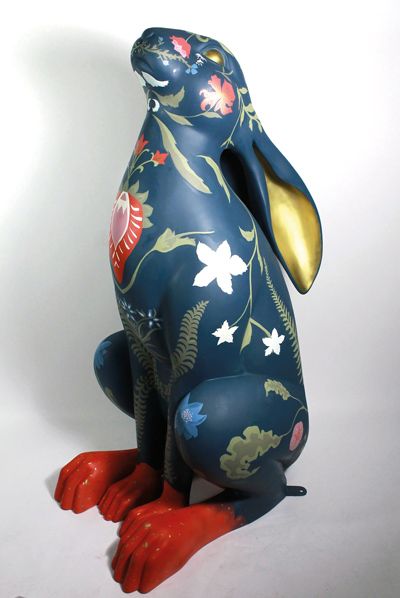 The challenge places more than 80 hare statues across 20 villages, towns and cities in the Cotswolds, with the students' creation – named 'The Strawberry Thief' – positioned in the reception of the college's Cheltenham campus.
Each hare is sponsored by a local business, individual or community group, and hand-painted by local artists; this year the design brief was the culture, history and heritage of the Cotswolds.
Art foundation studies students Lauren Dutson and Ciara Hinchey painted their hare in the style of the designer William Morris, who lived in the Cotswolds for most of his life and is still celebrated for his floral textile and wallpaper prints.
Florence Beetlestone, founder of the Hare Trail said: "I'm so delighted that the students have got involved, as the Hare Trail is very much about working with art and young people and developing public art education".
The trail began on March 25 and will run until September. The hares will all go up for auction in October, with the proceeds going to National Star, a disability charity, and to local historical projects in Cotswold towns.